With the DSLR industry growing like crazy, there are more mountain bikers that are looking to take their quality cameras out on rides to capture the scene and friends out on the bike. The big problem…even the more compact DSLR's are pretty big and conventional hydration packs are not designed to carry this kind of load.
We have been searching for a hydration pack that can handle the duties of photography but still function as a hydration pack for regular riding. After doing some exhaustive searching, a friend of Bike198 came across the Clik Elite hydration packs for mountain bikers. These two packs (only differ in size) contain a conventional DSLR camera case in the bottom half of the pack while the top half is for storage. On the back, you have a bladder sleeve to place in your favorite 100oz or under hydration bladder.
Let's take a look at the pack a little bit closer…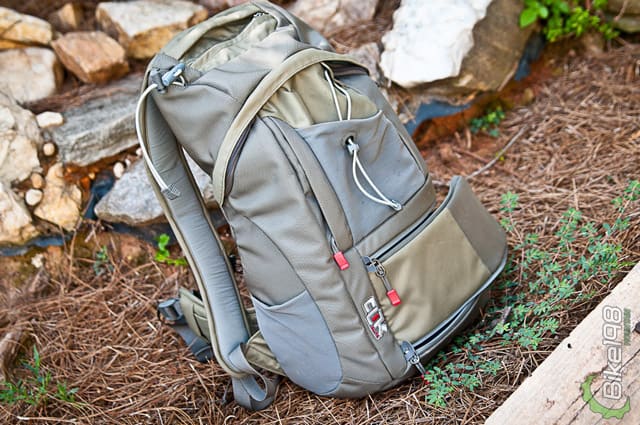 Function and Construction: Clik Elite Sport Hydration Packs
As mentioned before, there are two versions of the Clik Elite Sport: Probody Sport and  Compact Sport. Each of these have the same features and design. However, the Probody sport (900 cu. in. vs. 600 cu. in.) allows for bigger DSLR's and cameras with battery grips. Basically, just a little bit more space for bigger equipment. I rode with the Probody Sport while Joe (regularjoe Photography) rocked the Compact Sport.
When you first take the Clik Elite packs out of the packing, the first thing you notice is the solid construction. You will find thick, durable zippers with an outer shell that almost seems indestructible. Everything from the straps to the plastic buckles is just designed to take abuse and well thought out in placement. Even with these durable components, the packs are relatively light at 2.44 lbs for the Probody Sport and 2.31 lbs for the Compact Sport. For reference, the smaller CamelBak Mule weighs in at a quoted 1.48 lbs.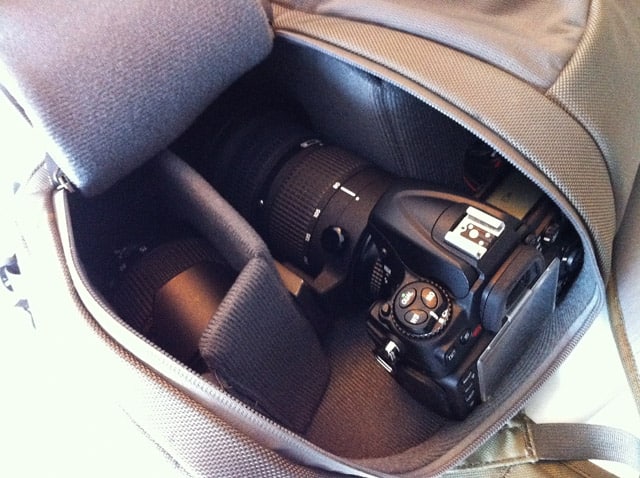 The internal camera case section of the pack is located on the lower half and allows for the body with lens attached and two additional lenses. In the terrible iPhone image above, we could actually fit an 80-200mm/f2.8 Nikkor on a D300s body in that center row while still fitting other lenses in the side containers (28-75mm/f2.8 Tamron pictured), so there is plenty of room to bring the big glass if you want to. The compartment is nicely padded and lined to keep your valuable equipment secure and protected while riding. There is also a velcro pull away compartment for storage cards, filters and any other small misc. camera gear.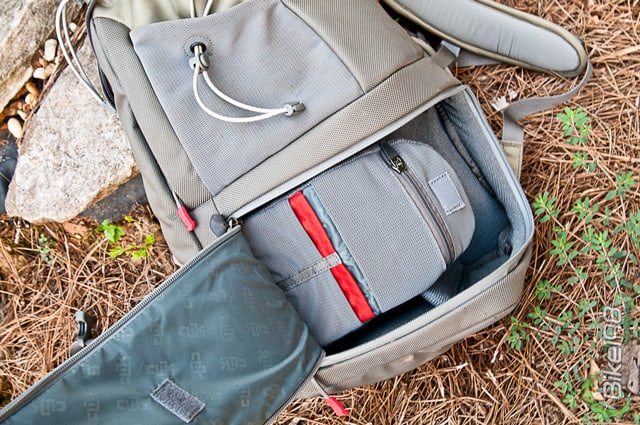 The top compartment and four pockets include outer storage, a smaller/flat outer pocket, the main storage compartment and a media pocket up top for cell phones/mp3 players/etc. There is adequate storage for even longer rides, but there is no long pocket to hold larger pumps like the Road Morph I usually carry. On the outside, there is also a quick access outer pocket on the lower side for nutrition and other quick grab items.
Both packs contain strapping for tripods as well as rain shields incase the weather turns on you quickly.
On The Trail: Clik Elite Sport Packs
When looking at hydration packs that also function as full fledge camera bags, it is essential that the camera is easy to access and have ready for the next shot. If you have ever tried to take pictures of friends, you already know that you have very little time to setup and get ready generally.
The Clik Elite packs use the same design as upper end photography packs as it allows you to unzip and pull the camera out from the side of the pack. With a quick unclipping of your chest strap and dropping the pack off of one shoulder, you are in the compartment and camera out without having to take the pack off or dig through pockets. This is crucial to "getting the shot" and something that all of the other hydration packs for mountain biking that can carry cameras can't seem to get right. The Clik Elite Sport packs do this about as best as you can design.
With a pack this big and that much equipment loaded, I was really expecting it to be a complete pain in the ass on the trail. Luckily, I was incredibly surprised. The way the Sport packs are designed, you carry all of your heavy camera items right up against the lower part of your back. This is the perfect area to be carrying extra weight and I am not kidding when I say I barely noticed the DSLR was even loaded. It is a perfect weight distribution for riding. Even on larger stunts and fast descents, the pack stays put and your back doesn't hurt by the end of the ride.
When you have a 100oz of water loaded, the grid design of the pack of the pack keeps the Sport pack flat up against your back and comfortable. It never felt like the pack was bubbling off of your back…just secure and solid.
The pack is available in the gray pictured or black. With hot Georgia summers, both packs were brought in in gray to escape at least some of the heat that can be associated with larger hydration packs. While they weren't the coolest packs you can wear, the lighter color did help with heat absorption to keep in minimal and not any worse than any large packs we have tested in the past.
Overall Thoughts: Clik Elite Probody and Compact Sport Packs
If you want to carry your DSLR with you on rides, the Clik Elite Sport packs are the only option in my opinion. The comfort while riding, easy access to camera equipment and overall construction is well above expectations. I have actually found that I take my camera on a lot more rides now just because I have an efficient way to carry it that does not have a negative effect on my ride. For most riders, the Compact Sport will be more than enough and more versatile for every day riding. If you are really into bringing big lenses and larger DSLR's…take a look at the Probody Sport. The only thing I wish the pack did have is a longer pocket for larger pumps. Other than that…this thing is close to perfect for what it is designed for.
Positives: Clik Elite Sport Packs
Comfortable for all day riding when fully packed.
100oz bladder compatibility
Durable construction that adequately protects camera equipment
Hydration hose holder on chest strap
Swing across camera design for extremely quick access
Negatives: Clik Elite Sport Packs
A little bit on the expensive side (MSRP from $150.00 to $175.00) in comparison to regular hydration packs but still not as much as other dedicated options.
No long pocket for larger pumps
100oz bladder not included
The Clik Elite Probody and Compact Sport packs is the ultimate option for carrying your DSLR on rides. I wear mine on almost every ride now.
Find your best price on the Sport packs here (less than MSRP): Probody Sport | Compact Sport