Awhile back, Ergon Bike Ergonomics sent over their BC3 cycling pack for us to review. The BC3 is the largest out of the Ergon pack lineup with a 25 liter capacity designed to take you through the TransAlps self supported. As an added benefit, the pack can double as a commuter and trail pack for those days where you need to bring just a little extra.
More on the BC3 from Ergon
A cycling backpack built to take the punishment of a TransAlp race or your day to day commute. Double the capacity of our BD2, the Flink® Link ball joint equipped BC3 features a lightweight frame and allows for natural freedom of movement for the upper body yet still provides optimal load distribution. The BC3 utilizes a high-tech, heavy-duty water proof material (water proofed on both sides), with water resistant zippers, a helmet holder, internal compartments to keep you organized and a sleeve for a hydration bladder. The BC3 can carry your gear on an overnight mountain bike trip or your office clothes and laptop on an everyday commute. Gender specific carrying systems available in two sizes.

Specs:

Sizes: S, L | BC3-M – for men
Sizes: S, L | BC3-W – for women
Gender | Male / Female specific
Capacity | 25 liter
Main fabric | 210 D Nylon
Max. load | Recommended up to 10 kg (22 lbs.)
Hydration Pack | optional
Weight | 2010g (4.42 lbs.) via Ultimate Digital Alpine Scale
How big is the BC3?
I don't know about you, but 25 liters does not mean much to me. To see exactly how big the BC3 is…I pulled out two gallon water jugs to test the limits. To my surprise (as you can see from the pictures in the gallery), the BC3 fit both jugs with room to spare. On top of that, I was still able to fit a pair of Sidi Dominator 6 shoes in the outside stretch pocket. Needless to say, the BC3 from Ergon is able to carry a lot of gear.
There are several pockets/storage compartments that provide specific uses:
Media pocket – Located at the top of the pack, this water tight media pocket is designed to hold your cell phone, mp3 player or small camera. With one, easy to open zipper, this shallow pocket fits the needs of about all your electronic needs minus a larger DSLR.
Rear Hydration Bladder Compartment – Directly behind the harness system, there is a large hydration bladder compartment that will fit any of the larger capacity bladders on the market. At the time of this review, Ergon did not have one of their bladders ready, so I used a 100 oz CamelBak system. By bringing the hose out of the left side, you are able to bring it over your shoulder and tuck it out of the way.
Internal Organizer – With an internal storage capacity as large as the BC3, you need some sort of organization to keep everything from mixing together. Inside you will find a panel that provides several open and zipped pockets to store tools, tubes, nutrition and any other small items you need to carry along with you on your ride. Directly behind that panel (which can be tightened down to prevent movement while riding) is a flat pock that is perfect for maps and other flat objects.
Outside Pocket – The outside stretchy pocket is perfect for dirty outside layers that just had to come off due to heat, protection gear and a helmet. The stretchy material allows you to tighten down any outside objects and keep them from getting lost on the trail.
The waterproof nylon construction of the pack is durable enough to withstand the conditions of multiple day riding that will keep your gear dry, but it is stiff to work with at times. Unfortunately, there is no material that I am aware of that you can get this kind of waterproofing and durabilty but still be extremely flexible. You have to trade a little bit of usability to get this protection.
Riding with the Ergon BC3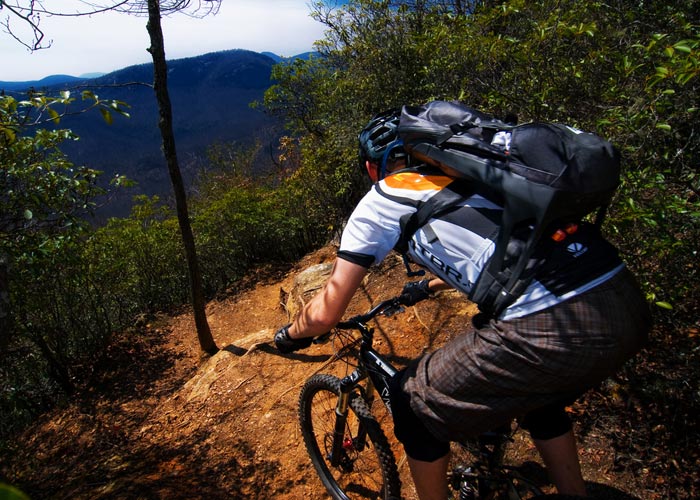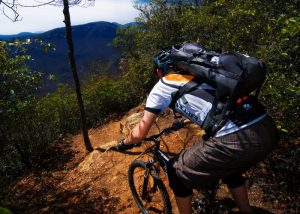 To test the Ergon BC3 to its full extent, I took it up to the mountains of North Carolina for multiple days of pure Pisgah National Forest riding heaven. Typical Pisgah weekends consist of multiple days of long rides out in the middle of no where. On typical rides in Pisgah, I carry more than I would on any other ride because of the remoteness of the location. I need to have plenty of water, extra bottles, first aid, nutrition, multiple layers (depending on season), camera equipment and protection gear for when I want to get crazy.
The BC3 uses a unique harness system dubbed the Motion System. You can find out more about that system on my into post by clicking here, but long story short…the shoulder harness moves independently of the pack so when your body moves…the pack doesn't. On top of that, the pack acts more like a traditional backpacking pack by centering all of the weight off of your shoulders and onto your hips. As you can see by the picture above (taken by regularjoe), the BC3 stays almost completely off your back by design and ends up feeling lighter and smaller than it is because of the harnessing system. I was actually worried that the pure size of the BC3 was going to hold me back from riding a certain way on the trail, but this efficient harnessing kept the pack from being a burden while riding.
The upper shoulder harness works exactly like advertised, but there were cases where I felt the need to readjust to get it centered. Basically, I just had to give my shoulders a quick shake and all was good again. There are several mounting points for the Flink Ball Joint to make sure that the BC3 fits your frame/body type. Be sure to read the instructions on any of the Ergon packs to insure that you have it fitting properly to your body.
With larger loads, having the weight off your shoulders and on your hips made for comfortable riding over the long haul. It did take some getting used to as I am more accustomed to traditional packs from CamelBak and Dakine, but once you ride for a little while…the weight shift is really one of the greatest assets of this pack. I found that I had less neck and upper back soreness after long rides.
The Truth About the BC3
Ergon really did their homework when it came to designing a pack that you can use for multiple purposes and really long rides, but lets be honest…the BC3 is not your everyday riding pack. It is just too big. For those of you that are looking for a pack that you can complete multiple, overnight rides and double as a light backpack for small trips, the Ergon BC3 may be what you have been looking for. You are not going to use the BC3 for regular rides, and if you are looking for a similar system on an everyday ride pack, I would check out their smaller models…the BD1 and BD2. The BD lineup carries the same Ergon harness system so you can get that same feel in a smaller package.
Good Ergon BC3 Cycling Pack
Basically waterproof
Enough storage to bring half your house
Harness allows air to your back
Weight transfer to the hips makes for a very comfortable pack
Swiveling shoulder harness keeps pack from moving with your shoulders
Multiple storage compartments to carry everything you need
Shoulder straps are extremely comfortable and well padded
Bad Ergon BC3 Cycling Pack
BC3 is not for everyone
Price – 200.00 MSRP
Hydration bladder is and option
Limited outside pockets – Would have liked to see more outside pocket options for nutrition
I am looking at planning some mountain biking vacations in the near future and this will be the pack I bring with me for those long excursions.
Where can you buy a BC3?
For the absolute best price I could find on a BC3…click here.