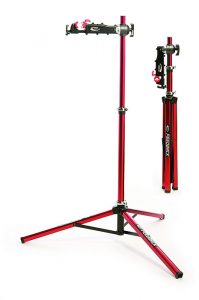 Having a secure and easy to use bicycle repair stand can make the difference between a hassle free, painless repair and a frustrating trip to the garage. Whether you are changing out tires or building up a bike from the frame, having a repair stand is one of those essential "non-trail related" products that every cyclist should have regardless of wrenching ability.
Feedback Sports sent over their top of the line Pro-Elite bike repair stand for review on Bike198.com. This red ano bike stand is geared towards portability while also providing a stable stand with all of the available options and the ability to support a wide range of bikes. Over the course of this review, we used the repair stand in numerous locales with everything ranging from 16 pound road bikes all the way up to 40 pound AM and DH rigs on the road and at the trailhead to get an idea how this repair stand performs in just about every situation imaginable…so let's take a jump in and see how it did.
Feedback Sports Pro-Elite Bike Repair Stand
From FeedbackSports.com:
The Pro-Elite is the go-to repair stand for mechanics on the road. This heavy-duty portable repair stand features our quick release clamp head and the rubber jaws can accommodate up to 2.6″ tubing. Stable on almost any surface, this bike stand can support 85 lbs. and has an adjustable work height from 42″- 71″. Anodized aluminum tubing will not rust.
Patented Quick Release Clamp
Innovative Secure-Lock features ratchet-action closing and push-button release. Tri-Knob allows fine tuning of clamp jaw pressure. Quickly get bikes in and out of the repair stand.
Clutch
360° rotation of the clamp head allows you to work on the bike in any position.
True Portability
No tools required for easy set-up and tear down. Quickly folds into a compact unit.
Maximum Stability
Strong, easy to open tripod design allows wrenching on flat or uneven surfaces. Stand holds up to 85 lbs.
Anodized Red Aluminum
Weight 12.6 LBS . ( 5.7 KG)
Clamp Height 42″ – 71″ (1067 MM – 1803 MM)
Clamp Opening Accommodates Seat Tubes Up To 2.6″ (66 MM)
Base Diameter 54″ (1372 MM)
Jaw Width 3.25″ (82.5 MM)
Folded Size 5″ X 8″ X 45″ (127 X 203 X 1161 MM)
Load Capacity 85 LBS. (38.6 KG)
3-Year Warranty
MSRP: $259.99 with Tote Bag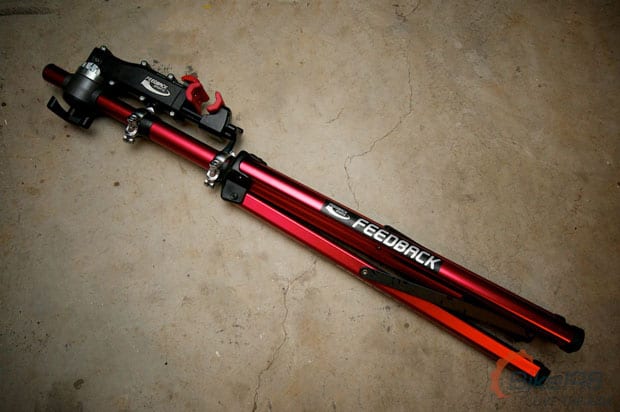 Review: Feedback Sports Pro-Elite Bike Repair Stand
At first glance, the Pro-Elite bike repair stand looks like a high quality unit. The red ano coating is even and all of the components are laid out nicely. The aluminum design makes the stand easy to move around (especially with the included tote bag) and the 12-13 pound weight makes it manageable even for small women cyclists. Once removed from the bag, the bike repair stand extends out via two large clamps and a rotating dial to fold up and tighten down the arm. The ano finish creates a slick surface that makes the entire process quick and stick free.
The arm on the Feedback Sports Pro-Elite uses their patented quick release clamping mechanism that is extremely easy to use and adjust. All you have to do is put the seat post in the opening, push the clamp shut and then tighten it down with the large rotating dial on the end. When you are ready to release the bike, hit the release button and the seat post is free. This quick release mechanism was a nice addition when dealing with road bikes and other lighter rigs, but it really became a bonus with heavier mountain bikes as it decreased the time you have to bike repair stand there balancing the bike for clamping and removal. If you have ever worked on a bike in the 33 lbs. plus range…you know how important and energy saving it can be to get the bike in and out quickly.
Once in the stand, the bike is secure and easy to maneuver to accomodate just about any repair. The 3 arm base provided a stable platform, but just like with any portable (not bolted to the ground) repair stand, you do have to be careful not to pull it over during hard wrenching. With the bike weight that high above the ground, even stable stands like the Pro-Elite can tip over if you are not careful. We did find that the Pro-Elite did a great job of finding footing on varying terrain…especially at the trailhead. With rubber feet at the end of the arms at the base, we were able to find solid ground to do our repairs at every stop.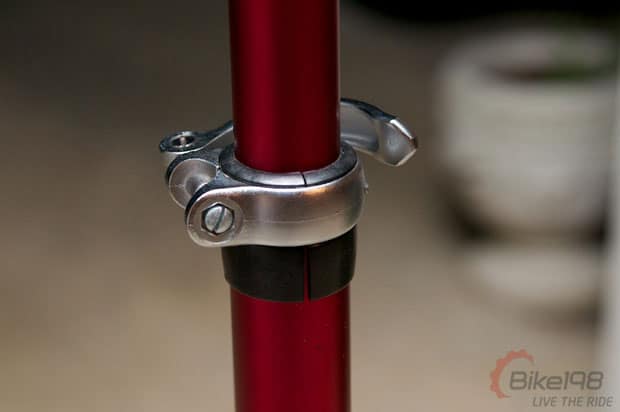 One area of the Pro-Elite stand that we find does need a little bit of improvement is the post extension clamp that secures the stand height. While the clamp does a great job of holding the stand at the desired height (when adjusted correctly), there were times when the stand would want to telescope down under heavier loads and the only way to adjust the tension on the clamp was to grab a flathead screwdriver. When you already have a bike in the stand, that was a little bit of an annoyance. In future generations, I would like to see a manual, finger adjust on that clamp to make tension adjustments for that clamp easier on the fly.
Overall: Feedback Sports Pro-Elite Bike Repair Stand
The Feedback Sports Pro-Elite did everything I want a stand to accomplish. It is lightweight, durable and allows me to work on a wide range of bikes quickly and easily and after numerous trips and wrenching sessions, the Pro-Elite looks just as new as the day we took it out of the bag. For a portable bike repair stand, it provides a very stable base and the quick release clamping mechanism makes working on heavier bike much easier.
Positive: Pro-Elite Bike Repair Stand
Easy to use clamping mechanism with quick release
Light enough for all users to carry
Durable construction and ano finish
Large, easy to use clamps and rotating dials
Tote bag makes for easy packing and moving
Plenty of adjustability and stability for a wide range of bikes
Negative: Pro-Elite Bike Repair Stand
Price: 260 retail is a lot for a stand (can find it discounted online and there are other models available…this is the top of the line from Feedback)
Telescoping clamp needs finger adjust for tension for on the fly adjustment
If you are looking for a solid bike repair stand that is going to last you a long time and you can take everywhere, the Pro-Elite is probably exactly what you are looking for. It has become our full time stand for most wrenching in and out of the garage.
Buy your own Pro-Elite stand by clicking here.