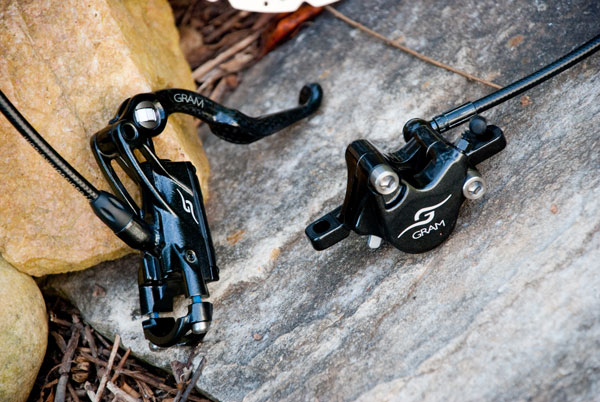 Hayes Disc Brakes sent in a set of their lightweight, racer ready Stroker Gram hydraulic disc brakes for mountain bikes for review on Bike198. These carbon bladed disc brakes round out the lighter end of the lineup for Hayes and provide xc riders and racers with a lighter weight option for their rigs. So after months of abuse on the Turner 5.Spot, how did the Stroker Grams from Hayes Disc Brake perform?
More On The Stroker Gram Disc Brakes
From hayesdiscbrake.com:
The Stroker Trail and Carbon were already tremendously capable across a range of applications, but we knew we could make an even better brake for weight-obsessed cross-country racers and pedal-up/ pedal-down all-mountain types. The result is the Stroker Gram. What sets the Gram apart from all the other models in the Stroker family is the removal of non-structural material from the master cylinder (confirmed by finite element analysis), leaving behind a form that is as strong as it is sexy. We've also dressed up both the master cylinder and the caliper in titanium hardware, and thrown in our lightweight aluminum-backed pads. Sure, there are lighter brakes out there, but none match the Stroker Gram's combination of weight, power, modulation, serviceability, durability, and value.
Available Rotor Sizes: 140 (rear-only), 160, 180, 203, 224 (mm)
Master Cylinder: Radial Symm; Al.
Caliper: Two piece; Aluminum with Caliper Positioning Window; titanium bridge bolts
Color: Lucky Black
Pad Material: Semi-metallic w/Aluminum backing plate
Lever Blade: Carbon fiber with tool-free reach adjust
Fluid: Hayes high temp DOT4
Claimed weight: 355g (160mm rotor), 339g (140mm rotor)
Hayes Stroker Gram Disc Brake Review
Out of the box the Hayes Stroker Gram disc brakes for mountain bikes are a solid, black set of brakes. At 355 grams for the system with 160mm rotors, you are looking at a weight that is on par with the Avid Elixir CR's and lighter than most recreational, all mountain brakes on the market. So xc riders should like the decreased weight advantages at this price.
Stroker Gram: General Use
The install process is straight forward just like with any hydraulic brake install. The two bolt clamping mechanism on the lever allows you to install the levers without removing your grips or other components. The adjustable banjo fitting on the caliper end lets you fine tune your install for a cleaner look and better brake line routing.
The particular kit came setup with lines that were a little long for the large 5.Spot frame but not long enough to warrant cutting and re-bleeding the lines. Hayes does provide their own bleeding system that comes in a small case. The instructions are straight forward and if you are used to bleeding your own hydraulics on your mtb…you shouldn't have any issue.
Reach adjust is handled through a knob internal to the lever blade. It is actually one of the easier to adjust (only the Hope's have topped it) out of any of the brakes I have tested to date. It is easily done with or without gloves on to get the perfect reach for your hands.
Stroker Gram: On The Trail
Test Setup: Turner 5.Spot with 180mm rotors front and rear
Note: Silver rear post mount adapter is not Hayes brand.
Once everything was setup and properly functioning, it was time to hit the trail and see how these things performed. With Chad's previous review of the new Stroker Ace's from Hayes, I was expecting some pretty good results out of this brake.
The overall lever feel is a little loose. It is not something you notice right away, but when you jump from brand to brand, you can notice a little bit more up/down/left/right movement of the lever in your hand. This does not affect performance of the brake in any way…it just didn't feel as solid as some of the other brakes on the market. I think this is because of how the lever mounts to the lever body with the extended arm.
Once on the trail and rolling, the first thing I noticed was that the Stroker Gram has a lot of power for its weight. The large braking surface and larger pads result in a powerful brake on the trail that still modulates surprisingly well. Typically, you get power but no modulation at this price level and that was not the case with the Stroker Grams. Overall braking was consistent and progressive through the Stroke with more than enough power for a 5.5″ travel mountain bike.
During the testing period, I did not notice any significant brake fade or loss of power under more extreme/downhill runs. The brakes stayed consistent throughout the run, but…for more extended, long runs…you are probably going to want a more dedicated for the purpose brake.
Overall Thoughts: Hayes Stroker Gram Disc Brakes
Hayes has a great product in the Stroker Gram. You get power and modulation at a price and weight that most riders can feel really comfortable with. There are lighter brakes on the market for dedicated weight weenies, but you are going to pay to play in that arena.
I would like to see some bite adjustment and a little bit more solid lever feel on the future versions of this brake from Hayes, but overall I was incredibly happy with their ease of use and performance on the trail.
What Was Good About The Stroker Gram
Respectable weight for a "lightweight" mountain bike disc brake
Stupid easy to use reach adjust
Great modulation and power throughout the stroke
Great price point for mountain bikers looking for a lighter weight option
What Could Use Some Work
Lever feel is a little loose
No bite adjustment
Rotors are a little heavy
Search Amazon.com for the best price on Hayes Stroker Gram disk brakes