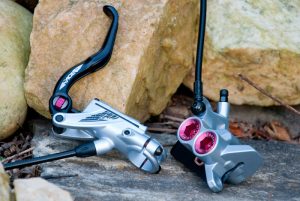 Hayes jumped head first into the downhill/freeride/all-mountain realm with their first 4 piston caliper hydraulic disc brake for mountain bikes, the Hayes Stroker Ace. With a claimed weight of 440 grams for the system (160mm rotors and hardware), the Hayes Stroker Aces look to be a powerful brake at a light weight as compared to other brakes in this segment (Hope Tech M4 review brakes weigh in at 410 w/out the mounting brackets or bolts.).
More about Hayes Disc Brakes
Ripped from HayesDiscBrake.com:
Why Hayes Disc Brakes? Because brakes are the lifeblood of our business. Our sole focus is to develop products that outperform in your application and outdo your expectations. Hayes has been around for decades, surpassing industry standards and setting the curve in performance. It's no wonder that companies like Polaris® and Harley-Davidson® turn to us for their disc brakes.

Built into each Hayes disc brake is the power, feel, and dependability you need to get the most out of every ride. People who listen to other riders and ride themselves are the same people who design our brakes. We continually enhance, redesign or introduce products with stopping power and safety features that you won't find in other brake systems.

Hayes Brake has been leading the pack in brake technology since 1946. That same commitment to breakthrough design and performance was extended to the mountain bike market in 1997 when Hayes Disc Brake was formed. The revolutionary products that Hayes Disc Brake introduced set a new standard for hydraulic bicycle disc brakes worldwide.

Starting in 1997 with just three U.S. and six international distributors, Hayes Disc Brake now serves customers in more than 50 countries with warehouses in the U.S., Europe and Asia.
Hayes Stroker Ace Hydraulic MTB Disc Brakes
Specs:
Master Cylinder: Radial, Symmetrical; Aluminum
Caliper: Forged mono-bloc; Aluminum; Four-piston
Pad Material: Sintered metallic w/aluminum backing plate
Lever Blade: Aluminum, XL w/tool-free reach adjust
Fluid: Hayes high temp DOT4
Claimed Weight: 440g (160mm rotor); 488g (180mm rotor); 520g (203mm rotor)
From hayesdiscbrake.com on the Stroker Ace's…
The Stroker Ace features Hayes' first four-piston, forged mono-bloc caliper and our biggest pads ever, giving the Ace tremendous heat management capabilities. We've also designed a longer lever for increased leverage at the bar. Mated to the proven Stroker master cylinder, this makes the Ace our most powerful brake ever, while advancing the already unmatched Stroker modulation. At a system weight of 427g (including 6″ rotor and hardware), the Ace trumps all the other gravity-oriented brakes in the deck.

Available Rotor Sizes: 160, 180, 203, 224 (mm)
Initial Thoughts on the Hayes Stroker Ace Hydraulic MTB Disc Brakes
First, it is great to see Hayes jump into this segment of the market with something that is completely new for them. It creates separation between the Ace's and the other brakes in the Hayes lineup. With the increased demands on hydraulic disc brakes for mountain bikes…more power with less weight is always welcomed.
The Ace's retail for around 230.00 each depending on where you shop, so they are a little over the median price point. If they perform as advertised, they could be considered a value as compared to some of the competition, but with the Avid Elixir CR disc brakes at a slightly lower price…they need to be considerably more powerful with modulation to boot.
The 4 piston caliper design is strong at first glance. The mono-block design should keep braking consistent and trouble free. Hayes provided us with several different pad options (organic and sintered), so we will have to see which combination provides the best balance between modulation and power.
Overall, I am very impressed with the construction and look of the Ace's out of Hayes Disc Brakes. Now we just have to get them out on the trail and beat them up for awhile to see if they can stand up with the rest of the competition.
Buy Hayes Ace MTB Disc Brakes