I was at The Hub in Brevard, NC getting ready for one of my favorite rides in the country…Laurel Mountain to Pilot Rock. For those of you that don't know…Pisgah National Forest is one of the best backwoods riding you can get in the US. Brevard, NC is right in the center of it and The Hub been striving to make this a destination spot for mountain bikers. They are succeeding even with the highly technical terrain.
As I was walking around prepping for the back breaking hike-a-bike at the top of Laurel, I had a thought that I always have right about this time before this ride…I really wish I had my Five Ten's instead of my Specialized clipless shoes for that hike-a-bike section. For some odd reason…plastic soles just don't grip steep rocks…who would have thought?!
Like any gear obsessed mountain biker in a shop that sells both local craft beer and carries the likes of Santa Cruz, Evil Bikes and others…I headed my way over to the shoe rack to check out a better option for the ride other than my Specialized shoes that are over 5 years old and cut my hands when I ratchet them (in all fairness…Specialized does make some of my favorite clipless MTB shoes and these have lasted more than most).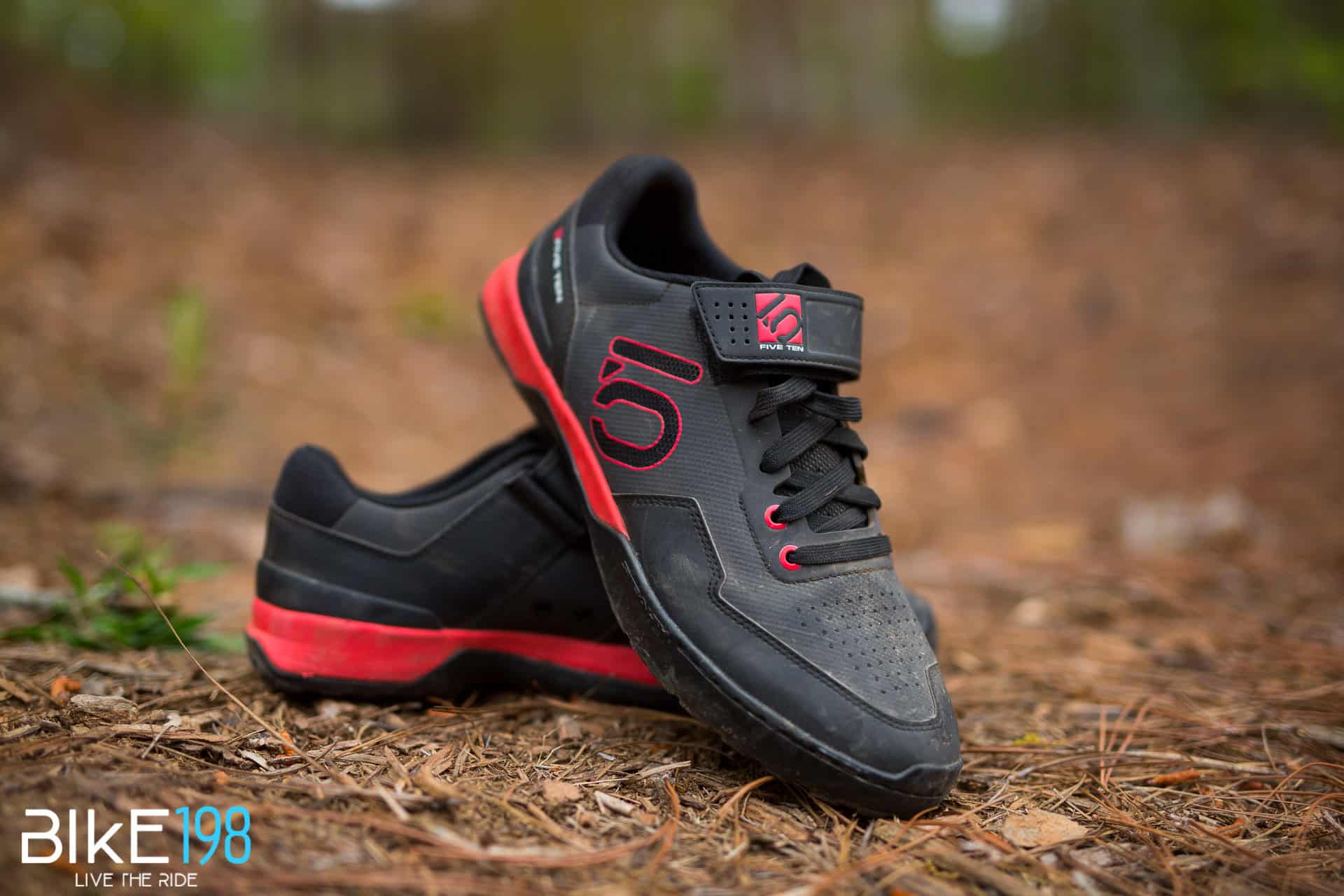 My eyes landed on the Five Ten Kestrel Lace shoes. I have a lot of experience with Five Ten thanks to my flat pedal life and their Impacts from back in the day that I still use. So yes…there is a little bit of brand bias when it comes to their brand but I'll keep that at bay for now. The red/black wouldn't have been my first choice as they have an all black version of this clipless compatible shoe…but I was in a hurry to go ride with UGI so I bought some new SPD cleats…they mounted them up and I was off to one of my favorite trails in the country.
So here is my unrealistic hope…a flat pedal shoe for clipless. Why is this unrealistic? Because like most people that want the best of both worlds…I don't believe there is a way to make a shoe that bends like a regular shoe with a metal plate and the support for that plate in it. As much as I wish there was (and if I could figure it out, I would start my own shoe company), I don't think it is possible.
So what are we really looking for out of a hybrid'ish shoe like this?
Enough comfort and grip to be able to navigate hike-a-bike / technical walking sections while being able to keep the clipless life.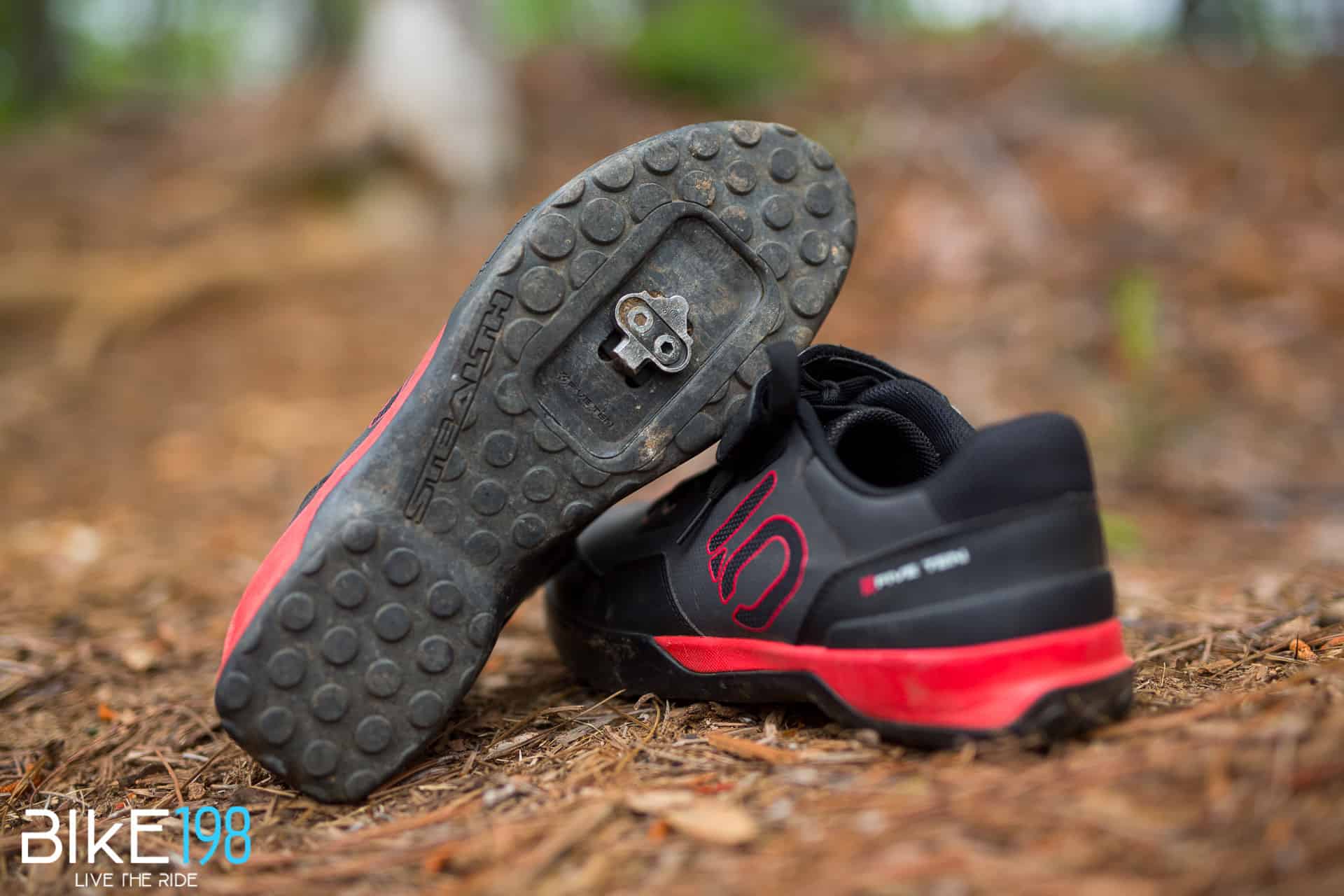 I have about 50 miles of tech from NC to AL on these with a couple of wrecks in between so let's get into how they actually perform instead of my shoe thoughts…but here are the stats from Five Ten,,,
Stitched Stealth® C4™ rubber outsole
Compatible with all SPD pedals
Perforated toe vamp & mesh tongue for extra breathability
Non-slip heel cup to reduce torsional flex
Compression molded EVA midsole with nylon shank
Poly-urethane (PU) coated synthetic upper
Sleek, low-profile design
Velcro lace strap
463g each (Size 9US)
On the trail with the Five Ten Kestrel Lace Shoes
So the first thing I really noticed was the support. The arch support and the midsole support in these shoes is fantastic. It is more than my insoles in my other clipless shoes and even more than my other Five Tens. There was something about trying these on for the first time that made my arches just happy. For someone with back and knee issues…this is huge.
As you can see by the pictures, this version of the Kestrel is laced with a single strap across the top to hold the knot and keep you secure. There is another version of the Kestrel that is a strap only but one look at the picture and you'll see there is probably nothing other than maybe the sole that has anything in common with this shoe.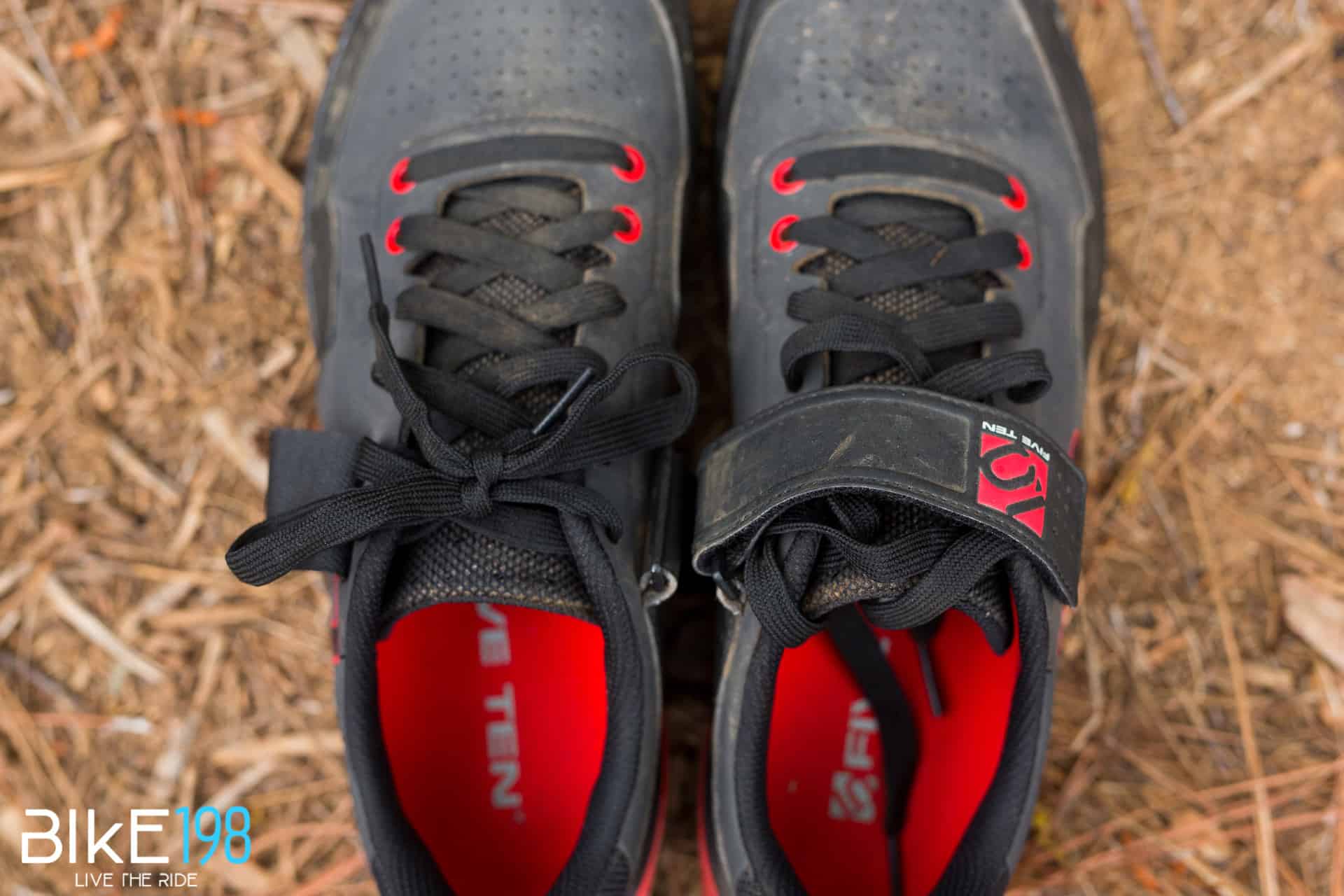 After dealing with years of failing buckles after numerous hard rides…wrecks…the lace setup with a velcro strap is a nice break.
On the bike, the shoe feels a lot like any other clipless pedal shoe. It has to by default. They need enough support through the mid sole to make a pedal surface and that comes at the compromise of flexibility. Where you will see a little bit of difference is the wide box for the cleat that does allow for more mud clearance. It was a wet week before the first ride on these in Pisgah so that was tested multiple times. Every time…the cleat was found and in before the tech hit.
Where these shoes really shine was when we had to push our bikes up technical rocky terrain. Before you judge…pro riders have to hike this section. Where plastic tread slips…the Stealth rubber grips. The shoe can not bend like a normal flat shoe but under wet, rocky hiking conditions…at least the rubber does it's job. It's a patented rubber design for rock climbing which will explain a lot for that.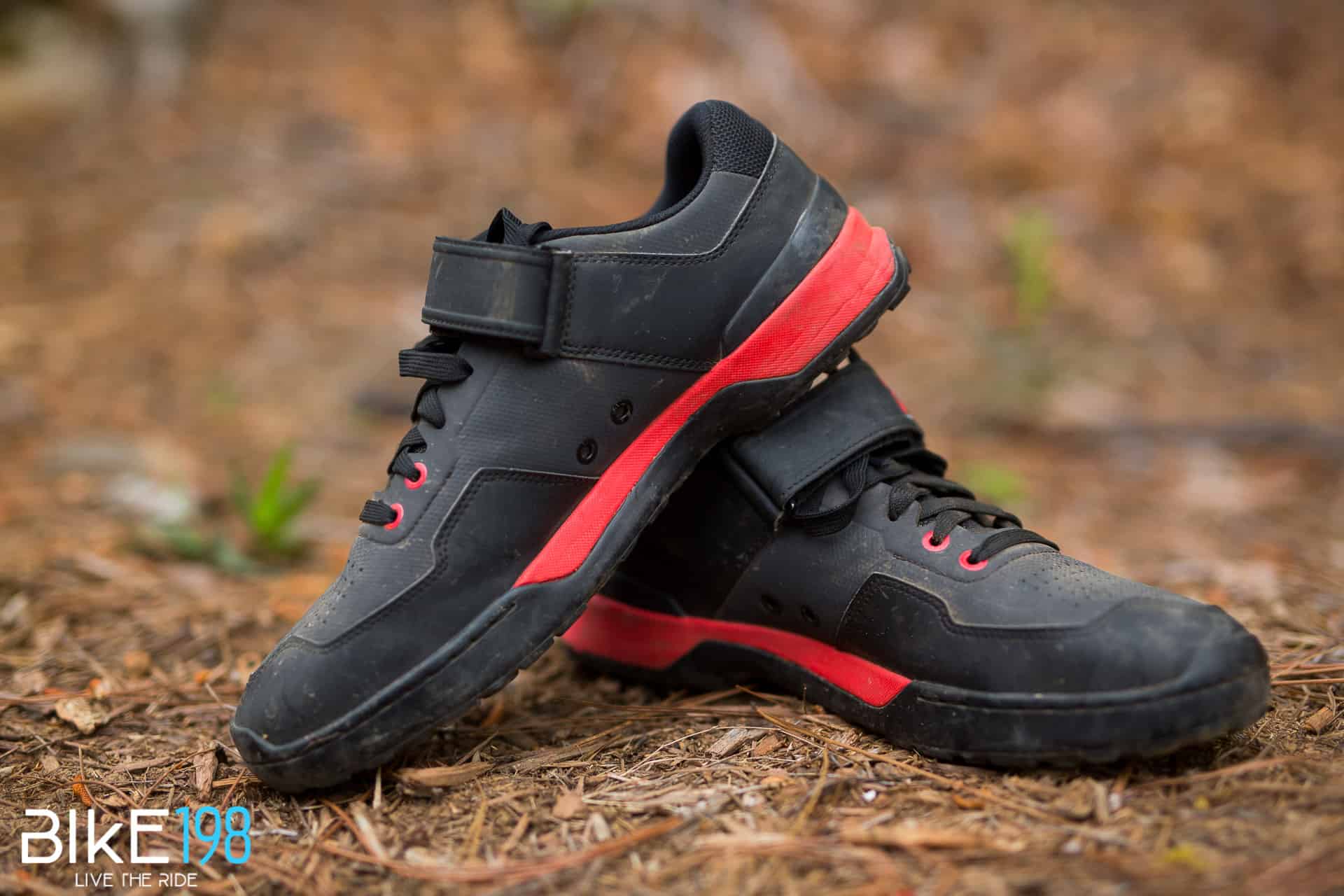 So while this glowing review has been a lot of fun…there is one issue with these shoes that isn't perfect…well actually two.
Most of the Five Ten line has more upper ankle support than these do. While they are really comfortable through the foot…the front of the ankle is really low cut next to the strap. I find that the strap/lace section on the top wants to dig into your ankle when I walk. It doesn't happen at all on the bike…only off. The other issue I had was while the shoes have a great cup on the heal…if you want to wear cycling style compression socks…they slip. On the hike-a-bike sections…while it was better than traditional clipless shoes…I still found a lot of slipping of my heal due to sock choice.
Overview of the Five Ten Kestrel Lace
So far…this is the best balance I have found for technical riders looking for a clipless compatible shoe that can also hike terrain. Is it perfect? No…but I'm not sure we can find a perfect option as of right now for this market. Five Ten has a fantastic reputation in the flat shoe market and they have done a good job of trying to bridge the gap…more than most. This shoe is the perfect balance for riders like me who love being clipped in but need some grip in technical terrain. That is probably a small market but it fills it well.
The Overview
While this shoe might be perfect for what I need...I am a small market of riders.
The Good
Great support for the mid and front sole while riding
Stealth rubber sticks like glue...even in a clipless shoe
Quality construction that is known from Five Ten
Wide box that sheds mud/dirt easily
The Bad
A little front ankle pain on steep walking due to the low cut nature
It's a shoe that is trying to bridge a gap that is hard to bridge