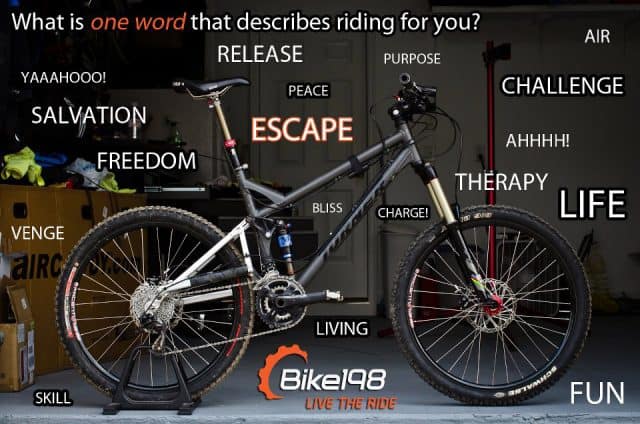 For those of us in the southeast US, this week is a pivotal point in our year. Daylight savings time hit and that sparks the beginning of our true riding season. After work rides without lights are now a reality and the weather is about to get warmer. For every rider, it is the beginning of the best riding part of the year.
About this time, I always look back on the previous years riding and what I want to do differently in the coming season. Obviously for me, it is going to be to keep the back healthy. Core workouts and adjusting my riding style are going to play a big part of that if I want to ride pain free and the reality is that big drops to flat and hard tail/rigid bikes are probably out of the equation now. The really sad part about that is now the Wolfhound is going to be a wall decoration in the house…sad day indeed…
Other than trying to keep healthy, there are a few other things I have been thinking about a lot lately that I want to change in my 2012 riding season. Most of this thinking was sparked from a Facebook post I started a couple of weeks ago asking what one word describing mountain biking for our Facebook followers. The responses that came back were great so I made the image above and starting thinking about what riding was to me and how I was going to let that effect my riding season this year.
So here are my 3 goals for the 2012 riding season…
More solo rides – While part of the best aspects of riding is the social atmosphere, I really want to get in some more solo rides this year. Solo riding – for me – is more about my personal journey and it gives me a chance to clear my head, work on my own riding skills and enjoy the outdoors. While you can do all of this on group rides, when you are out by yourself with your bike…you can do it in a stress free environment where you do not feel like you are holding anyone up if you want to stop, session or enjoy the surroundings.
Take More Pictures and Video – As I alluded to in a previous post this week, there are not enough AM styled mountain biking videos and pictures. When we get out on the trail, we are so concerned with getting from point A to point B that we often forget to capture the experience. Videos and photos are not just for DH and FR mountain bikers. We just have to make a conscious effort to capture our experiences and share our own riding with people around the world.
Focus More on the Riding I Truly Love – My favorite rides are big climbs to big descents. Whether I am riding 10 miles that day or 30, I want those big descents and I don't care how long the ride is. There was a time in my life where I enjoyed the pain. I would do XC races and ride past my limits physically to challenge myself and what I considered to be a long ride. These days things have changed for me mentally. I want to extract as much enjoyment out of every ride that I can and that kind of pain is not what I am looking for anymore. I'll use the road bike to increase endurance so I can use the mountain bike as my release. There is nothing wrong with wanting to extend miles and race XC courses. There are riders that prefer that end of the riding spectrum and love every second of it. It just isn't what I am into anymore and I need to stop stressing my riding and my mind trying to do those activities on the bike.
It is going to be a great year of riding and I am really looking forward to getting focused on making it a successful year. The 5.Spot is ready to roll and we will be reviewing some other great bikes and components as the year gets going. Hopefully you guys see a great 2012 riding season that is filled with dirt and road time while staying healthy.
Long story short…it's on.
Are you ready for 2012? What are you going to do differently?