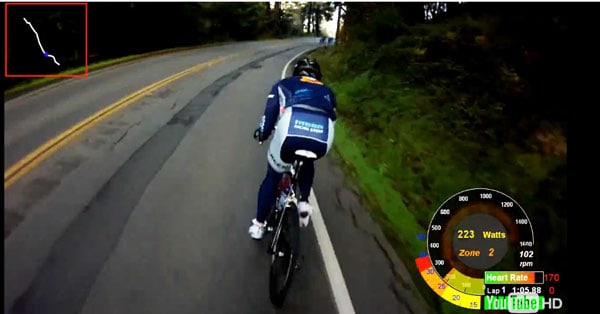 A friend of mine, Jason Milliron, pointed me in the direction of this video late last week. Really shows the visual power of wattage recorders and video for training purposes and just general "hey…look what I did!".
From the owner of the video:
I've been trying to do this on my own for weeks, but don't know video or code. There are several software programs that auto racers use for video telemetry. Finally gave in and got the software.

I used Dashware by ChaseCam. it's expensive though, $150 (glad I didn't spend the gift card Santa gave me!). I'm sure the talented computer guys can figure out how to do this on their own for free.

The program is made to pull data directly from automotive track GPS boxes, but they really just download CSV files. I pulled an automotive file into Excel and put my Garmin data into the columns.

You don't need GPS, you just need a time column delineated in seconds. Without GPS, the only thing you lose is the little animated map.

The software has a window which runs the video, and another that runs the data. once you find the sync point, you just lock it and that's it. Since your video file has a time stamp and your workout data (srm, wko or garmin) has the same, you can do a rough link quickly. In the software, you can then adjust by frame or millisecond.

There's also a gauge editor which you can play with to display your data.
For a helmet cam, you could go with either the GoPro Hero HD or the ContourHD.