As video becomes more mainstream for recreational riders, the need for high quality helmet cameras is on the rise. With the low cost helmet cam offerings from GoPro to this high quality unit from V.I.O., helmet mounted video cameras are becoming a regular sight at your local trail head and serve as another way to document and share our incredible rides.
V.I.O., Inc. sent over their new POV.1.5 helmet cam in for review.
About V.I.O., Inc.
From vio-pov.com:
V.I.O., Inc. (V.I.O.) In 2000, David Ollila founded Viosport.com, Inc. an advertising based Internet video streaming company featuring short clips of progressive sports content. He created a helmet camera system to capture hands-free video content for the site. Customer demand for the helmet camera led David to transform the company into the leading wearable video innovator. Since then, V.I.O. camera systems have been sold in more than 60 countries. Presently V.I.O. designs and sells rugged wearable video cameras, and recording devices for customers in the military, law enforcement, security (government and private), commercial, and recreational sports industries. V.I.O.'s products are patent pending, have achieved traction in their target markets, have received widespread and favorable interest from the press, and are frequently used in the filming of major television productions.

In the fall of 2007, V.I.O. introduced the POV.1, the first affordable digital wearable video camera to achieve global market acceptance across all helmet and motor sports categories with cross-over demand in military and public safety markets.
V.I.O. POV.1.5 Helmet Cam Specifications
The POV.1.5 records in 2 modes, LOOP or CLIP. In LOOP mode, the user TAGs and saves key video segments. In CLIP mode, video is continuously recorded as in traditional video recording. Recording, playback and set-up are controlled by buttons on the POV.1.5 recorder.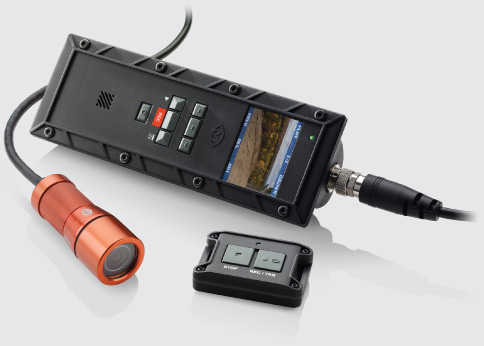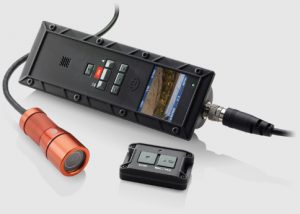 Video:
Frame rates: 30fps, 25fps, 24fps, 15fps
Resolutions: 720×480, 720×400, 640×480, 360×240
Formats: MPEG4 AVI (DivX Codec) digital, NTSC/PAL analog
Exposure control: Automatic exposure control and white balance
Imaging Hardware:
Sensor: Advanced CMOS sensor with electronic global shutter
Dynamic range: 75dB to 110dB
Sensitivity: 5 lux color sensor (Sub 0.1 lux monochrome sensor)
Processor: 32 Bit MIPS processor, 12 Bit image
Optics:
Sensitivity: F/#2.0, Relative Illumination @full field 90%
Effective focal length: 2.97mm
Field of View: 110 degrees
Audio:
Mic type: omnidirectional cable-mounted, -40dB sensitivity at 1kHz
Resolution: 16-bit half duplex
Sampling rate: 32kHz
SNR: 80dB
Speaker: Monaural 8ohm mylar, 0.7W Max
Input/Output:
Recording capacity: Includes 4GB SD card, 8GB SD card capability
I/O Ports: SD card slot, USB 2.0 high speed (Mini -B), Mic-In, NTSC/PAL Analog TV/Audio Out
Included in the box:
POV.1.5 recorder with LCD display
Wide Angle camera head 110 degrees
LVDS Cable
POV Manager software
Wireless Remote Control
4GB SDHC Card
USB cable
Analog A/V cable
Quick Start Guide
4 AA batteries
Carrying Case
Double-Hook and Loop Mount
Star Mount
MSRP – $649.99 US
Initial Thoughts from 198
Out of the box first impression on the V.I.O. POV.1.5 helmet camera is impressive. It comes packaged in a high quality zipper case to make carrying much easier given all of the extra accessories. The actual helmet mounted camera lens is small and light, but you do have a cord that runs to a body that contains the screen and editing functions. The body is light enough for normal use but it is larger than your typical bike light battery. The remote is a really cool tool that should make stop and start recording much easier.
Some serious time on the bike is going to tell of the corded design of the V.I.O. POV.1.5 helmet cam is going to be a hindrance, but other than that…the price is the only negative I can see with this helmet cam. The live screen is a nice touch that allows you to see whether you are pointed in the right direction instantly instead of when you get home and it is too late.
Stay tuned for more footage and review content on this one…it's going to be fun!