Luckily, for many of us in the United States, we got to enjoy a 3 day weekend full of sunshine, and…of course…you know what that means…3 days of riding! Labor Day weekend historically provides us cycling addicts with a perfect excuse to get out and do what we love best 3 days in a row. This year, I managed to do the entire weekend without the aid of a single suspension component and that is an extreme rarity on this end. Like any iPhone obsessed geek, I brought it with me the entire weekend so you can see how it all went down…
Saturday Road Hammer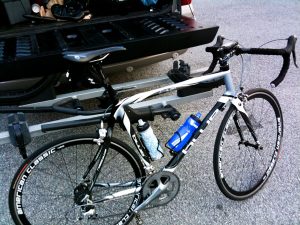 To be honest, I had a lot of yard work that had to get done on Saturday (I think some of the weeds were growing into the weed classification and if I didn't chop apart my dead pine tree back there…I think I would have been on my way to a divorce!), so a morning road ride is exactly what the doctor ordered in terms of time vs. benefit. Towards the end of this month, I am going to participate in a brutal road century or 50+ miler in the mountains depending on how I feel, so I needed the road time anyway. But…the main reason for tagging along on this ride was to get some spin time in with some friends that I had not seen in awhile.
This Saturday morning road ride was in Dallas, GA and was going to last around 62 miles with about 3800′ of climbing. To add to the punishment, there are some serious motors that run with this particular crowd (atlbike.org). I packed up my hairy legs, clipless shoes with tread and my Blue Competition Cycles Nx7 and headed out with the expectation of extreme pain as I continually try to keep that rear tire in sight.
To my surprise…I actually felt incredible on the ride. I even ended up pulling a couple of times and – for the first time ever on a group roadie ride – I pulled my own weight and contributed to the ride. Now…I am not a roadie by any stretch. I actually just try to pretend like one whenever I throw a leg over the skinny tired machine, but during this ride…I actually felt comfortable in the pack and with the riders. Luckily, a handful of these roadies are ones that I have ridden with before on dirt and road, so that helped with the entire situation. By the end of the ride, my legs were completely toasted but I was satisfied with my efforts. I think the bike literally pulled me along, but the more miles I put in…the better things felt. After this ride, I really feel like I am accomplishing something on the road bike. It was a great day out on the blacktop.
Sunday Was A New First For My Wife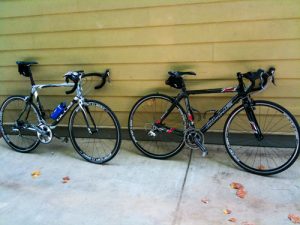 For sometime now, my wife has been hinting that she wants to give road riding a try. She really enjoys mountain biking, but is running into a common hurdle that many beginning mountain bikers struggle with…endurance. To build up mountain biking endurance, you really have to be riding regularly. With a limited amount of friends at her riding level and a limited amount of time to ride, she just has not been able to jump over that hurdle and get her riding where she really wants it to be.
Road riding – in comparison to mountain biking – increases your endurance much faster and also requires far less prep and tear down time when you want to ride. She thinks (and I agree 100%) that if she gets a road bike, she can increase both cycling disciplines much faster and hopefully join us on long, mountain rides in the near future.
Luckily for us, a friend of ours was gracious enough to loan Jenn her Blue Competition Cycles RD1 (can you tell we like Blue road bikes around here?!). With a beautiful carbon road bike in hand, we headed to a local paved path ready for some first time roadie action. As I had predicted, this trip was going to end up costing money as we now need to open up another bike slot in the garage. She loved it!
Like many mountain bikers, she still thinks that mountain biking has a bigger fun factor when it comes to riding, but there is a tranquility about road biking that you do not get on the dirt. She also could feel herself working consistently as she kept a constant cadence and this instant feedback was really what she was after with the road bike idea.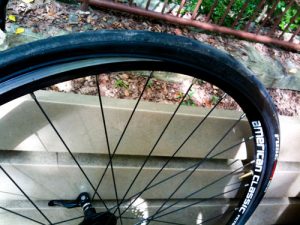 There was only downside of the entire ride (other than the plastic in my wallet crying)…in all of my road miles, I have never gotten a flat, but – sure enough – she gets one on her first trip out! To make matters worse, it was actually a ripped tire that caused the blowout and I didn't realize it until I was pumping up the new tube. A quick trip to the bike shop to buy a new tire and tube…and we were back on the trail. I put in 25 miles with my trip back to the car and she got in a total of 18+ on her first road ride experience. Great day when it was all said and done…even got to see some wildlife!
Riding MTB Rigid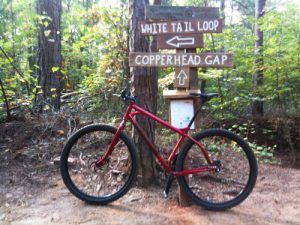 Remember when I said I did the entire weekend without suspension? My Monday MTB ride was just that…rigid. I brought the Wolfhound Rigid SS out of retirement and hit Chicopee Woods with a couple of friends of mine.
It was actually great to get out on a rigid SS bike on the dirt again. It also made me realize how sloppy I had gotten with my mountain biking. While suspension bikes make you faster through most sections of trail, they also easily cover up a lot of your mistakes and adjust for your trail mishaps. A rigid bike does none of that and you are given a sharp reminder when you f'up. By the end of the ride, I was comfortable on the rigid sled again and my riding was cleaned up dramatically. Now…I can jump back on my suspension bikes and apply that to increase my speed. If I have said it once…I have said it a thousand times…diversifying your riding will make you a better mountain biker. There is also a great amount of satisfaction in mixing things up a little bit as you continue to explore other avenues of the sport.
So there it is…an entire weekend without suspension and a whole lot of miles. You really can not ask for more…now…to get ready for next weekend with a lot of big wheeled suspension…did I mention a new review bike is arriving on Thursday?!