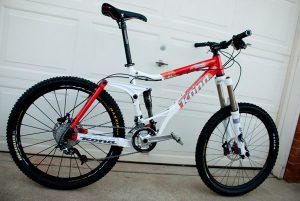 The Kona Coilair Supreme is a controversial mountain bike. With the Magic Link "6 +1″ suspension that automatically changes from 6″ of rear travel to 7.4″ of DH glory, the Kona Coilair is marketed as a park bike that can be ridden to the top of your favorite hill without the need of a lift assist but still bomb the DH like you would be used to on a 7.4" travel rig. With statements like this from Kona…
For the discerning free-crosser, that soldiered soul who climbs to the huck-and-hold goodness of advanced mountain cycling, the Kona CoilAir Deluxe does everything good. XC one day, dirt jumps the next, shuttle-descents on Thursday to mega alpine assaults all weekend long, thanks to our Magic Link technology, the CoilAir has the instinctive ability to change geometry, suspension performance and length of rear travel depending on your type of riding and the terrain at hand.
…the Kona Coilair Supreme is going to have some big shoes to fill in its quest to be the do-it-all rig.
The Kona Coilair Supreme Build
The Kona Coilair Supreme come nicely spec'ed with some of the best from Fox Racing Shox, Shimano, Race Face and Mavic. The Supreme was Kona's top build for 2009 and for around $5,799 retail, you get a bike that has some of the best components in the industry. This build weighs in around the mid 30's range which puts it right in the fight for DH capable all-mountain mountain bikes.
Highlights:
Fox Racing Shox Talas RC2 w/165mm Travel and Tapered Steerer Tube
Fox Racing Shox RP23
Race Face Atlas Cracks setup 2×9 (32T/22T)
XTR Rear Derailleur with XT Components Rounding Out the Rest of the Group
Mavic Crossmax ST Wheelset
Race Face Bars, Stem, Post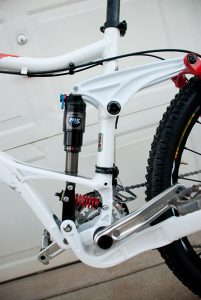 The bright orange and white definitely gives this bike a unique, in your face look that might not be for everyone. If you are looking for a bike that will not go unnoticed…this orange will do the trick. Within the front triangle, you will see the nuts and bolts of the Magic Link suspension setup. Each Kona Coilair comes with a detailed manual on suspension setup as you have many more variable to deal with than normal. Luckily, this rig came setup for my riding weight, so all I had to do was make sure that each of the adjustments equaled the correct sag and ride quality. In total, there are 5 adjustments to the rear suspension based on your riding weight.
Fox RP23 air pressure
Secondary shock spring rate (replace per riding weight)
Secondary shock spring preload (turning preload collar)
Secondary shock elastomer stiffness (replace per riding weight)
Secondary shock position (based on rider weight)
With everything setup correctly on the Kona Coilair Supreme, I was ready to hit the trail to see how this bike was going to perform while climbing and in the rough stuff.
Riding The Kona Coilair Supreme
Kona's goal with the Kona Coilair was to make a mountain bike that could be ridden in all conditions. That said…there is not a mid 30's weight bike in the world that is going to climb like a 4″ xc rig, so this bike is really made for downhillers that need a little help getting their bike to the top of a hill. In the southeast United States, we have very limited assisted options, so something like the Kona Coilair could be a great option. Theoretically, the Kona Coilair changes travel, bottom bracket height and travel depending upon braking forces and chain tension. As the bike encounters downhill like symptoms, it changes all of these automatically through the Magic Link suspension.
Descending the Kona Coilair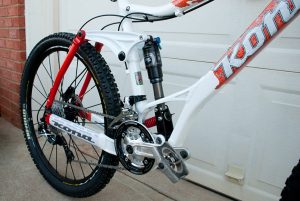 Pushing a bike to its limit is what Kona has been known for doing best. Their bikes have been used as rentals in parks for years due to their competitive price, stiff platform and ability to deliver stiff, plush suspension that is a blast to ride. Unfortunately, the Kona Coilair leaves a lot to be desired in the DH realm. The suspension setup changes to 7.4 inches as advertised, but this change is done on a platform that can best be described as "not Kona stiff". You can feel the rear wheel wandering through off camber rock gardens and in smooth berms…the rear triangle walks. When you are riding a 7.4″ travel mountain bike down your favorite section of trail, you expect that longer travel platform to stay put and with the Kona Coilair…that confidence is just not there.
The rear suspension was plush for a air sprung setup and you could carry a lot of speed through straight on rock gardens. It was when you put hard longitudinal loads against the rear triangle when the Coilair started to show signs of weakness.
Drops to flat and with transition were taken easily if you were on a straight exit. The Kona Coilair took the hits and performed without any noticeable harsh bottom outs or unpredictable behavior. When I took larger drops…I had the confidence that the bike was going to be there for the landing. During face styled, dirt jumps, the bike had a hard time with the pressure applied on the jump before take off. It almost seemed like the bike wasn't sure which setting to be in and sometime would change midway up the face. I am suspecting that this has to do with the XC nature of smooth DJ lead ins coupled with the ram the face force of the takeoff. A similar effect was felt at the apex of smooth slalom styled berms as the suspension would squat into the secondary travel setting under pressure. I also think this is what gave the bike the "walking" feeling during smooth transitions.
Up front, the Fox RC2 with the tapered steerer tube tracked beautifully connected to the boxed tube front triangle. For riders looking to really take advantage of the 7.5″ rear inches of travel, you might want to look into a Totem solo air for increased DH ability as the Fox 36 can have its limitations under more extreme conditions. If Kona could just get this same stiff construction transferred to the rear end of the bike, they would have a completely different descender.
Climbing the Kona Coilair
Surprisingly, the Kona Coilair climbed almost as advertised. With very little pedal induced feedback, the bike seemed to just motor up the hill. It climbed a little bit slower than most 6″ travel all mountain bikes but considerably faster than any of the 7.5″ + rigs I have ridden up to this point. You are not going to win any king of the mountain contests, but the Kona Coilair will get you to the top of the hill with enough energy left to tackle the descent. The rear end provided plenty of grip for technical climbs when seated, but when you got out of the saddle…those harder forces made the suspension want to compress and in a big way. The Coilair really is a sit and spin rig to get to the top. For those that want to really increase the climbing efficiency, you can lock out the RP23 rear shock and drop the travel on the Talas. I wouldn't go much below 120mm on the front as the 100m travel setting can give you the feeling of plowing the trail in front of you.
Overall Thoughts On The Kona Coilair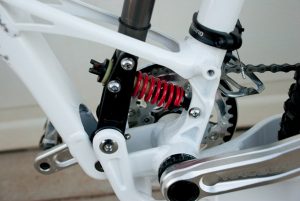 The Kona Coilair is not going to be your singletrack all mountain bike that you can play xc with and then take to the downhill course. It is going to lean more towards the downhill end of the spectrum based off of climbing performance and weight. On the flats and slight inclines, the bike has a hard time keeping pace without the aid of gravity to get you going. This is to be expected out of any bike in this rear travel range, so – basically – there is no such thing as a do-it-all bike.
The end result on the trail is a bike that is a slow climbing 6″ travel rig that does not descend as quickly as a dedicated 7.5″. Kona tried to fill a gap in between these two disciplines of mountain biking, but it is my belief after riding this bike for sometime that they are going to have better luck with their new Cadabra that changes from 105mm to 160mm. The needs of a 6″ travel bike and a 7.5″ travel bike are so drastically different that it would be difficult for any bike company to marry the two together. What you end up with is a flexy 7.4″ travel descender that has a overly complicated suspension setup…and for most riders out there…it is going to be too much to deal with when they just want to set and forget to ride.
What I liked about the Kona Coilair Supreme
Great build list for the price
Front end tracks well and is stiff
Kona stuck there neck out there and tried something new
Respectable weigh in
Plush suspension
What I didn't like about the Kona Coilair Supreme
Not a stiff enough rear end for a 7.4″ travel suspension setup
Climbs slower than most 6″ travel mountain bikes
Suspension setup is overly complicated
Bright orange may put off some riders
Tapered steerer tube limits fork options
More pivots and moving parts means more maintenance over time
While I commend Kona for trying out the Magic Link to give riders another option when it comes to park/AM/DH riding, I don't think they are there yet. They need to make this bike "Kona stiff" before it will be able to tackle the terrain as advertised.
Video Overview of the Kona Coilair Supreme with Suspension Action
Video Shot with a V.I.O POV1.5
Kona Coilair Supreme On The Trail
Video Shot with a VholdR ContourHD