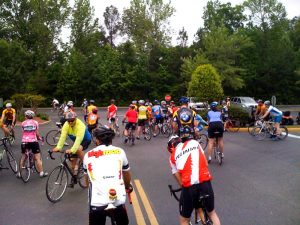 This past Saturday, the Coosa Valley Cycling Association had its annual Up the Creek Without a Pedal road ride in Rome, GA. This road ride has several different mileage options (30, 45,62, 100) available to accommodate riders at all skill levels. With a ton (576 riders) of riders all eager to conquer the roads surrounding Rome, it was time for me to make a decision. How far was I going to take these legs that have never seen more than 60 miles on the road at one time? 100 miles…like I had any other option? It was time to man up and complete my first century road ride. The encouragement of friends helped some too…
With multiple sag stops and a very organized group ride, I concluded that this was probably the best chance to really stretch the road legs to see what happens. I had planned on Tweeting my way through the century, but cell phone coverage was non-existent. Those of you that waited on my Tweets got all of the updates at once!
As with any suffer fest, they all have to start at mile 0. With the Blue Competition Cycles Nx7 all cleaned up, ready to go and Garmin Edge 705 mounted, I was ready for the pain. The plan was to start with the A group and hold on for as long as I could taking advantage of that huge, fast draft. The start was a little awkward as many riders were socializing and semi-blocking. Eventually, I made it up to the front and with the rest of my riding friends ready to blast through the streets of Rome.
The First Leg of the Rome Century
And blast through Rome we did…at an average of 25 mph. I love fast group rides. There I was, with some of the fastest riders in the group, tire to tire, fulling enjoying the A group ride experience. I knew that it was going to be short lived as I could not keep a 25 mph average pace throughout the entire ride, but I wanted to take advantage of this long draft as long as I possibly could. I ended up dropping off the back about mile 45 or so. I probably could have stuck with them for another 10 to 20 miles, but I had another 60 miles to complete. I didn't want to be that guy laying on the side of the road.
During this first stretch of the century, I ran into a situation that I have never really experienced before. This was the first time I have ever been scared on the bike. I find this funny because I ride places that a lot of people say they would never touch for fun on large travel bikes, and now…on a roadie ride…I felt scared. What was getting my blood boiling? There was one rider in the pack who could not take one pedal stroke without his bike swaying back and forth. To make matters worse, he is not watching where he is going and almost runs a friend of mine off the road…twice! I know I still have a lot of roadie etiquette to learn, but there is one thing I know for certain…hold your line while keeping your bike straight and watch where you are going.
Second Leg of the Rome Century
So…as I said before, about mile 45 or so…I started falling off the back to ride my own pace. During this period of time, I was really just making sure I had the legs to make it to the end. I rode with several different groups grabbing a draft when I could, but for the most part…I was enjoying the north Georgia country side and riding a lot by myself. As you can see by the graphs, my average went down pretty significantly without the aid of a draft. Adding to that…there was a wicked headwind in all directions throughout the rest of this ride.
I stopped at a couple of the sag stops along the way to refuel and refill my bottles. The support on this ride was incredible and that really gave me the juice to make it to the end.
Third Leg of the Rome Century
To my surprise, I came up over a hill at about mile 70 (I think) to find a friend of mine Paula riding the opposite direction! Apparently, she didn't want me riding my first century ride alone, so for the last leg of this long ride…we took turns drafting back and forth and talking our way through the final miles of the 100. The head wind during this stage was insane. It really didn't matter which way you turned. It felt like I was riding with the front brake on the entire time as we pushed forward to the end. We hooked on to groups here and there but really couldn't find one that fit our pace, so we continued on. We refueled a little bit at the last sag stop and headed for the last 15 miles of the ride. At the end of the ride, we were greeted by our not so human friends and I had completed my first century. Thanks Paula for pushing me along!
Final Thoughts of the Rome Century
My true love is dirt and that will never change, but finishing a ride like this does give you a huge feeling of accomplishment. I came into this century ride knowing that I wasn't going to be the fastest or the slowest. I just wanted to have fun and finish any way I needed to. Surprisingly, I felt incredible at the end of the ride. My legs had no more power left, but other than that…things were great. Will there be more century rides in my future? Probably…and maybe with a little bit of training, I can hold onto that A group for a little bit longer next time. Until then, I am going to find some sweet single track to go rip to pieces.
Oh yeah…my Blue Nx7 performed flawlessly!