With all of the new dual suspension mountain bikes on the market, how are you…as the recreational mountain biker…supposed to pick out the best mountain bike for your needs as a rider? It seems like their is a new dual suspension platform for mountain bikes released every week that promises to bring your riding to a completely new level and be the best mountain bike for you in the years to come. In reality, all of these new mountain bike suspension designs are trying to tackle the same set of issues that you are seeing on the trail as you ride. I wanted to take a second and try to explain why there are so many dual suspension mountain bike suspension designs and the problems these mountain bikes are trying to tackle.
Dual Suspension Mountain Bikes – The Fight
So what is the fight with dual suspension mountain bikes and what does it mean to you? It would be incredibly easy for the mountain bike manufacturers to throw on a single pivot swing-arm like we are used to seeing on motorcycles and call it a day. You would have an extremely plush, active mountain bike suspension platform and there would not be as many options in your quest for the best mountain bike. However, there is two drastic differences that changes everything for the mountain bike suspension setup.
The obvious absence of a motor to carry your ass up the hill.
Pedal induced forces that play against the mountain bike suspension, but propel you forward on the trail.
These two factors make designing a mountain bike suspension much more difficult than a motorcycle suspension. Your body is giving more counteractive feedback to the mountain bike suspension because you are the motor. Your legs and body are what send the mountain bike into forward motion…not a motor. As you mash down on the pedals of your mountain bike, you are creating a downward force on the mountain bike suspension that sucks up efficiency. There is a constant fight between the mountain bikes suspension and your body as they try to react and work together on the trail.
What is a mountain bike suspension trying to accomplish?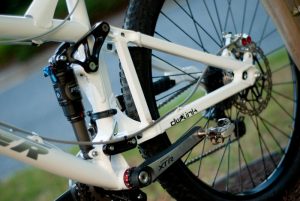 When a mountain bike is heading down the trail, what is that suspension design trying to accomplish for the rider? Your mountain bike suspension design is trying to give you a lot of different riding features without compromise…and that is not an easy thing to do.
An efficient pedaling platform that resists pedal induced feedback on the climbs that robs potential energy that moves the bike forward.
An active mountain bike suspension that is plush in all conditions…including during hard braking (very hard for most mountain bike suspension designs).
Have a stiff suspension platform at a low overall frame weight.
The fight between plushness, active braking and pedal induced feedback is the core reason behind the multitude of different mountain bike suspension designs on the market. Now…there are times that marketing takes over and there is a need for something new on the table to increase sales. It would not be a retail sale without that aspect, but…for the most part…each of these new mountain bike suspension designs that hit the market are on the quest to provide the best mountain biking experience possible.
As you see the new DW-Links, VPP's, Horst Links, Single Pivots, Faux Bars, LC2R's, ITC's, etc. hit the market, each of those mountain bike suspensions are on a quest for the same result…a mountain bike that climbs like a mountain goat but descends like a DH bike on a mission.
Which mountain bike suspension design is best for you?
I wish I had a answer for that question. In all reality, you need to get on as many mountain bikes and test out these suspension designs yourself to see which mountain bike suspension design is going to best fit your needs and riding style. The mass amount of options gives us a vast range of possibilities when choosing our next mountain bike suspension that is going to carry us to new riding heights, but it also creates a need to prolong the buying process a little bit further. By knowing the goals of mountain bike suspension design, you can single out the features that are most important to your riding and choose a suspension design that best fits your needs.
For this rider, I like a little bit more travel and I can give up some climbing pedaling efficiency for better small bump compliance. For another rider, they might just want to take the edge off and have the mountain bike's suspension act like a hard tail on the climbs. As you start to get a better idea of your specific needs, you should be able to tell those needs to a couple of local bike shops and find a mountain bike suspension design that will be your next perfect mountain bike (until the next latest and greatest comes out of course!)