A friend of mine sent me over a link to Renovo Bicycles and I found their lineup rather interesting.
Wood bikes are nothing new. There are manufacturers that have been experimenting with different wood frames for awhile. However, this seems like the first construction of a wood frame that actually looks like a real mountain and road bike frame. In other words, this looks like the first real world application of wood frames that would actually ride well on the trail.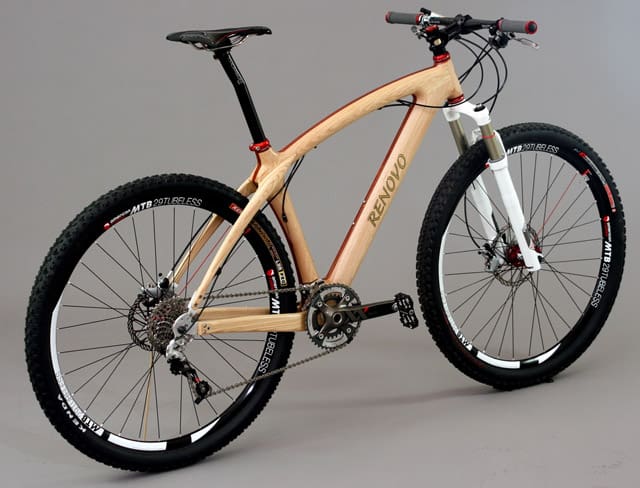 The Renovo lineup is manufactured in Portland, OR and features everything from 29er mountain bikes to road bikes, commuter hybrids and tri bikes. Basically, Renovo covers the complete gamut of cycling outside of full suspension mountain bikes. If you are anything like me, the first question you are probably asking is…why?
From Renovo:
We chose wood not because it's different, not because it's sustainable, but simply because we believe its engineering properties suit the requirements of most bicycle applications better than any other material. The performance of wood in applications more structurally demanding than bicycles has been well proven over many years. The most successful fighter bomber of WWII was the all-wood 400 mph British Mosquito, of which some 7500 were built. The all-wood unlimited hydroplanes Slo Mo Shun, Miss Budweiser and their brethren pounded through the water at well over 150 mph for many years through the '70s, and the fastest unlimited hydroplane ever at 511 mph is all-wood.

But over the years, wood in high performance applications has mostly been replaced by metals and plastics because wood is far more costly to work with. Designing is difficult because it's properties vary among species, and woodworking is demanding and difficult, so mass production is generally a non-starter. But where production is limited, and the properties of wood are matched to the product, it is difficult to surpass.

But, we don't claim wood is the solution for everything, or even very much for that matter. As a lightweight structural material we know it's also good for airplanes, boats, and a few other things. We're often asked to make wheels, handlebars, forks and more, but these each have practical or engineering drawbacks. So, while we may make something in addition to bicycle frames, it will be just as conservatively designed and engineered.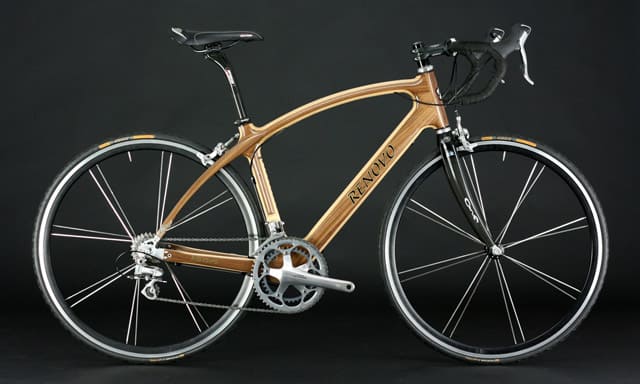 Interesting concept and makes sense on paper at least. With every manufacturer on the planet in the race to have the latest carbon fiber frame offering, Renvo is going a completely different route with wood. It does make for an interesting and beautiful frame design.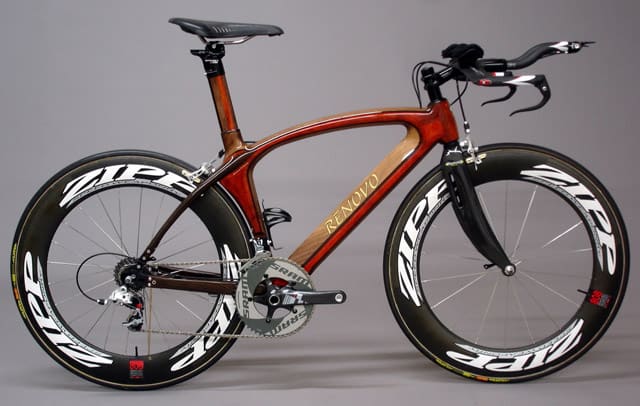 The frames even come out to a 4 to 5.5 pound weight, so the ability to build a lightweight bike out of wood is completely doable. Oddly enough, the almost $3,000 retail price on the 29er mountain bike frame and $3,450 retail on the pictured road frame is not as much as we were expecting for craftsmanship like this when other manufacturers are charging much more for imported carbon frames.
The jury is still out if the claims Renvo is making about wood bike frames holds true on the road or trail as we have not ridden one personally, but this is an interesting and beautiful interpretation of the bike frame.
What do you think?
For more information on Renovo check out RenvoBikes.com.