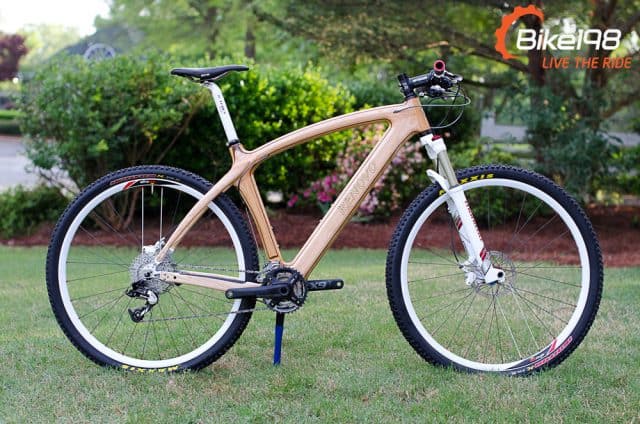 Back in December, we found out about a really cool wood bike company named Renovo Hardwood Bicycles. What originally caught our eye about these unique frames was not necessarily the fact they are made out of wood (that has been done before with bamboo), but that the 29er mountain bike and road frames actually looked like something we wanted to hammer on the road and trails.
Fast forward to now…Renovo Hardwood Bikes sent in their Badash 29er for review on Bike198. It is time to finally get one of these beauties out on the trail and it is beautiful.
Quite possibly the most unique bike to grace the Bike198 offices since the Wolfhound, the Renovo represents everything the bike industry isn't right now…unique. In a market where plastic bikes rule all and everything is starting to look the same, Renovo produces a truly unique frame with incredible craftsmanship. We haven't even gotten this frame dirty yet and it is hard not to just sit back and stare at it.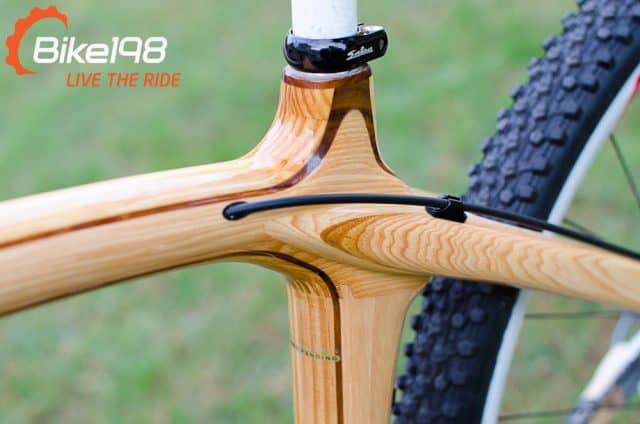 Where Renovo really sets themselves apart from other past wood bike manufacturers is their use of hardwoods. The Badash 29er is manufactured with the options out of the Appalachian series which consists of hickory, walnut, ash and maple in one or two series per frame for $2,550.00 MSRP. There is even a walnut center strip to add to the flare of the frame and beautiful internal cable routing. The dropouts are natural aluminum.
Once we posted up a picture of the frame on Facebook, there was some question on the durability of the frame itself as it is manufactured out of wood. Here is what Renovo has to say.
So, some time ago when we tested our road frames for impact resistance, we were pleased at how well they held up. Curious, we tested against butted frame tubes of aluminum, steel and titanium and were surprised that our frames, particularly hickory, withstood impact much better than the metal tubes. I confess we were a little smug about that, but failed to pick up on the implication that our frames would likely survive a fall onto rocks better than the other frame materials. Later testing showed our frames to be brutally strong; our lightest road frame failed at 2002 pounds, one ton, or twelve times the weight of the average rider. Putting 2 and 2 together (after a while), I finally recognized we probably had the makings of a seriously tough mountain frame.
So here are the pictures. We are looking forward to getting this bike out on the trail for some real abuse. At the very least…it should attract a lot of attention. To check out more about Renovo and their testing on the frames, head over to RenovoBikes.com.
Here is a quick video of the Badash in action from Renovo.