Kuat Racks sent us over their latest and greatest platform bike rack for review. To be honest, I have been a Thule user for so long that the conversation about reviewing this rack was the first I had heard of Kuat. But…after doing some checking around, I saw that they had been picked up by several bike shops locally. Yesterday, the Kuat NV showed up at Bike198.com headquarters and we were ready to unwrap this rack and get it mounted.
The Kuat NV Platform Bike Rack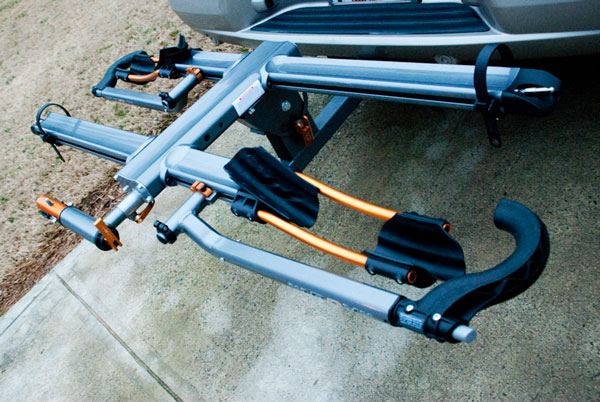 The Kuat NV has some pretty cool features that I don't see on a lot of racks. The feature that probably stands out the most is the use of an integrated bike repair stand that telescopes out of the racks base. Gone are the days of balancing your rig in the stand to do field repairs as you now have a repair stand built into the rack! I can't tell you how many times I have wanted something like that.
Over the coming weeks, the Kuat NV is going to get some abuse. My bike racks never leave the truck, so they get banged around 24/7 with multiple sized bikes racked and unracked on a weekly basis. It's time to get out and see if this rack from Kuat can handle serious mountain biking abuse. So far…it looks like a quality unit that has the possibility of replacing my T2 for full time duty.
More info on the Kuat NV from KuatInnovations.com: