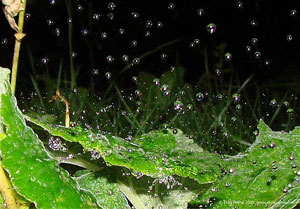 We are dead in the middle of the wet season on the northern hemisphere. As I write this, my night ride has been canceled due to weather moving in from the west, so there is no chance of getting out on the trail. Hell…it seems like it has rained every weekend for the past 6 weeks! As potential saddle time decreases, we have to make due with what we can get and sometimes that means heading out in less than satisfactory conditions. Riding wet trails have a completely different feel to them than when they are dry. That same trail that you have ridden 2,000 times before, has different ride characteristics when everything gets wet. So how do we navigate the wet terrain to get in some valuable ride time during this time of year?
Winter/Wet Weather Mountain Biking Tips
Disclaimer: There are trails that are closed during periods of wet weather. Here at Bike198.com, we do not promote or condone riding closed trails no matter how long it has been since you have gotten in a ride. Follow the trail open/close suggestions of the local group that governs your trail and always check for status prior to leaving for a ride. Causing un-needed damage to a trail system is never a good thing.
First…you need to know what you are dealing with. During wet weather riding, obstacles like roots and rocks are going to be much slicker than during the drier months. These means your bike is going to get thrown off line easier and you are going to have to pay more attention to grip and where you are positioning your body weight. It is going to be essential to plan ahead more and keep your vision looking outward.
Traction is an important aspect of any ride, but in wet weather…it can be hard to come by. As you go through sections of technical rocks and roots, your rear tire is going to want to spin out and stop your momentum more than normal. Try to find a gear selection that might be 1 or 2 gears higher than your typical sit and spin gear. If you have your gearing too easy, the high cadence can overload the rear so you spin out, but the slower you have to pedal can make the torque or need to stand spin you out as well. The trick is finding that happy medium where you can successfully clear sections seated with adequate grip.
As you come up on really muddy sections of trail, analyze the situation and get off to walk if necessary. While there may be a path to ride around the mud, only ride around the muddy section if you are still on trail. We run into problems with unnecessary trail widening when riders ride around obstacles and mud.
You are going to find yourself keep your bike more upright in slow technical and on fast turns. With slippery conditions, it is hard to get hard corner bite without the bike wanting to fly out from underneath you. Try to focus on balance and grip as you navigate slick sections and keep as much weight and grip downward. If you start to point that grip sideways and towards the side knobs of your tires like you do in dry conditions, you could get a surprise as you are sliding in the mud and your bike is in the air.
As you are riding in wet conditions, the most important thing you can do is have the mental realization that it is not just another day out on the trail. By keeping aware of what is going on around you, putting more distance in between you and the rider in front of you for safety and being aware of a little bit of trail etiquette…you can get in some great rides during this time of year.
Here are some wet weather mountain biking tips from Bike Skills.
Image by elvis_payne