Winter mountain biking is full of a bunch of ups and downs. During this high precipitation, cold, freezing, snowing time of year, the amount of saddle time we get in can be limit to stationary transits on a trainer. For those of you in mountainous areas that get a lot of snowfall, you get the luxury of a distraction in the form of snow sports. For those of us in the southern parts of the hemisphere, we are left with soggy and frozen as we attempt to get in some saddle time.
Over the past week here in Atlanta, we have been under ice and snow making riding near impossible (nothing quite like 1 inch of ice covering 7 inches of snow), so this past weekend…we got a glimmer of hope and headed south a bit to try to get in some miles on a network of forest service roads that were supposed to be somewhat dry. What we ended up was a mudfest of 42 miles, but it was still better than sitting on the trainer for one more day.
I'll be honest…I hate riding forest service roads. Unless there is a defined goal at the end of a FSR (like a killer, long downhill), I will always opt for singletrack over riding on gravel roads even if that means it will take longer to get to a specified destination. Typically, if all of my mountain biking friends are hitting up a FSR ride I just jump on the road bike, but since the roads were still filled with salt, sand and ice…this was my only option if I wanted my pedal strokes to actually move a bike forward. So I grabbed the Niner M.C.R. 9 and headed out to put in some long miles after not getting in that much riding.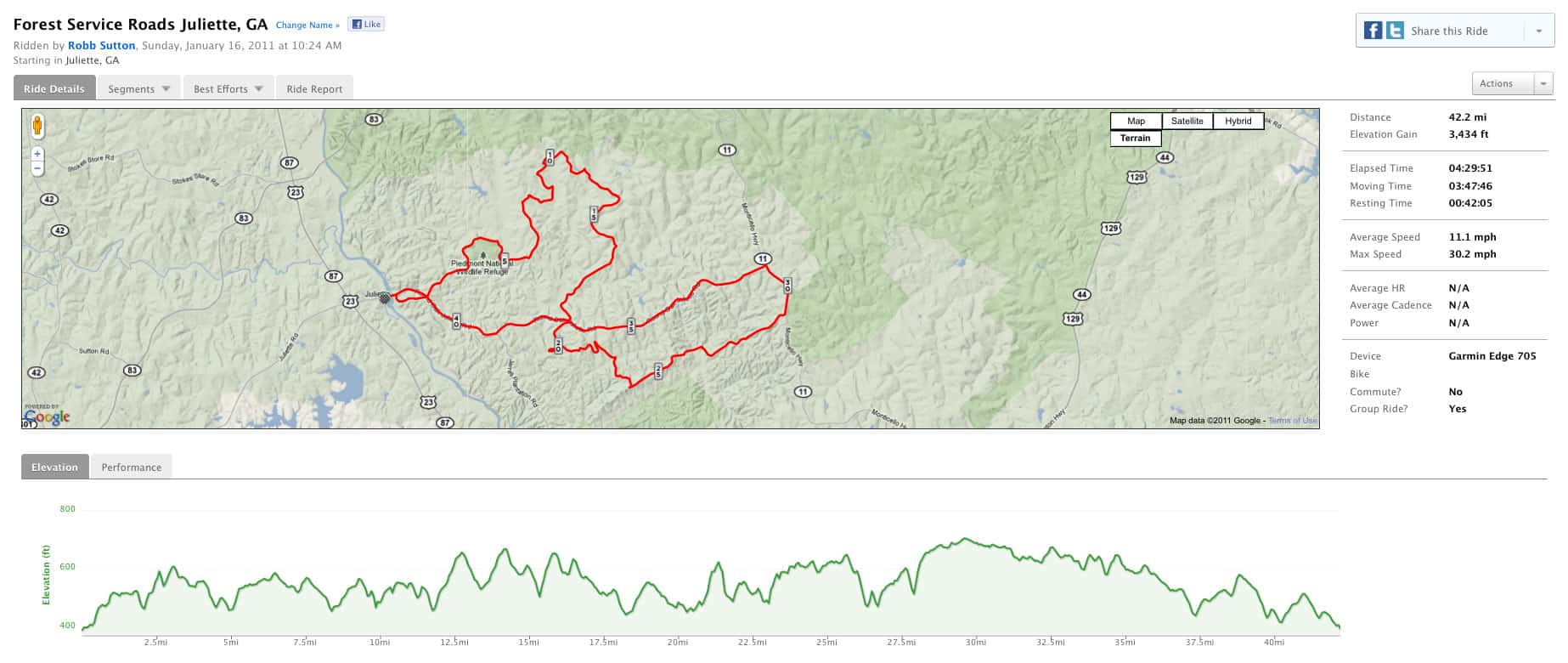 As you can see by the map, we ended up riding about 42 miles of gravel road just south of Atlanta. We were hoping that the roads would have been pretty much dried out, but unfortunately…freeze/thaw hadn't officially quit and most of the ride was done in mud ranging from 2 inches of crap to a watery mix. With brief glimpses of dry road and sun, we were still out riding and doing it with 30+ other riders all looking to get some saddle time in.
The Ride That Served Two Purposes
For me, this ride really served a dual purpose. I was able to get out and get some time in on the bike…which is always a good thing…but it was also a time to get outside and attempt to de-stress. I have written here before about how riding a bike, for me, is not just about the ride. For most rides, it is all about mountain biking and the adrenaline rush that comes with it. This is the sport I love and it is where I get my fix.
However, there are certain times in my life when I just need a ride. It isn't because I want to get my fix or hit a trail that I haven't ridden before…sometimes it is because I need to get in my own form of mental therapy. Everyone needs an outlet that clears their head and gets you back on the right track (or to keep sanity!) and riding does that for me. Riding is my therapy.
Life is not going to stop just because we are mountain bikers and riding is not my escape to run away from my problems. It is actually quite the opposite as I use riding to tackle my issues that come up in life. For a lot of these, there isn't much I can do, but with a level head and positive outlook, things tend to go much better on average and each pedal stroke gets me closer to that sanity. When a great friend of mine (or arch-nemesis) came up with the tagline "Live The Ride" for Bike198, I knew that was a perfect fit because of days like this past Sunday. At Bike198, it is more than just a collection of parts or a sport, we are living the ride on a daily basis.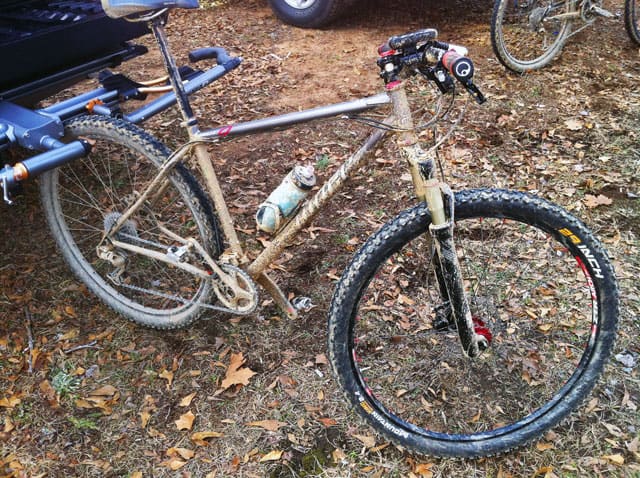 Now…as you can see by the Niner, I have some cleanup to do which is going to lead to a "what to do after a muddy ride" article for sure. For the record FSRSSMA (Forest Service Roads Suck So Much Ass) but time on the bike with friends will always win over time on the trainer.
Ride data was captured with a Garmin Edge 705.