Are you getting the new bike "I wants?" Everyone gets these from time to time and some of us get it more than others! It is a natural occurrence with cyclists as new products come to the market with the promise of being the next great design that will make you that great rider you have always wanted to be.
Do parts make you better? Sometimes…but being into the gear is part of the sport. There are plenty of riders on very expensive bikes that never tap into the bike's full potential. This is not a bad thing…
But here you are…wanting the feeling of that new ride but don't have the cash to make it happen right now. What is the cyclist that is starving for that new bike ride do to help the craving? He (or she) makes their current ride feel new again. Here are some much less expensive ways to make that "old" ride feel new again.
Why 9 ways?! Doesn't a list like this normally have nice round numbers like 10? Well…I do realize that I do not have all of the answers, so I want you guys to fill in #10 in the comment section below. I learn something new every day and I have always come across a fellow rider that looks at things in a different light than I do. So let's here what you guys have to say on the subject!
#1 – Time For A Tune-Up!

That's right! Sometimes…something as simple as performing a complete tune-up can give your bike that off the showroom floor feeling. Many times, I see an event take place that I like to call…"A build up of tolerances." By themselves, each of these slightly out of tune parts may go unnoticed during a normal ride. When you add several components together that are out of whack, this can cause the entire bike to feel off. Taking care of all of the mis-adjusted parts at once with a full tune-up will make your bike feel much better on the trail.
Don't work on your own bike? Take it to a local bike shop to get the work done. Check on your local online forums or ask riders at the local trail head for the best shops in the area. Don't always assume that the shop closest to your house or work is best for the job.
You can also check out this post on the "Top 10 Tips To Keeping Your Bike Running Smoothly" for more suggestions.
#2 – Replace Cables
Worn out shifter cables will degrade shifting performance. When your bike is not shifting correctly, it can really ruin a ride. Replacing all of the cables and housings will bring your shifting performance back up to where you expect it to perform. Most times, you may not even realize how bad it has really gotten until you change them out. I use the Jagwire Kit on my personal rides. The performance vs. value is hard to beat.
Keep in mind, with new cables…you will have to do some minor adjusting after the first couple of rides to account for the initial new cable stretch.
#3 – Replace Drivetrain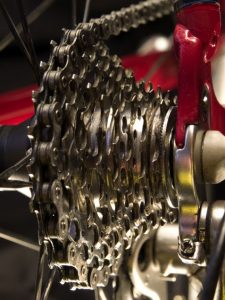 What is included with the drivetrain? The rear cassette, chain and chainrings. It is recommended that you change out all of these parts at once because they essentially wear into each other. Replacing one component at a time can cause pour performance do to the wear of the other related parts. A new drivetrain makes the performance of your shifting and pedaling as efficient as it used to be.
What do I use?
SRAM XG-1150, SRAM PC1110 11 speed and Race Face Chain Ring
#4 – Rebuild Suspension Components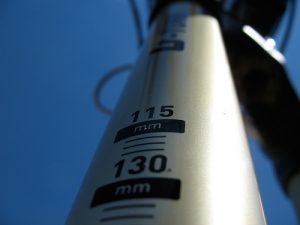 The suspension system is your communication with the ground (minus wheels, tires and your body). Poorly performing suspension components can make the bike feel harsh and in certain situations can actually hurt the ride. Rebuilding a suspension fork or rear shock normally includes things like fluid change, seal replacement, replacement of worn parts, cleaning, etc. Once a suspension component is rebuilt and set for your riding weight/sag, it can feel like new again and your ride will completely change.
Where do I get this done? For a simple factory rebuild, some LBS's will do it or at least send it back to the manufacturer for you. I really like the job that the guys over at Push Industries put together. Not only is it a rebuild, but it can also be a tune that is specifically spec'ed to you and your riding style. I don't think Push has ever seen an unhappy customer. If you really want to feel your shock come alive…send it to those guys. Stay tuned for an exclusive interview with Darren from Push later this month.
#5 – Upgrade Parts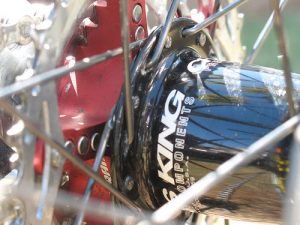 Minor or major upgrades can make a huge difference. For me…there is a hierarchy of parts that make the most difference and rank the highest in importance.
Wheels – Poor wheels can make even a great frame feel terrible. This simple upgrade can increase the quality of your ride more than any other single component in my opinion. A stiffer build will hold lines better…a lighter build will decrease rolling resistance so you can pedal easier…more engagement will help in technical situations…the list just goes on and on. One of the better advantage about investing in a better set of wheels is that you can move them from bike to bike. Talk to a reputable wheel builder about which set will be the best for your needs. I normally recommend Built To Last Wheels or Chad at Red Barn Bikes.
Brakes – Brakes not only stop your bike, but they control the ride. I love brakes that have superior modulation because they allow you to control turns and technical riding with ease. Typical "on/off" feeling brakes do not do this as well. On the top end…Hope or Formula is hard to beat. If you are a budget minded rider…take a look at the SRAM Guides.
Suspension – Like I said in #4, your suspension is how you communicate with the ground. Upgrading these components (fork and shock) will completely change how your bike rides. Just keep in mind two things: 1) For the shock, get the same eye to eye and stroke measurement as the shock you take off. 2) Try to stay as close to the same travel on the fork as the previous one you had installed. Going above or below this measurement will change how the bike rides, and in some cases…voids the warranty.
#6 – Clean Bike
Proven fact – A bike does not ride well with mud and dirt caked into a bunch of moving parts. Mud and dirt also act like sandpaper against components, so cleaning your bike regularly is a good idea anyway. Get rid of that extra weight and clean it! Suzuki Motorcycle Wash and a fresh lubing will make everything function properly for a long time to come.
#7 – Try A Different Configuration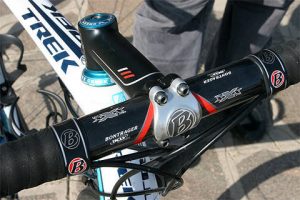 Has your riding style changed from cross country to all mountain? That 120mm stem may be hurting you in technical sections. Try switching to a 100mm or 90mm to get more stability. Have you really gotten into those steep climbs lately? Try a longer stem to get your weight farther forward.
The truth is that our riding styles change over time with our preferences. This means that your previous stem/post/seat configuration may not be suitable to your current riding style. Try changing things up a little bit and see what happens. You may find that you are really happy with the results.
#8 – Try New/Different Tires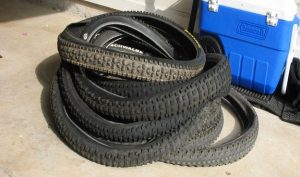 Tires are may favorite part to switch and try something new. Why? They are historically cheaper than most other components and they really change how the bike acts on the trail. There are more options for the mountain biking market today than there has ever been. I normally like the tires out of the Maxxis, Schwalbe and Kenda line-up but if you see a tread pattern that strikes your interest…give them a try.
The trend lately is to go for larger volume tires. Their weight has come down a lot over the past year or two and they provide more traction and bump absorption. As a by-product of the higher volume, you can normally run lower pressures without pinch flats. If you haven't tried a set of the larger volume (2.25 and up)…now is the time!
#9 – Pro Fitting
As discussed in this article, a pro fitting can make your bike perform exactly how you want it to. A pro fitting can also get rid of any small annoyances during a ride like back pain. Get in touch with a LBS in your area to see where a fitting might be available. Most of these will normally include a laser system to get it exactly how you need it. Many things that we sometimes take for granted (like cleat placement on your shoes) are placed with precision.
#10 – ______________
There you have it…my top 9 ways to make that old ride feel new again. Here is your chance to share how you make your ride have that new bike feel all over again. Let's hear it!