Late last night I posted a quick blurb on my personal twitter account about Cocotte Equipement sending in a sickening bag for us to review! The Cocotte-Equipement "Fred" Messenger Bag is by far one of the sexiest bags I have ever unboxed!
Initially, I was thrilled to unpack this perfectly stitched bad-boy from the corrugated fiber-board it was enclosed in and toss it up on the examination table for review. I personally did not get to spend much time with the Fred Messenger bag, but I did take a moment to sit back and take some snaps and analyze the near-perfect seams and hand-crafted goodness this bag delivers.
Background on Cocotte-Equipement
Cocotte-Equipment established their name in pro tech wear in 1993. Their bags are complete work-horses that spare no beauty or function at the expense of the biker. Their messenger bags are hot-commodities around Montreal and if you've seen one in person, consider yourself fortunate, they are sick!
Laying it all out…on the table
First, as I mentioned, I did not get much time with the bag myself, because it was immediately going off for its debut wearing the following morning from a good mate Zak Lindsey, Tulsa, Oklahoma who promised to give it a good beating and use during his commutes around town. He commutes from home to office, office to leisurely activities; and everything in between.
Exterior Features and Details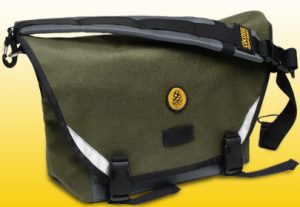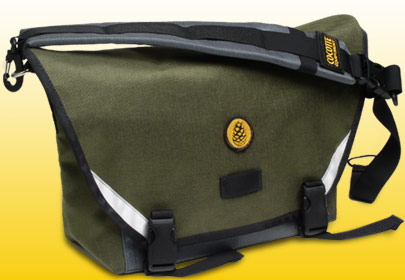 Size: 34 x 26 x 15 cm
Weight: 825 gr
Volume: 14 litres
Shell: 1000 deniers Cordura®,
Webbing and thread: Nylon
Lining: 420 deniers PVC coated Nylon
Shoulder pad: Évazote
Although heavy duty, the shoulder strap and assembly seem very light-weight and comfortable to fit. The strapping and associated components are very thick in material weight and the stitching is at least doubled up and very secure.
Heavy-duty, Duraflex clip components on the straps, collapsible bands and restraints for security and longevity. I don't think you will "out-do" this bag at all!
Two-secure Duraflex clips on the front of the bag to keep the satchel closed and tightly secured.
Pull / loosening band is stitched into the shoulder strap and band. I doubt this bad boy is going to come off…
Expandable via two Duraflex clips on front of bag that loosen to dramatically increase the overall volume of the bag.
Metal shoulder strap loops.
Padding, padding, padding, padding, padding, comfortable padding!
Double stitched seams is an under-statement!
Interior Features and Details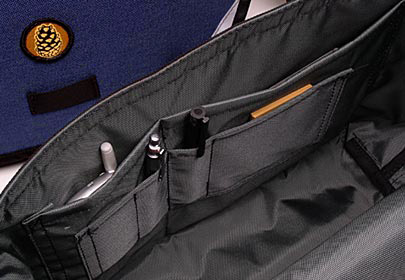 Although the exterior of the bag is super slick and sexy, the interior spares nothing in comparison to the exterior. The Cocotte-Equipement bag is just as sexy inside as it is out..
Two extremely large and functional Velcro pockets. These bad boys are easily 8.5″ wide.
Laptop sleeve provides great padding and protection for our beloved MacBooks and other electronic computers/notebooks.
I tested what I could fit in the bag and I got a notebook, folders, few books, three pens, a cell phone, misc jazz from around the office, bottle of water, and my laptop with plenty of room to spare.
Two more reinforced pockets, don't think you're going to get them to come off.. that's good!
Initial Impressions
As I stated, this bag is super sexy and well streamlined. I believe you could utilize it whether you're commuting to your office or riding to grab a quick grocery from the market. The bag sports a nice color of Olive / Khaki / Grey that is very neutral and honestly, if you concerned, could be thrown over the shoulder of even the most fashion conscious individuals. The Cocotte-Equipment "Fred" Messenger bag is the little-brother to the Alfred that really got them going, I believe. The bag is light (empty) and has a great deal of volume to it.
There are definitely larger bags available, but this bag is definitely in a class of its own. It sports the flexibility, style, usefulness and features of a large messenger pack bag at a fraction of the size. I am astonished at how much they were able to fit on to this bag and conceal the padding as well as they did.
Photographs of the Cocotte Fred Messenger Bag
Cocotte Equipement Company Details
Website at www.cocotte-equip.com
Located in Montral, Quebec, Canada
Phone (514) 527-7582
Email info {at} cocotteequipement ((dot)) com
Bag we are reviewing: Cocotte Equipement Fred Compact Messenger Bag