This is the first in a series of guest posts by Keith Pytlinski. Keith has shot for numerous bike magazines and professional publications…so needless to say…this guy REALLY knows what he is talking about. Mountain biking photography is a hobby of mine and a lot of the riders I ride with…so I found this invaluable information a must post. You can check out more of Keith's work over at M5 Photography. Here is part 2 and part 3 as well.
I'm assuming you are a lot like me; you love mountain biking, and you love mountain bike photos. You are probably reading this because you want to take the steps necessary to return from your rides with some great memories that aren't just "all in your head." Some call people like us "funny" names associated with cameras, and others seem bothered by our constant efforts to capture that perfect moment. You will have to ignore all of them and tell yourself that you are going to invest in the effort to shoot and shoot often.
Always Have a Camera With You
Step one is pretty simple; you gotta have a camera with you to get the photos. Bring your camera on rides. When? Always! Not just your big trips to Whistler or Moab. Bring it on your local rides, and have it with you when you ride solo. Seems so obvious when you are sitting here reading this text, but I hear it all the time when we roll up on an amazing view, or a friend pulls a trick that words won't describe, "Man, I wish I had my camera today". So, to restate what I said earlier…shoot and shoot often.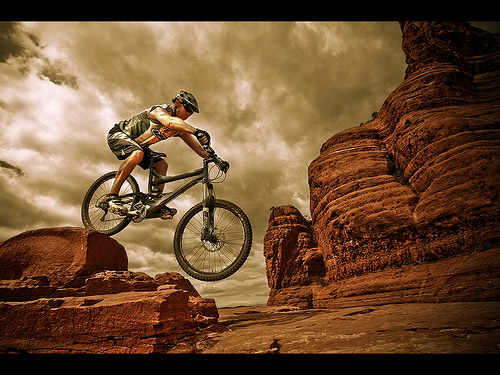 Unless you are off the bike at a planned photo shoot, one thing you'll have to come to grips with is that you'll probably need to be in equal or better shape than the people you plan on shooting. One of the best ways I've found to be in the right spot for a shot is to get out ahead of the group, pick a spot, and shoot the others as they ride by. Getting out in front of the group for the shot you want is why you'll need to be in good shape. Once you've taken the shot and put your camera away, you'll notice you aren't the lead dog or even with the group anymore. Sure, you might be fortunate enough to have riding buddies who will wait for you, but based on my experience, those friends are few and far between. Even the best of friends can grow tired of waiting for you. Just because you are "Mr. Photo" doesn't mean they want to ruin their "flow." So, while this article is about shooting, don't forget to focus on your riding as well.
Use your instincts about mountain biking
One of the best things about being a mountain biker and wanting to do mountain bike photography is that you know the sport. No one is asking you to shoot your cousin's wedding here.  You are shooting the sport you daydream about. You spend hours looking at the latest mountain bike magazines, watching Roam (for the 100th time), and tearing up the local trails. You shouldn't have any trouble being motivated to shoot. In fact, you've probably got shots mapped out in your head.
We've established the need to bring your camera on every ride, the need to be as fit as the people you plan on shooting, and the need to invest the time shooting. Let's move on to some basic non-technical photo topics. We'll dig deeper into the technical stuff in Part II.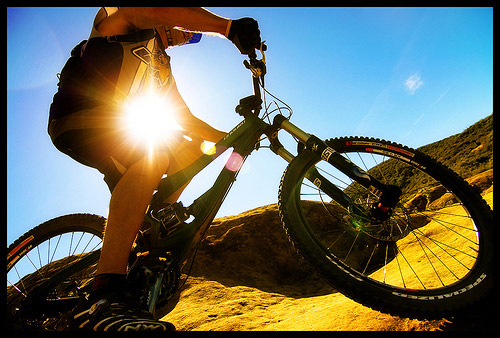 The Key…Find that great angle
Find that great angle! Be willing to move and change your point of view on things you see. What I'm talking about here is the willingness to get dirty in order to get that great shot. Climb a rock, lie on your stomach, climb a tree, get uncomfortable! You don't want to be the guy who stands in the middle of the trail shooting the same angle as each rider rides past. Before going out, make a mental or physical list of the types of shots you enjoy looking at and try to recreate some of that magic. Sure, I haven't talked about camera technique yet, but by first forcing yourself "outside the box" and choosing unique angles, you will be making a big move toward taking your photography to the next level. Put ROAM in the DVD player again, scour through those mags again, visit your favorite mountain bike websites and bank some ideas for your next ride. The riding buddies that you shoot may not be doing road gaps or back flips, but getting a shot of someone climbing a fire road with unique lighting and angle can make an equally powerful image.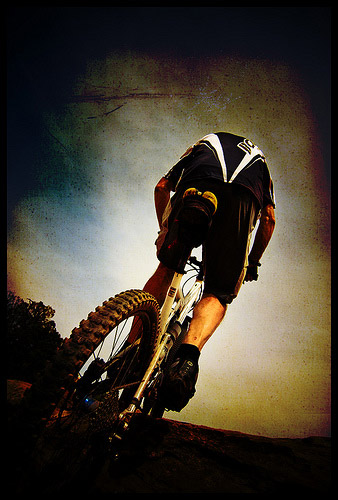 The camera does not make the shot
It's not the paintbrush! Say what? When people ask me what kind of camera I shoot with after seeing one of my photos they admire, I usually give them the cheesy one liner, "It's not the paintbrush that makes the painting." While it may be/is a lame one liner, I do feel that it's true. It wasn't my camera that got the shot; it was me and the rider.  Don't feel handicapped by a lack of equipment. Sure, I'll cover some topics that will need some money behind them, but for this installment we will keep the price point low. Have you got your camera? Pricey or cheap, it doesn't matter. Either way, we all need to do the same thing before hitting the trail, RTM (Read The Manual)….I know, that's more time off the bike and in front of what looks like a book. A lot of photography terms might not make sense at first, but I assure you they're necessary. You'll need to know your camera backwards and forwards. This is so you can make the needed changes to your camera to get the shot. I'm telling you this ahead of time so that when Part II comes around you'll be familiar with some of the terms and familiar with your camera of choice.
You've got the motivation, ideas of the shots you want, and your camera. Time to get out there and ride. When you return, hopefully you'll post some of your stuff on the MTB by 198 flickr pool. In part II I'll cover some of the camera basics including shutter speed, f-stop and ISO. They all should look familiar by then from reading your manual.