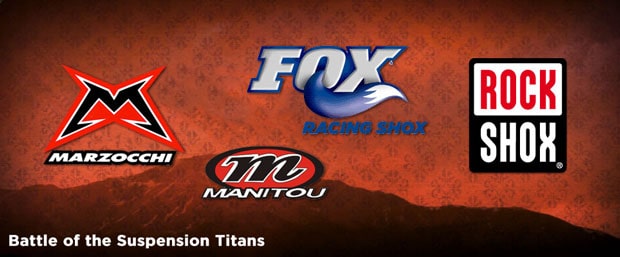 Last week, I hit you guys up with a question: "Who's mountain bike suspension are you running?" The idea was to get a polling of what you guys are running as your front and rear shocks in terms of brand. With multiple options available on the market, we get to see a spread of usage across all platforms with the simplicity of this poll setup. So…how did everything shake out?
Front Suspension: Brand Breakdown from Poll Results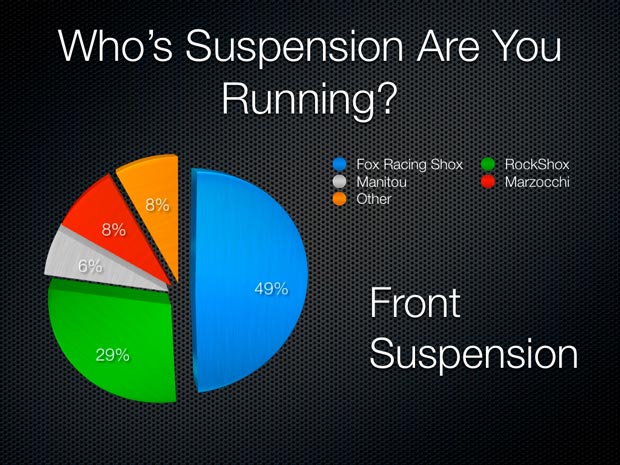 Rear Suspension: Brand Breakdown from Poll Results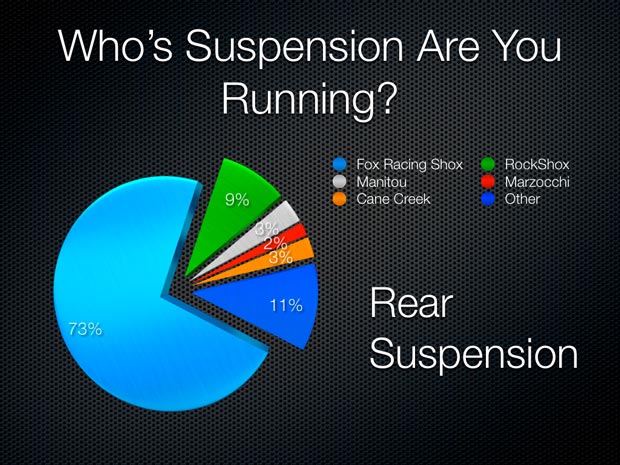 What Do These Suspension Poll Results Mean?
There are a couple of things to keep in mind when you take a look at these results.
This does not necessarily represent the "the next brand I would buy" but rather "what brand is installed now". As many mountain bikers buy their mountain bikes completely built up, a strong portion of this poll is represented by stock parts found on existing builds. Brands that have a strong OEM presence (particularly Fox with rear suspension) are going to come out on top.
Rear suspension voters were less due to the large number of hardtails sold each year.
In the mountain bike suspension industry, we have seen shifts in preferences and market share over the years. RockShox and Manitou used to be the only go to guys in the industry for suspension components back in the early 90's. I remember feeling like I had found heaven on Earth when I took my first ride on my shiny, new, bright ass yellow RockShox Quadra 21R back in the day. When Fox Racing Shox entered the market, they started taking a huge bite out of the mountain bike suspension industry and the other brands started to become dated and lost market share.
In recent years, SRAM's acquisition of RockShox has brought the RockShox name and technology back on par with Fox Racing Shox and now the two are competing heavily for your front suspension spot. The pot is getting mixed up even more with new comers like X-Fusion and new offerings from Manitou (The Durado DH fork) and Marzocchi as they start to ramp up their technologies to compete.
What I Find Most Interesting With This Poll
There is one aspect that I find incredibly interesting with this poll about mountain bike suspension.
The drastic difference in proportion between brands on front suspension and rear suspension.
What do I attribute this to? The ability of Fox Racing Shox to keep their rear suspension on OEM mountain bikes even when the brand uses a RockShox front suspension fork.
With the RP23, Fox Racing Shox has positioned their brand as the go to component in the rear suspension industry. Even when OEM brands are using an alternative front fork option, Fox Racing Shox seems to find their way onto the bike with the rear suspension. Because of this…we have seen companies like RockShox really ramping up their rear suspension offerings to try to get the complete package. Will this proportion change over time? I guess we will have to wait and see…