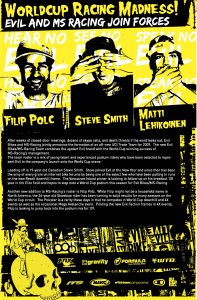 After weeks of closed-door meetings, dozens of skype calls, and death threats if the word leaks out, Evil Bikes and MS-Racing jointly announce the formation of an all-new UCI Trade Team for 2009. The new Evil Bikes/MS-Racing Team combines the upstart Evil brand with the World Cup winning success of MS-Racing's management.
The team roster is a mix of young talent and experienced podium riders who have been selected to represent Evil in the company's launch onto the World Cup scene.
Leading off is 19-year old Canadian Stevie Smith. Steve joined Evil at the New Year and since then has been the envy of every grom on internet bike forums by being one of the select few who have been putting in runs on the new Revolt downhill frame. The Vancouver Island pinner is looking to follow-up on his breakout '08 year in the Elite field and hopes to step onto a World Cup podium this season for Evil Bikes/MS-Racing.
Another new addition to MS-Racing's roster is Filip Polc. While Filip might not be a household name in North America, the 26-year old Slovakian rider has been turning in solid results for many seasons on the World Cup circuit. The Polcster is a rarity these days in that he competes in World Cup downhill and 4X events as well as the occasional Mega Avalanche event. Piloting the new Evil Faction frames in 4X events, Filip is looking to jump back into the podium mix for '09.
Returning to the MS-Racing Team for a second season is 24-year old downhill ace Matti Lehikoinen. The Fin brings a strong resume to the program with two World Cup wins under his belt and a 2007 World Cup 2nd Overall ranking. Coming off a bit of a tough 2008 season, that began with broken vertebrae and ended with both wrists broken, Matti has been rehabilitating and preparing for the 2009 campaign at the Red Bull Training Center in Austria. Getting up and coming back like that is pure Evil spirit!
In the team's quest for World supremacy expect no prisoners to be taken, lots of ladies' hearts to be broken, and a whole load of riding to go down. Evil Bikes/MS-Racing will kick the season off in South Africa for round 1 of the UCI World Cup Series. This will be the first World Cup race of the new Evil Revolt downhill and Faction hardtail frames. The team will contest the UCI World Cup Series, the World Championships, the US Open, and other select international mountain bike events.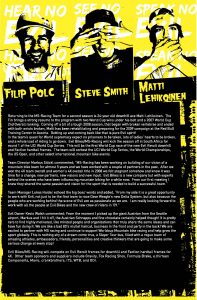 Team Director Markus Stöckl commented; "MS-Racing has been working on building of our vision of a mountain bike team for almost 5 years and we have worked with a couple of partners in the past. After we won the 4X team overall and women's 4X overall title in 2008 we felt stagnant somehow and knew it was time for a change; new partners, new visions and new input. Evil Bikes is a new company but with experts behind the scenes who have been influencing mountain biking for a while now. From our first meeting I knew they shared the same passion and vision for the sport that is needed to build a successful team."
Team Manager Lukas Haider echoed the big boss' words and added, "From my side it is a great opportunity to work with Evil, not just to be the first team to race Dave Weagle's new Delta System, but also because the people who are working behind the scene of Evil are as passionate as we are. I am really looking forward to work with all the people at Evil Bikes and the new crew of riders in '09."
Evil Owner Kevin Walsh commented; "From the moment I picked up the giant Austrian at the Seattle airport, Markus and I hit it off, the Austrian Schnapps and fine chocolate certainly helped though! It is pretty rare to find highly motivated, like-minded people and organizations that truly share the same ideals and can have fun doing it. We are like a bad 80's mullet haircut, business in the front and party in the back! We are excited to partner with MS-Racing and continue to support World Cup mountain bike racing and help grow the sport globally. This is nothing shy of a dream come true, a Slayer tour bus, filled with a rogue team of amazing athletes, ambassadors, friends, personalities and creative thinkers that are going to make some serious change at every stop!"
Evil Bikes/MS-Racing will compete on Evil Revolt frames for downhill and Faction hardtail frames for 4X. Other team sponsors and suppliers include Gravity, Fox Racing Shox, Formula Brake, e.thirteen Components, Mavic, crankbrothers, ITS, WTB, and ODI.
Check out evil-bikes.com & ms-racing.at for updates!