For 2009, RockShox completely revamped the Reba lineup. As a previous owner of several RockShox Reba's, I was excited to see the changes and get this new fork out on the trail for some real testing.
Additional articles on the RockShox Reba Team
What's new on the Reba for 2009?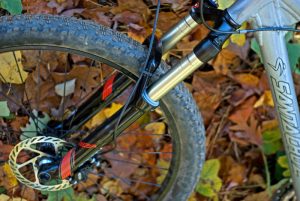 As stated in previous articles, the new RockShox Reba sees a host of new features for 2009.
Post Mount Disc Brake Caliper Mounting
20mm Thru Axle Maxle Lite Option
120mm Travel Option
Revamped Damping for BlackBox and Motion Control Systems
Redesigned Dual Air Spring System
Power Bulges on Fork Lowers for Increased Stiffness
Hollow AL66 TV Crown on All Models
New Look
All of these new features equal a stiffer, lighter Reba for 2009.
2009 Rock Shox Reba Team
The unit that RockShox sent over for review is the new Team model with the new 20mm Maxle Lite. For 2009, the Team model sees the introduction of the all new BlackBox damping system. This titanium spring tube foundation was based off the original Motion Control design and features a Dual Flow compression and rebound. This equals a more controlled damping system that provides excellent trail feedback at a lighter weight. With these new features, this new RockShox Reba Team weighs in at 3.84 lbs (uncut) including the the new Maxle Lite using a Ultimate Digital Alpine Scale.
Note: Conventional QR based fork weights do not include the quick release. Keep this in mind when comparing fork weights.
For the purposes of this review, I kept the new Reba at the 120mm travel setting. You can adjust the travel down to 100mm and 80mm via the RockShox all-travel spacers, but this does require dis-assembly. U-Turn travel adjust models use a dial located at the top of the spring side fork leg for travel adjustment.
Note: U-Turn option only available on 26 inch models.
Install and Initial Thoughts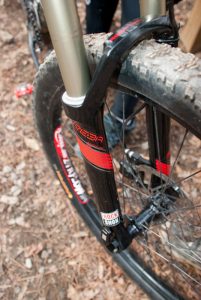 Like most 2009 forks, the RockShox Reba received post disc brake mounts. This new feature makes installing disc brakes much simpler in the past. This move to post mounts in 2009 is a welcomed change from the previous IS mounts that most cross country styled forks used in 2008.
Installation of the new RockShox Reba is done exactly like any other new fork. This Team model also came with the handlebar mounted remote lockout feature. Installation of the remote lockout is easy due to its cable driven design and the new design of the top compression knob on the Reba hides the excess cable much better than in the past. The threshold is adjusted via the Floodgate knob on the top of the damping fork leg. This threshold controls the compression point at which the fork blows through the lock out. You can adjust this setting from full lockout to fully open. This feature adds increased adjust-ability to riders to like to tune out rider induced bob or completely lockout the fork for climbing or sustained smooth sections of trail.
On the bike, the new Rock Shox Reba Team looks stiffer than previous generations with the new power bulges and stiffer 20mm thru axle. The Maxle Lite is as easy to install as conventional Maxles (same design…just lighter) and I would argue that they are easier to install than standard QR's. At this point in time, I see no reason to continue using the conventional quick release when the Maxle Lite increases overall fork stiffness and still keeps the weight down. The only hurdle most riders will have to cross is the need for a new front wheel build based around a 20mm TA hub.
On The Trail with the New Reba
All of these stats, figures and new features sound great on paper, but how does this new fork from RockShox actually feel on the trail?
Overall Plushness and Travel Quality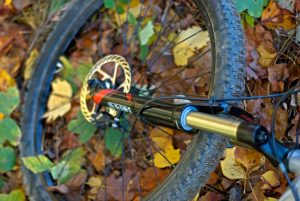 The new BlackBox damping system combined with the more linear design of the new dual air spring creates fork action that is incredibly smooth in both small bump compliance and mid-stroke travel. As you can see by the video below, there is very little stiction during the initial travel and the fork seems to feel most comfortable around mid travel. As you move up through the travel range, the fork does ramp up on its suspension curve (like all air based suspension) to prevent harsh bottom outs on hard hits. The new Reba does feel more linear (as advertised) than previous models and this translates to a plusher ride on the trail.
Typically, I prefer fully active suspension on the trail, so I rarely use the remote lockout feature, or any lock out on suspension forks. The lock out and Floodgate setting work flawlessly with the Reba if that feature is important to you.
Fork Stiffness and Weight
The 2009 RockShox Reba Team is noticeably stiffer than previous models through the combination of the Maxle Lite thru axle and power bulges. This comes as great news for previous Reba owners and especially the 29er crowd that was bleeding for a stiffer Reba to compliment the larger wheel diameter. The stiffer fork translates to a front end that consistently tracks through obstacles and provides a more reliable turner in hard railing situations.
Normally, increased stiffness equals a higher overall weight, but at under 4 lbs…the new Reba is still a lightweight option for most cross country styled rides. If you need a lighter, more race styled option…the new SID would probably fit your needs better and for 2009 it is based around the 32mm platform.
Note: SID only available in 26 inch version.
Ease of Use and Adjustment
Spring settings are adjusted via the dual air spring design on the Rock Shox Reba Team. This dual air system provides much more adjustment than a single air system to really tune the fork to your liking. This dual air system may be foreign to those riders that are used to single air springs, but with some simple research and experimenting, it is a breeze to use. RockShox provides a recommended air pressure chart on the spring leg to give you a good starting point.
Rebound adjustment is located at the bottom of the damping fork leg and is controlled just like every other fork on the market. Adjustments are felt instantly on the trail and there is enough adjustment range to make any rider happy.
As mentioned before, compression lockout adjustment is controlled via the remote lockout lever and Floodgate. This creates an extra cable from the fork to the handlebar, but does make for ease of use on the trail.
Overall Thoughts on the RockShox Reba Team
As a reviewer, I sometimes run into product that is difficult to review. As a previous owner of several Reba's, I was already very happy with the performance of this suspension fork for its intended use. When preparing this review article, I struggled with writing a review that sounded like more of an advertisement for RockShox rather than a objective product review. The fact is…RockShox took an incredible platform and answered the complaints of its users. Previous Reba owners asked for a stiffer fork that provided a plusher ride at a weight that was acceptable for the lightest of cross country rigs. The RockShox crew delivered and increased the travel options for 2009 to fit the trend of increasing travel amongst xc rigs. My only real complaint on the new Reba is the glossy finish and sticker styling. For a suspension fork…that is very minor.
Good RockShox Reba
Tons of adjust-ability
Remote lock out option
Plush beginning and mid-stroke travel
Super stiff fork option for xc rigs
Maxle Lite is the lightest, easiest to use TA on the market
Light
Post mounts
Air spring makes for easy weight and trailside adjustments
Bad RockShox Reba
Price – At a MSRP of around 740.00
Remote lockout creates another cable from fork to bar
Rebound adjust located at bottom of fork leg
Glossy finish and stickers may put off some riders
Dual air spring has a little bit of a learning curve

Rock Shox Reba Team at Big Creek from Robb Sutton on Vimeo.
Where to buy the new RockShox Reba Team?