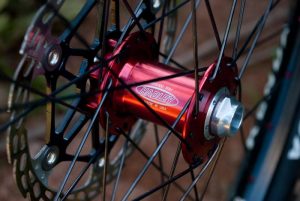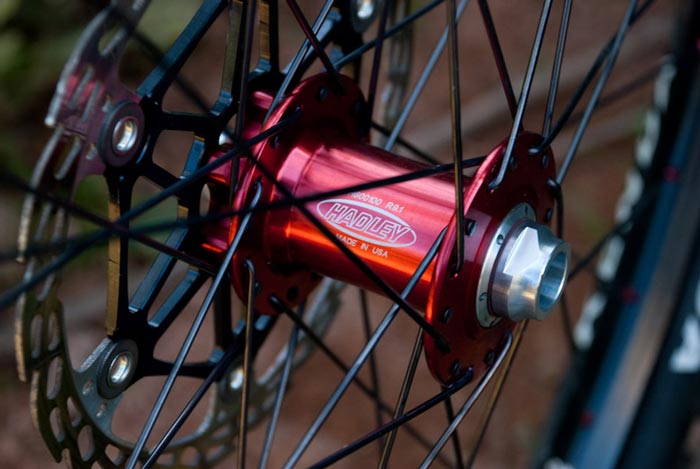 Over the past year, I have been doing a long term test on the Hadley Racing hubs. This review took a long time on purpose (even received emails from you guys asking how it was going). I wanted to get the chance to try this built wheelset on numerous bikes in as many conditions as I possibly could. Over the course of the past year, the Hadley/Notubes.com wheelset has become my go-to set and I am about to tell you why.
Test Bikes:
Test Trails:
Local XC Trails of North Georgia
Pisgah National Forest, North Carolina
Local FR Spots in North Georgia
Bent Creek, Asheville, North Carolina
Raccoon Mtn, Chattanooga, TN
The Wheel Build:
NoTubes.com – Stans ZTR Flow Rims (setup tubed and tubeless)
Build Completed by Kovachi Wheels
Total Weight – 1920g total (860g front and 1060g rear) (w/20mm end caps installed)
Hub Setup: 10mm TA Rear (Hadley 10mm Axle); 20mm Front; 15mm Front
Install, Maintenance and General Use On the Hadley Hubs
The front hub on the Hadley Racing setup is convertible to accommodate the different axle sizes available on the market today. The review hubs came spec'ed with the 20mm TA end caps and 15mm TA screw in axle. Each of the setups only take about a minute to switch out and the process is stupid easy. I really like the 15mm TA screw together solid axle as it provides a solid foundation for mounting the front wheel. The 20mm TA end caps just set in the hub relying on the rubber rings to keep them put while you install your front wheel. While these did a great job in the beginning, after multiple uses…the rubber starts to become loose and the caps have a harder time staying in while mounting. Ideally, I'd like to see a screw together axle even if that means adding a little bit more weight.
Maintenance recommendations are pretty simple. Check the bearing preload periodically by tightening the lock rings and everything seems to go together with 21mm wrenches. For the rear hub disassembly process, you are going to need a 21mm wrench and a standard Park Tool SPA-2 Spanner. With a little Teflon grease on the seals, you are good to go ride. Honestly, I didn't touch mine (other than to disassemble for pictures and axle swap-outs) during the entire review period as there was no reason to…they just worked.
For the purposes of this review, I spec'ed in the 10mm TA rear axle for increased stiffness at very little weight penalty. The Hadley 10mm TA rear axle is the easiest to use in the business because they machined the nut to fit into the dropouts. That makes tightening the axle down a one tool/one hand operation. It is almost as easy as a quick release and you don't need to carry any extra tools on the trail (standard multi-tool does the trick).
Hadley Racing Hubs – The Mechanics
The Hadley Racing hubs use a 72 point, 4 pawl engagement system. The actual drive mechanism looks a lot like what you find in the Hope Pro II's and Ellsworth wheels I reviewed previously, but with a lot more engagement points. 72 point engagement gets you 5 degrees of play which is fantastic for technical riding and overall pedaling efficiency. Each engagement point is controlled by 2 spring loaded pawls. In the past, this has made for a very loud hub, but this set of Hadley's was no louder than a Chris King while freewheeling. That was surprising as I am used to the Hadley's being one of the loudest on the trail.
As mentioned previously, this entire drive mechanism is easily serviced with a couple of tools, so with proper maintenance…they will last for a long time. After pulling apart this set, I saw very little wear and no sign of them giving up any time soon.
On The Bike and On the Trail with the Hadley's
The first thing that really surprised me with the Hadley hub set was how well these hubs freewheeled. As you can see with the video below, it is almost like you can flick these hubs and they will never stop rolling on their own. There is very little drag on both the front and rear hub which is a testament to the quality of materials and bearings Hadley uses in their builds. This stayed consistent from day one until this review was written.
The red ano on this review set is gorgeous. Being a little bit deeper red, it matched perfectly on my black and gray bikes and the ano job showed no flaws or discoloring. Both hubs matched perfectly and provided a great contrast on the bike.
John Kovachi handled the wheel build on the NoTubes.com Stans Flow rims. The stiffness of the build was spot on and the Flow rims provide a great, wide platform for larger tires at a weight that is respectable for numerous ride conditions. Basically, combined with the engagement and reliability of hubs…this is an incredible set to take just about anywhere.
While riding the Hadley's, the buzzing coming from the rear hub is about as loud as you would expect from a Chris King with a little bit deeper sound. Just loud enough to know the engagement is back there but not so loud that you can hear the dirt ripping against the tires. Being a technical rider, I am a sucker for fast engagement hub drives and the 72 point of the Hadley really delivers in double clutch, slow tech situations. There is very little delay between moving your legs and power getting to the ground. Slower engagement hubs have a distinct gap during this process and the Hadleys delivered the power when you need it.
During flat and rolling sections, you can almost feel the freewheeling capabilities of this hubset. There is literally zero drag as you let gravity and the bike do its thing. With some larger engagement hubs, there is a break-in period where drag can become an issue and the Hadley's just worked from day one.
The 10mm TA rear axle platform provided a stiffer platform than a traditional quick release which allowed for a more secure attachment and let the rear end of the bikes track better. Combined with the ease of use and minimal weight penalty of the Hadley 10mm, I actually ended up converting all of my hubs to accept that axle. It has too many benefits on the trail not to. As you can see by the pictures in the gallery below, there was very little scarring or wear on the freehub body even after multiple cassettes and harsh riding conditions. Even after all of the abuse, the cassette slides on and off easily.
Overall Thoughts On The Hadley Racing Hubs
As you can see, I have become a huge fan of Hadley Racing over the course of this review. The 72 point engagement pawl drive is dead on every time with literally zero drag and the buzzing of the rear hub is loud enough to hear but not so loud that it takes away from the ride. The flanges on the Hadley's provide a solid foundation for a stiff wheel build which makes them capable for everything from cross country riding to downhill. The convertible front hub allows fork swaps and transferring from bike to bike a breeze, but I would like to see a more secure way to handle the 20mm TA duties.
If I had one other complaint other than the 20mm TA end caps, it would be distribution. Without a website or any serious marketing behind these hubs, they can be hard to find information on to make service and buying decisions. The crew over at Hadley really needs to ramp up the promotion aspect of their product so more riders can enjoy the high quality manufacturing of their hubs.
What I Liked About The Hadley Racing Hubs
Best 10mm TA in the Business
Easily Convertible Front Hub
Almost Zero Drag
72 Point Engagement
High Build Quality
Durable Enough To Use In Most Riding Conditions
Easy To Maintenance
Incredible Value
What Could Use Some Work On The Hadleys
20mm TA End Caps Need To Have A More Secure Attachment
Better Distribution and Marketing
If you are looking for a solid hubset that can be used in a variety of riding conditions, these may be what you are looking for. I need a hubset that will perform in everything from occasional xc races to several foot drops and…to this point…these hubs have been able to deliver in all situations. They don't have the brand recognition of a Chris King or the crazy engagement/colors of an Industry Nine, but – at the end of the day –  they work every time and provide enough engagement to keep this tech rider smiling.