Kirk Pacenti (the man behind the 650B push and the open standard for freehub bodies) recently announced that he will be bringing new mountain bike rims to market starting in November of this year.
I know what you are thinking…more rims? What makes these different than everything else that is already on the market?
Well…outside of being available in 26, 650b and 29er sizes, the new TL28 series of rims extends the wider and lighter trend to the next level. As you can see by the scale, these Pacenti TL28 26er rims weigh in at 360g (Feedback Alpine Scale) while having an inside width of 28mm and are tubeless friendly. What does this mean in comparison to the competition? If you are familiar with the NoTubes.com Stans rims (some of our favorites here at Bike198), that means you get a rim that is as light as the Crest (370g vs. 360g) and wider than the much heavier Flow (23mm vs. 22.6mm).
In talking with Kirk before these rims were sent in for review, the TL28 rims are designed to be trail ready rims that are not meant for drops and hucks. Basically, if you are the kind of rider that looks for a wide contact patch on your 5.5″ rear travel mountain bike or under but you are also concerned about weight, this might be the perfect rim for you as long as your primary riding keeps away from stunts.
This set of rims are on their way to Chad at Red Barn Bicycles to get built up and ready for review. We will keep you guys updated as this process gets up and going. Kirk is going to have these rims available for purchase starting in November 2011.
The image below shows an side width of 29/32″ which equals 23mm.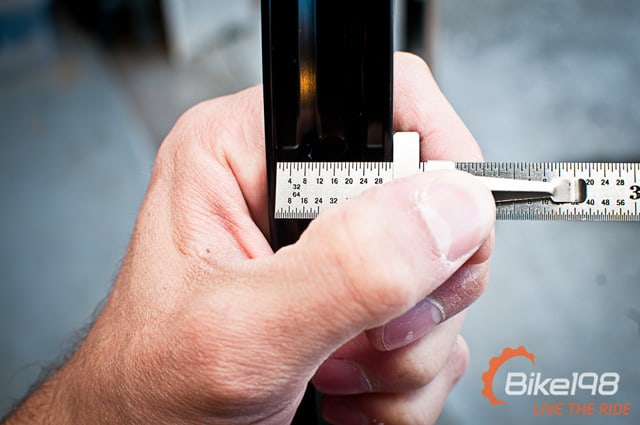 From BikeLugs.com
The TL28 is our new, tubeless friendly, high-performance MTB rim. At 28mm wide and just 360g for the 26″ version, the TL28 is AM wide and XC light. Designed to do it all, the TL28 strikes an excellent balance between a wide cross section and light weight for modern trail bikes.
TL28*26er Rim Specifications:
Size:26″ – ISO 559
Width:28.0mm
Inner bead width: 23mm
Section Height: 18mm
ERD: 542mm
Weight (26″): 360g
Welded Construction
Disc only
Hole Count: 32
Color: Black
$85.00
Discuss this new rim from Pacenti here –> Pacenti TL28 Discussion