There is a growing trend in the mountain biking industry for helmets that provide more protection while trail riding. Mountain bikers looking for increased protection that are not as weight sensitive now have a wide range of lids to choose from that going away from the typical racer look that mtb helmets have typically had in the past. It all seemed to start with the Fox Flux and now we are seeing helmets like this Specialized Vice on review and the Giro Xen gain in popularity on the trail.
The following review takes an up close look at the new Specialized Vice AM mountain bike helmet.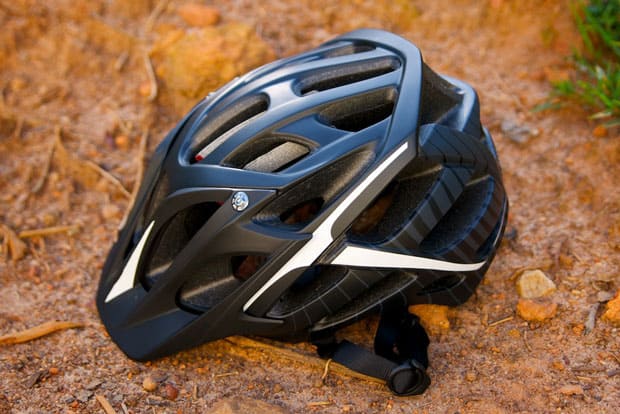 Specs: Specialized Vice Mountain Bike Helmet
From Specialized.com:
This high performance helmet is designed for the All Mountain athlete looking for optimized coverage. Featuring massive wind tunnel tested vents and our new dial-operated HeadSet SL fit system, Vice is our most technologically advanced mountain helmet available.
Complies with one or more of the following safety standards for bicycle helmets: CPSC, SNELL B90A, CE and AS/NZS
Extended rear coverage for ultimate protection and durability
Headset SL fit system with 4-position height adjustability is secure and easy to adjust on the fly, even with full finger gloves
4th Dimension Cooling – wind tunnel optimized Mouthport, vents and internal channels
"Bolted" visor attachment system with color matching MTB visor
Total coverage in-molded shells maximize strength and durability
Composite Matrix internal reinforcement and Instrap webbing system minimize weight
Light and simple U-Turn strap adjusters
Available in Black, Blue, Camo Black, Silver and White in S, M or L
MSRP: $110.00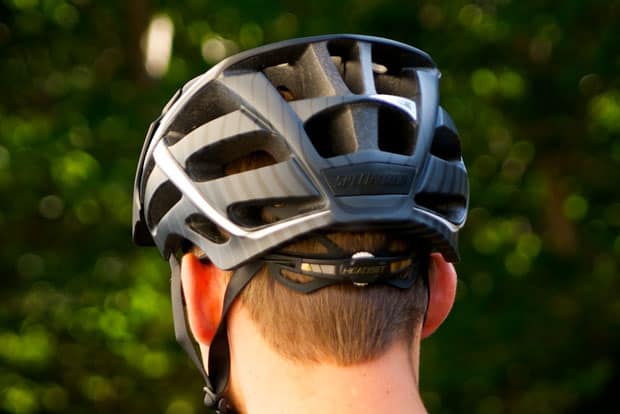 Initial Fitting and Comfort: Specialized Vice Helmet
The Specialized Vice mountain bike helmet is as easy to setup as any other helmet on the market. The durable (and significantly thicker than the S-Works MT) nylon straps pull through easy to adjust clips and conventional u-turn clasps that are easy to adjust trailside if necessary.
Headset SL Retention System
The Headset SL retention system on the Vice uses a rotational tension adjustment and has a 4 position height adjustment on the top of the underside of the helmet. The 4 position height adjustment fine tunes where the rear of the retention hits the back of your head. This is a nice adjustment to have (that most helmets don't) to accomodate for different head shapes. In true Specialized helmet fashion, the complete retention system actually runs through front of the helmet so pressure is not applied to the helmet itself at forehead contact. This makes for a very well fitting helmet once you have everything setup for your head.
Typically, I am not a fan of a rotation/wheel tension adjustment in favor of pinch style, but the Specialized wheel offers plenty of engagement points to accomodate different sized heads. If I had to guess, there are probably double the amount of engagement points over the similar Bell system that will leave me in-between adjustment points often. The wheel is also easy to grab and adjust with full finger gloves on while riding.
Appearance and Style
The plain black and white on the review Vice has nice contrast and will match just about anything on the trail. The white stickers on the sides and visor are cheap and want to peal off, but the rest of the graphics package blends together nicely. With a choice of 5 different color combinations, you can find one that fits your personal style.
Like most AM styled helmets, the Vice can look big on some heads. The extra protection down the back and increased width of the profile makes for a large lid.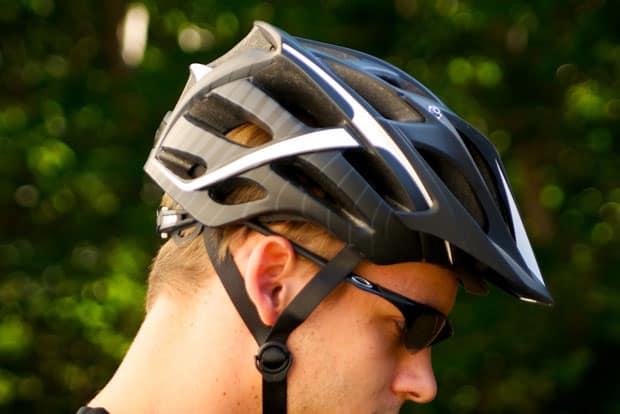 On The Trail: Specialized Vice Helmet
At 350 grams, the Specialized Vice weighs the exact same amount as the Fox Flux. For those of you that are used to XC styled, light helmets, the extra bulk and weight is going to take some getting used to. The flip side to that is the extra protection down the rear and the increased width give your head and neck better coverage when you decide to test the helmets durability on a ride.
Overall venting and hot air release on the Vice is good for a helmet of this size. The signature Specialized front air vents at the forehead help with getting extra air to your forehead while the wide range of rear vents assist with getting hot air out the back. The top of the Vice is a little steamy in hotter weather as there is a lot of material for the visor and rear lip that traps hotter air. For that reason (and the black color), you are going to want to use a helmet that vents better in 90+ heat…especially if there is a ton of humidity.
The front visor does a great job at blocking direct sunlight from your face and it doesn't block visibility to the trail. However, it does use a screw in/bolt style attachment that makes removing it on the trail for increased ventilation a pain. Having a bolt on styled visor makes it extremely secure on the helmet, but I would rather see a push in style that could be easily removed and stowed into a hydration pack.
If you have done your job getting the fit correct, the Vice stays put without any unnecessary movement on your head. While riding, I only felt the need to re-tension the helmet once or twice and that was normally gearing up for fast rock runs. Overall, the helmet was very comfortable on the trail and required very little attention.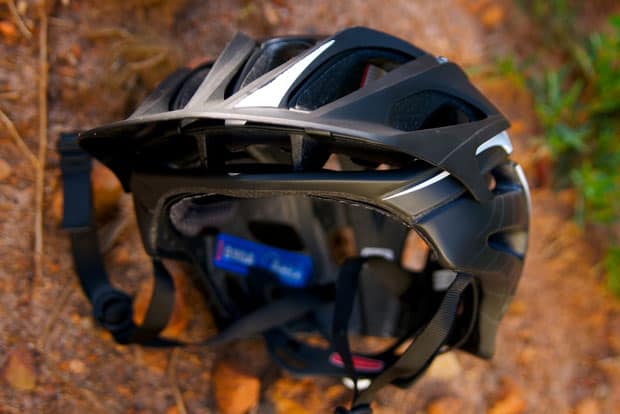 Overall Thoughts: Specialized Vice Helmet
The Specialized Vice AM styled mountain bike helmet is a great choice for recreational riders or mountain bikers that like the added protection when hitting more difficult trails. The increased protection can give you peace of mind on the trail, but that comes at the cost of weight and some venting (true of all helmets in this category). I did find the Specialized Vice to be much more comfortable than the Fox Flux and a lot easier to adjust. The black color is probably not the best choice for warmer climates, so keep that in consideration when purchasing.
Good: Specialized Vice Helmet
Solid and comfortable retention system that can accommodate a lot of different head sizes and shapes
Increased protection for recreational riders or mountain bikers in more technical terrain
Solid looks at a reasonable weight for its size with tons of color options
Front vents provide great forehead cooling
Durable construction
Great price point at $110.00
Bad: Specialized Vice Helmet
White stickers pealing off after a couple of rides
Visor bolts on…not easy to remove trailside
Hot in warmer climates
Doesn't hold glasses well
The Specialized Vice helmet has become my go to helmet for technical riding…especially when the temps cool down. If you are looking for an AM styled helmet that will fit just about any head easily, the Vice is exactly what you are looking for.
To purchase, hit up your local Specialized dealer or Specialized.com.