Mountain Biking by 198 held a contest for the best trail review that won a Mountain Cycle Fury frame and other prizes. This is the winning entry for the mountain biking essential pack from UltraRob.com by Jason Martin. Lets take a journey through Whirlpool in Mississippi.
Mountain Bike Trail Review
Whirlpool In Mississippi
Review written by Jason Martin

On the University of Mississippi campus (technically), this miles long trail has almost everything for the trail rider, from race-pace riders to weekend warriors, even to first-timers out on their brand new hybrids. Loops can be put together that will take half a day and rarely cover the same ground twice. Expert trail building (trained by IMBA) yields excellent use of topography and fun use of sustainable features.
Whirlpool Trail Information
Directions
Take the exit toward Coliseum Dr/Front St
Turn South at Coliseum Dr/Front St
Continue to follow Front St (South over bridge)
Over bridge, stay straight through 4-Way Stop.
At next stop sign, park and follow gravel railbed into trail system.
Classification
Cross Country
Trail Difficulty
It has bumps (modest)
Trail Traffic
Hey dude! (low)
Whirlpool Trail Review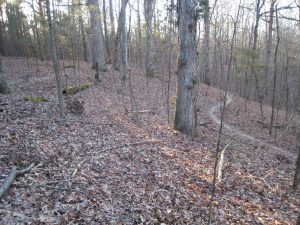 In what originally started as a Rails-to-Trails, the mountain bike trail system at Whirlpool in Oxford, Mississippi has morphed into so much more. "Morphed" is an unfair word, since it's taken the Oxford Cycling Club years of hard work to get such an extensive trail system in such a small area. Just a couple of trails dumping off the relatively smooth Rails-to-Trails, on a rail bed that could be ridden for approximately 3 miles of smooth gravel and path-like singletrack, hard work has led to miles of trail (more than 20 miles at latest count). The rail bed is still there, and is still useful for beginners and as a way for seasoned veterans to access some various trail heads. The rail bed is gently graded to it's end. Once you make the inbound turn, the 3-5% grade is easier to notice, but the wooded area still makes for a pleasant ride.
Take a turn on any of the trailheads off the railbed, though, and you're in for a treat. Well used trails such as "Fruit Loop" meander through the old growth hardwood forest and up through old pine stands. Expert trailbuilding has allowed much trail to exist. The land, owned by the University of Mississippi, is the site of a potential research park. So while the trails are in danger of being taken by development, locals still build, maintain and develop the trail system as if it were the Pisgah of Oxford. New trails are continually being built, with technical singletrack, features (jumps, short downhills), and fast moderately downhill sections.
Permeated by a few fire roads, the trail system uses these, the railbed, and a powerline as reference points for navigation. Once on the railbed, there are 10 or more places to drop in to some prime single track. While almost everything in the system is connected with cut through or splits, it's generally not confusing if you maintain your bearings. In any case, since the whole system is literally in the beautiful town of Oxford, becoming lost is unlikely. (Which is to say, if you're feeling lost, pick a direction from which you can hear noise, and walk toward it; you'll eventually find a big road and your bearings.) The whole area is about half a mile square, or just under 400 acres (very rough approximation). GPS maps are available on the Oxford Cycling club website, and a soon to be implemented trail name goal will see the all the trails properly signed, with easy to follow routes well planned.
There are a few man-made trail features, including a 20″ long bridge over a 10″ deep [usually dry] creek, and a few other smaller bridges. Some large jumps exist, including a dirt ramp built to launch riders over a 15″ creek gap. There are a few jumps, including a double and a handful of excellent and well placed table tops. Log bridges are used in low areas, or areas that typically hold water, and berms are common trail features making the trails fast and fun. With the occasional log ride (two obvious ones are 15″ and 8″ long), the whole system is a feature rich, blast of a trail. But let's consider one specifically: The Brad-Pitt and Junkyard Trail (one trail, 2 names, because it's connected by a fire road).
Heading South on the rail bed, the rider passes a few enticing entrances ("Golden Bush" and the newer "The Alligator"), and then rides through the Powerline, which unlike in Colorado, crosses the powerline, it doesn't follow it. The rider would take the next trail to the West of the rail bed, which dips off the flat and smooth into the woods and singletrack at about a 45 degree angle. Here, gravity will do the work, and you will be rewarded with a winding entrance to Brad-Pitt. The rider will cross a generously proportioned bridge of about 10″ length by 4″ width, to begin a small rocky uphill. A hard right turn at the apex onto a relatively new trail slows the rider, then immediately drops to follow a small stream. The drop feeds some speed, and this can be carried all the way to the stream crossing, which is built with some logs to allow a dry passage. An off-canter uphill awaits, with a right-hand bender at the top, followed by more uphill and another tight turn to the left. Back down to the low area sees interesting incorporation of natural features, by crossing a grape vine that dips to the groud with *just enough* clearance for a bike. Up over some roots, then back across the creek on a real bridge (this time), you get your bearings just off the bridge, then take a hard left hander and go uphill. Out of the hardwood area and into some soft pine cover, the trail is singletrack; higher and faster, but still maintaining some technical feature. Through the easier of two gravity drops, and over some (technically jumpable) mounds, you work your way to the second gravity drop. This one is a doozy, and only the combination of proper gearing and balance will allow the rider the opportunity to stay upright and ride through. The rider will soon come to the first respite since the railbed, and will take a right (North) on the fire road. While the fire road ends at the powerline, the trail continues the path directly into a wall of woods. This is fast and fun, and an experienced rider can really burn this section down. Through some "open" woods, the trail passes beside a man-made muddy brown lake. Just before riding across the dam, the rider is treated with another gravity bowl, the biggest, fastest, and funnest of all. Over the dam, a wall of an uphill is deceiving, and requires attention of the rider. While this trail is called the "Junkyard" for the obvious reason, the trail itself is well groomed and clean of debris, and most of the junk is old, grown over, offers little danger to sidewall or rider. The trail continues to wend its way through woods, eventually hitting a cleared area that begs for the rider to drop the hammer. Soon the rider passes and old barn, which can be surprising given the right climactic circumstances (fog, for example, makes this barn eerily soulless, with it's empty desks for schoolchildren and worn clean and always dry dirt floor). There area under the dam is next, and while it is flat, it meanders amongst trees, and a rider is required to give due dilligence to prevent a chance encounter with said tree, and an "unexpected dismount." Thankfully exiting the oft-wet (but usually rideable) wash area under the dam, riders climb out, through pine needle covered dramatic uphill back onto a spine of a ridge that will lead them out. While the ridge is technically uphill, and the rider is worn down from the previous 4-5 miles of spirited single track, the light grade (3%) of uphill is a very fast and furious section, with small mounds begging to be jumped. As before, this trail leads to a fire road, and while the sections can be tied together for a day's worth of fun and tiring riding, for the purposes here, the fire road also leads directly back to the rail bed, and a left turn (North) returns your bike to your car, and you to your awaiting frosty beverages.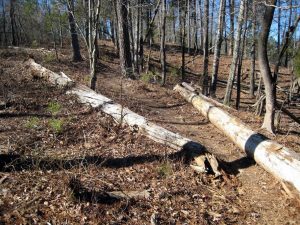 And that it. The start of an incredible day at Whirlpool. Scheduled group rides are frequent, and social, and it's location allows easy access and plenty of options for solo and even night riding.