Shimano's XTR component group has been long regarded as the best components money can buy for mountain bikes. With industry leading lightweight and design, XTR graces the front pages of industry mags as riders drool over the technology that has been introduced with this line over time.
For 2011, Shimano's XTR groupo is the first out of the Shimano lineup to get a complete redesign while going to 10 speed with a trail and race spec. The Shimano SLX and Shimano XT component packages have gotten 10 speed treatment, but they look the same as their 9 speed counterparts. The Diamondback Sortie Black came equipped with the complete XTR Trail setup, so let's take a look at how it performs on the trail.
What's the difference? Trail vs. Race
New for 2011, Shimano introduced two different component specs for XTR…trail and race. With the trail setup, you basically get a 3×10 setup (over the 2×10 race) with fins added to the brake pads for decreased heat and fade. It also comes packaged with platform clipless pedals (not reviewed) instead of your conventional XTR pedal.
The idea was to give a wider gearing range and more braking power to bike setups that are more geared towards trail riding over racing. The truly weight conscious will look to the race package to save grams by losing these extra add-ons.
Let's hit it up component by component…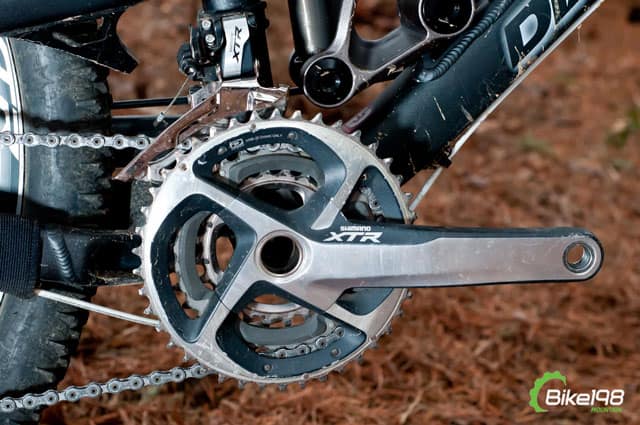 Shimano XTR 3×10 Trail Cranks
As reviewed, the FC-M980 XTR 3×10 trail cranks come with a 42/32/24 tooth gearing setup with a titanium/carbon composite 32T middle ring for increased durability and weight savings (also available in a 38/26 2x setup). With an estimated weight of 755g, the XTR trail cranks make for a lightweight package for riders looking to keep a triple up front while running a 10 speed rear.
The new look for 2011 is clean with a slight twist of the cranks. While the polished looks incredible brand new, you will start to notice scuffing with use that can make the new XTR cranks look pretty worn. The Q factor is ok leaving plenty of room for your foot while spinning, but as you can see by the picture…mountain bike shoes like the Sidi's that have adjustment tabs can scrape the crank arms and create even more scuff marks.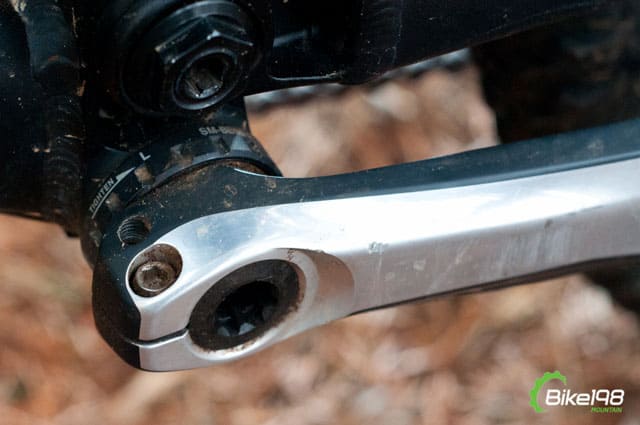 For 2011, Shimano went back to their conventional attachment design on the non-drive crank arm. This is a HUGE deal and and a welcomed change back from the more complicated design they tried to introduce with the last XTR component group. Now the cranks get the ease of use that SLX and XT kept while XTR changed previously. Shimano has the easiest to install cranks on the market.
Overall shifting performance between rings was solid. The chain grabs easily and quickly moving between rings…even under load…is effortless. I did find that with a 10 speed rear, 3 rings up front is a bit much. The 11×36 rear cassette provides a really wide range of options, so having a triple leaves you with a bit of overkill. Simplifying that process and dropping to a 2 rings setup up front makes more sense to me with the increased gearing in the rear. While there is a 2x setup available, for the trail setup I would have really liked to see a 2 ring with light bash guard setup to protect that very expensive outer ring.
As you can see by the picture, the light big ring is wearing pretty easily. After being worn by chain friction and being beat up by logs and rocks, the teeth are starting to show shark toothing on almost all of the points. At over 120 bucks each, that is not a ring I am going to want to replace on a regular basis. That wear would be slowed down in trail situations by protecting it with a light weight bash guard.
The titanium/carbon composite 32T middle ring seems to be holding up a lot better against wear even though it is the most used ring on the cranks.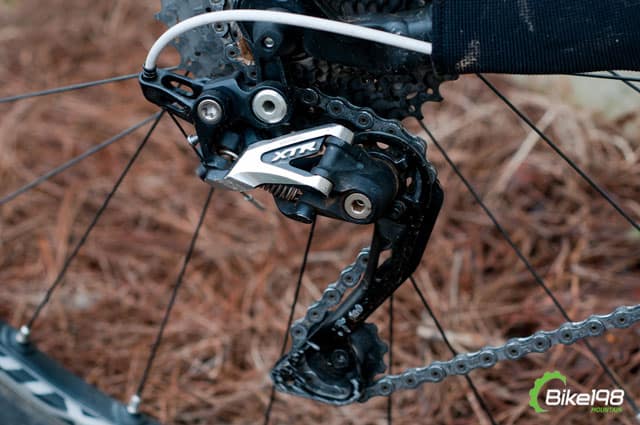 Shimano XTR Shadow Rear Derailleur and Cassette
Shimano's XTR rear derailleur and cassette carry the Dyna-Sys branding indicating the 10 speed setup. With two options available in cage length (med and long), you have options when running 2 or 3 ring front setups. The rear derailleur in this review is a long cage to match the 3×10. Shimano's XTR rear derailleur features a carbon outer cage match with an alloy inner. This gives you the lighter weight (and carbon look) while supporting it in the rear with the stronger alloy to make the cage less likely to rip apart on the trail.
Even after taking multiple hits against rocks and trees, the cage of the new XTR derailleur performed very well. It is showing the signs of wear with scratches on the carbon, but it is still rolling straight and shifting consistently. It does help the the XTR RD gets the Shadow design that keeps the derailleur pulled under the chainstay and out of the way of foreign trail objects.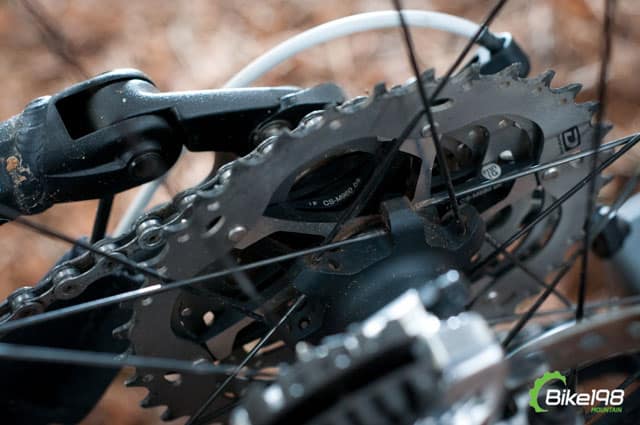 The new XTR derailleur does have a lighter touch under shifting as designed. The 11-36T cassette and rear derailleur performed very well together and provided quick, light shifts between gears. I did find that the Shimano 2:1 actuation ratio was little bit more prone to mis-adjustment when hit or during break-in, but a quick turn of a barrel adjuster and everything was back to normal.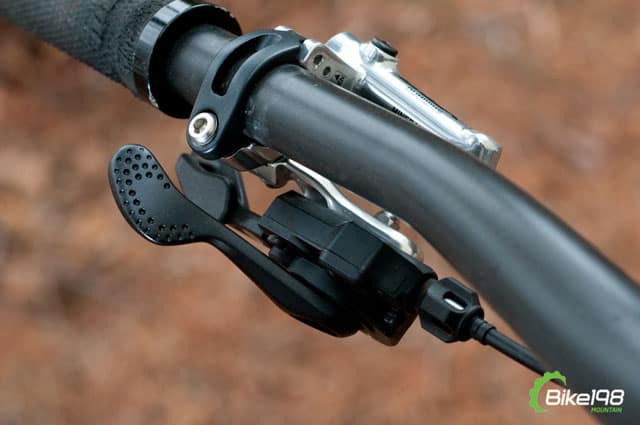 Shimano XTR Shifters
The 2011 Shimano XTR shifters got several improvements in the redesign. They now feature a unified mount when combined with the XTR brake levers, micro-adjust positioning and the ability to change the front shifter from 2 ring to 3 ring setups.
As mentioned with the rear derailleur, the new 2011 XTR shifter have a very light touch. Even when fully compressing the rear to move up the cassette, you do not have to slam the paddle down as you get a more linear action feel. While Shimano's 2:1 actuation ratio does get out of wack a little bit easier, it does allow Shimano to run a two click setup on the front paddle, rear shifter to move down two cogs at a time in the rear with one motion. In fast up and down trail conditions, this as a great addition.
The front paddle is also bi-directional so riders that are used to Shimano shifting can use it in typical rapid fire motion or riders that have SRAM setups can also push it in the same direction as the larger one. In some cases, the front paddle can be a little bit long for riders with wider hands, so you will want to use the micro-adjust to move the shifter inboard and out of the way of your knuckles. There were times that my hands would hit the shifter while riding.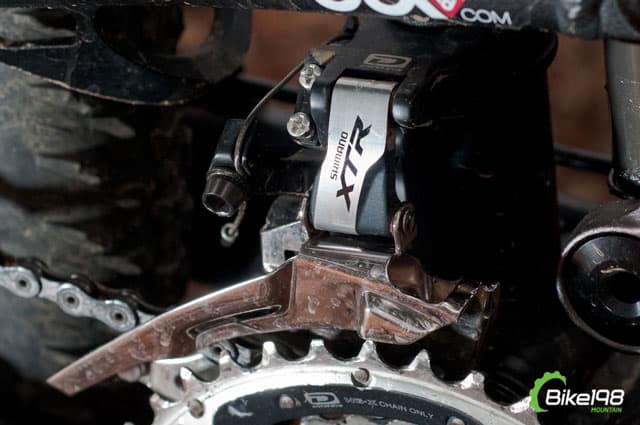 Shimano XTR Front Derailleur
What can really be said about a front derailleur? It is light, easy to setup and matches the rest of the component group. Other than that…there really isn't too much to say about the XTR front derailleur. The XT and SLX counterparts perform just as well, but if you are going to kit out the entire group…you might as well have everything match.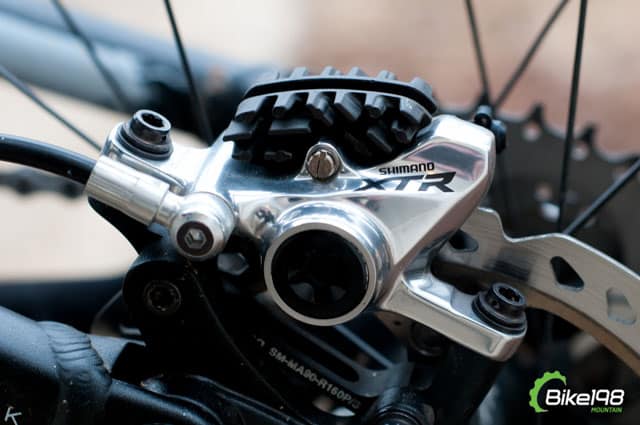 Shimano XTR Trail Brakes and Levers
The new 2011 Shimano XTR trail brakes are claiming 125% of the power of the previous XTR brakes stemming from a host of improvements. With full ceramic caliper pistons, radiator-fin brake pads and ice-tech aluminum core rotors, Shimano set out to create the coolest running, most powerful brakes they have ever introduced.
Personally, I was really stoked to get to try these out as I am a bit of a brake whore. Unfortunately, the Diamondback review bike came in with glazed rotors and completely trashed pads. After numerous attempts to fix the situation (including setting the brake pads on fire), I could not get the brakes to get to full power. I can tell you that based off of my previous experience with Shimano brake calipers, these should actually perform as claimed. Whether or not the radiator fins actually shed heat as claimed would take a bench test with and without the fins…but it is no secret in the automotive and motocycle world that the concept does work in practice.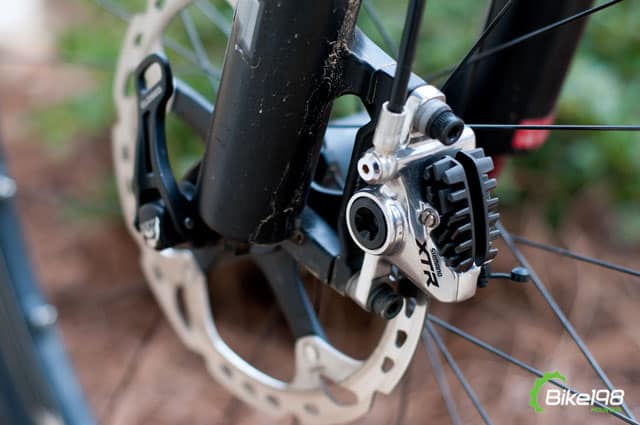 Overall the brakes look great on the bike. The polished calipers match the rest of the component group and everywhere you go people ask about the pads. I just wish we could have gotten some descent trail time on a set that were performing at their best.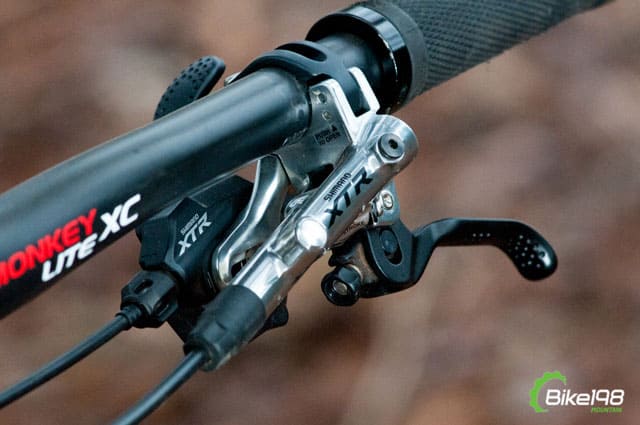 The new XTR brake levers are a unique setup. Mounting them up is a pretty easy process with the one bolt, flip over attachment design and the tool free reach adjust is easy to use even with gloves on. For 2011, Shimano shortened up the XTR brake lever and positioned it for one figure braking. With a defined hook at the end of the lever and dimples in the design, your finger really attaches on and stays slip free while riding.
On this particular set, we did find that there was a lot of resistance at the beginning of the lever stroke. It almost felt as if the lever was extended past its tolerance so it was having to make it around before getting to its linear pull. The result was a stiff lever feel initially and then then it opened up. I am not sure whether this particular set had an issue or this is just how the new levers operated, but both sides did it…and it created uneven braking due to the reaction.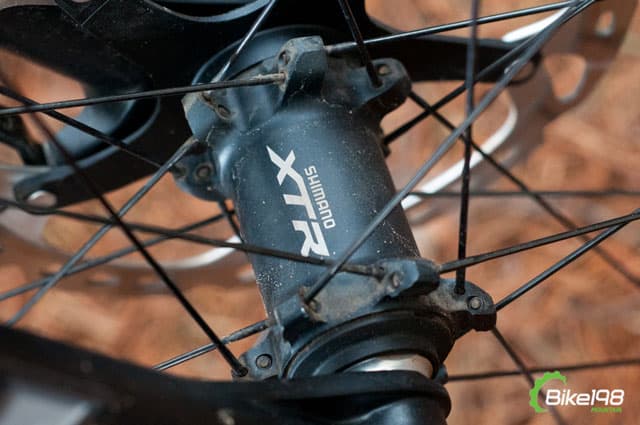 Shimano XTR Wheelset
At a claimed 1,700 grams, the new XTR wheelset is a light option for trail riders. The new XTR wheels feature straight-pull spokes, 21mm wide scandium UST rim and titanium free hub body.
Since Shimano (in combination with Fox) pioneered the 15mm TA standard, the Trail package is only available with that axle configuration. While you can get the QR version through the race setup, if you have a 20mm TA…you are out of luck.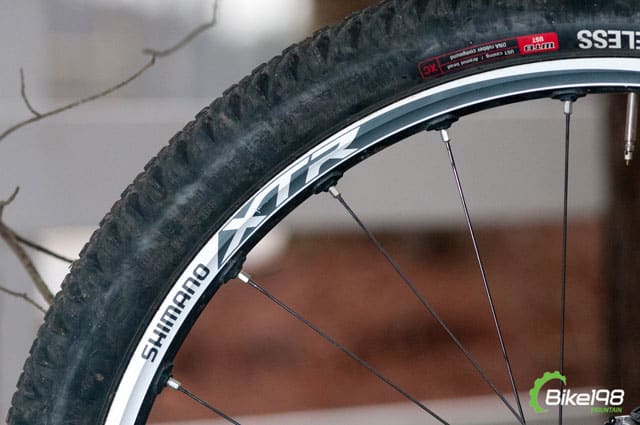 The XTR wheels held up well under aggressive riding. The 21mm rim width was wide enough for bigger tires and the UST capability will make the tubeless nuts happy…especially since they brought in in at a 400g rim weight. The lightweight design made for a fast rolling set, but the "fast engaging" drive felt closer to the 36 point of a DT Swiss than the 72 and higher drives of premium aftermarket hubs. At $1,500 for the set, I really expect more out of the drive as there are less expensive options that do a lot better job at getting the power from your legs to the ground.
Overall: 2011 Shimano XTR Trail 3×10 Component Group
If you are looking for a crazy light, high performing component group…the 2011 XTR setup is worth a look. In this price range, the XTR components are really geared towards racers or riders with an unlimited budget. For a fraction of the cost (and a little bit more weight), you can be rocking the XT component group and get really similar performance.
The improvements made in the shifting and braking (assuming they performed as advertised) is a nice upgrade and hopefully we will see some trickle down effect as Shimano starts redesigning the other lines. For the trail setup, I would have liked to see a component group that could withstand a little bit more abuse (example: 2x setup with a bash guard), but it is pretty cool to see Shimano step up and provide a premium component set that is not just geared towards hardcore racers.
Positive: 2011 Shimano XTR Trail
Light, linear shifting with dual direction front paddle and 2 step, front paddle rear shifter setup
Alloy backing on rear derailleur with Shadow design withstands trail abuse
Very attractive looking package
New brakes should perform as advertised given Shimano's proven record with brakes
Very light overall weight
Negative: 2011 Shimano XTR Trail
Would have preferred a 2 ring with bash front setup to protect very expensive chainrings
Extremely expensive component group (to be expected out of Shimano's best of the best)
Initial lever feel very stiff
Polished look can look worn with use
The best of the best in mountain biking just got better…but you have to pay to play.
For the best prices on Shimano components…check out Amazon.com and JensonUSA.com.