Suspension components require maintenance to perform correctly. With routine oil changes, seal inspections and overall wear due to dirt and abuse, keeping suspension components (even the expensive ones) performing at their best is a constant job throughout the riding season. At some point in time, you are going to want to get your fork or rear shock rebuilt to either extend the life of the component or to get it feeling like brand new again. But…what if you could get it feeling better than new?!
The reality is that suspension component manufacturers have to make their parts work for an extremely wide range of people. That same RP23 from Fox Racing Shox that is taking care of bump absorption for the 140 pound racer on the Superfly 100 is also tackling some fast technical terrain for the 220 pound enthusiast on a Santa Cruz Nomad. As you can see, that is a wide range to cover and…for the most part…they do a great job with it. But what if you want to have that same rear shock or front fork perform how you want it to on your specific bike?
That is where companies like Suspension Experts out of Asheville, NC come in. They take your existing suspension components, your feedback on riding style and bike and turn that into a custom tune for your riding style and bike that costs about the same as a factory rebuild!
Review: Suspension Experts MTB Suspension Tuning
Founded in 2005, Suspension Experts is positioned in the best riding the east coast has to offer…Asheville, NC/Pisgah National Forest. If you follow Bike198 on Facebook, you have probably seen numerous trips to the area as it provides the best long, technical riding on the east coast. Kevin Booth heads up the operations over there and has been awesome to deal with through the entire process.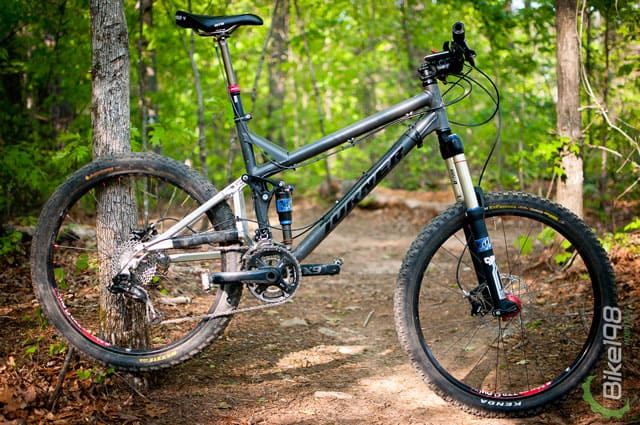 For the purposes of this review, we put two suspension components into the hands of Suspension Experts. The first was a stock Fox Racing Shox RP23 off the Turner 5.Spot. After 2 years of abuse, it was getting time for an inspection and seal change, so this is pretty typical of most riders rear shock situations. The second part we sent over was our trusty RockShox Lyrik Coil. This fork has seen about 2 dozen oil changes, numerous seal changes and it was starting to see the end of its life. I actually bought this fork used off of MTBR.com years ago…so…as you can imagine…it was getting pretty rough but it had zero stanchion wear.
Both components received the full treatment…a complete rebuild and custom tune. For the testing…the first place I hit was Black Mountain and Sycamore Cove in the heart of Pisgah National Forest. What better area to get the new components broken in…
You can see the ride detail here.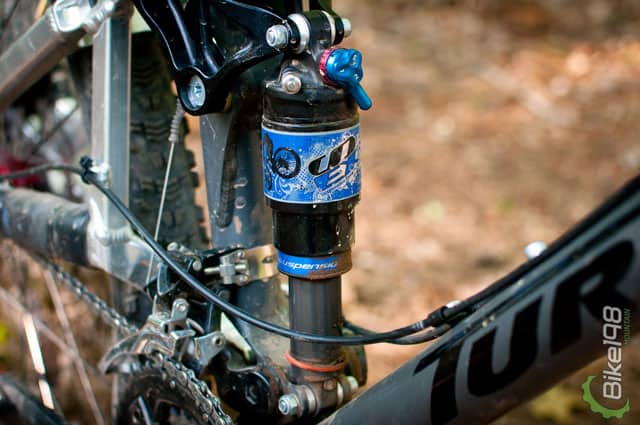 Suspension Experts RP23 Tune
The DW-Link suspension design does a lot of things really well. It has excellent climbing traction, sucks up square edge hits beautifully and rockets forward when pedaling. However, I wanted to really open it up and let the suspension do its thing. As well as the suspension performs, I felt like the RP23 was holding it back a little bit. After talking with Kevin about the kind of trails I ride, the bike and how I wanted it to "feel"…it was time to send it off.
From Kevin on the RP23:
We've found that we can expand the damping range on the RP rear shocks…enhancing the platform while retaining small-bump sensitivity. Many riders contact us with issues related to spring rate on the RP's… to keep from blowing through the travel, many riders have to run higher pressures on the XV sleeve – which results in added harshness on bigger hits or the inability to achieve full travel under correct sag measurements.
Basically, he is explaining exactly what I was feeling.
Once I received the RP23 back from Suspension Experts, I simply adjusted air pressure for sag and hit the trail leaving all other settings untouched. I was expecting great performance out of the shock as it wasn't bad when I sent it off…but the difference was noticeable. The rear suspension of the bike with the Suspension Experts tune was transparent…and that is the best way a rear suspension can act on the bike. I have always told riders that you want to not feel the individual components on the bike. When you do…something is off. As I rode the new tune, the rear end of the bike just worked perfectly…to the point that I completely forgot it was even there…just seamless action.
Not only did the bike feel better due to the rebuild, but the suspension action felt even better than it did with the bike brand new! I was able to run a little bit lower pressures without worrying about harsh bottom outs, the small bump compliance was up making roots seem to disappear on the trail and I didn't lose any of the climbing efficiency or tracking that the DW-Link is known for. Suspension Experts took my feedback and delivered a tune that fit my riding style and bike perfectly.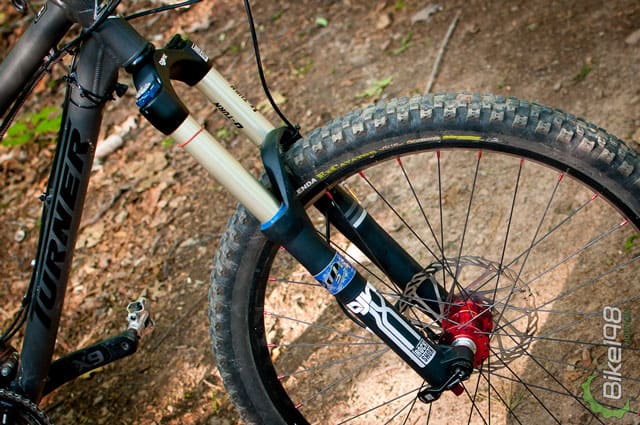 Suspension Experts RockShox Lyrik Tune
For the Lyrik, my basic instruction was this.
It was an old fork with a lot of hard miles…so it needs some rebuild love.
I love the coil, but I run a soft spring and the linear nature of the Lyrik makes it a little too soft in beginning stoke but perfect once I am in rough terrain.
From Kevin on the Lyrik:
On the Lyrik we've found that they're often over-damped, specifically on the rebound circuit – so we'll almost always modify rebound valving, but keep in mind that the rebound circuit controls the spring – not the rider. Low-speed compression is controlled by a window that opens and closes via the control knob, while high-speed compression is controlled with shimmed valving. The 2 circuits work together… close down the LSC and you'll direct more flow toward the shim stack (HSC). So really, the custom valving happens at the shim stack… the idea being to scrub off as much energy as possible during that phase – without making it harsh. We'll tune differently for each rider.
A new shim stack was installed and the fork got a complete rebuild with new Enduro seals. Once bolted up, everything was set from the guys at Suspension Experts and I was good to go. On the first long DH, I could instantly tell I got exactly what I was asking for with the new shim stack. The beginning stroke on the fork was a little bit stiffer without losing plushness and then it really opened up as it moved through the travel. The made stand up and hammer periods easier to handle and once you let off the brakes, the fork just ate up everything.
With a fork like the Lyrik that was seeing the end of its life under normal oil and seal change conditions, it was given new life through the rebuild and tune. Now…instead of gracing the garage wall with fond memories of past rides, it is riding as good as new and even better in most cases extending its life and keep me from having to find a replacement. Suspension Experts was able to take this tired out component (that had no physical damage) and create a product that is tuned to my riding style and now has several more years to shred.
Overall: Suspension Experts Suspension Tuning
If you need to get your just rebuilt or want to really squeeze every bit of potential out of you bike, getting Suspension Experts to do the work is really a no brainer. Their rebuild/service prices are cheaper than most factory rebuilds I have seen and for just a little bit more…you can really unlock the potential of your suspension by having it tuned to your specific needs. Once you look at it from a dollar and performance standpoint…it is a killer deal. On top of that, you get the knowledge and incredible customer service of Suspension Experts to help you along the way.
For those of us on the east coast, the down time is pretty small due to nice lead times and short shipping times. If you are on the west coast, it will be extended some unless you pay for expedited shipping. Depending on how busy your local shop is…it could be a wash on how long you are without your components.
If you are in the market for a rebuild/service or tuning, hit up Suspension Experts and get a quote. We are incredibly happy with the results as they have brought higher performance and new life out of the suspension off the Turner 5.Spot.
Click here –> Suspension Experts