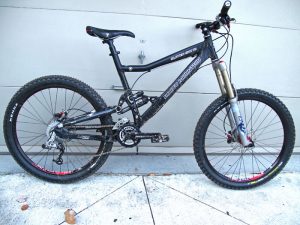 So it is about that time…we have been putting the Rocky Mountain Slayer through some abuse and I wanted to give you guys an update on how things are going. I gave the bike over to Chad Oliver for a couple of weeks to really get this 153mm travel mountain bike going.
Chad changed the configuration around a little bit to a bash guard setup and Thomson stem to better suit is riding style and cockpit requirements. Other than that, the bike was handed to him equipped with the Hadley Racing build on a Kenda Telonix and Excavator tire combo. Here is what Chad had to say about the Rocky Mountain Slayer.
Chad Oliver's Review of the Slayer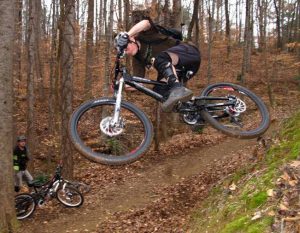 I'll hand it to Rocky Mountain. The claimed ride-qualities of the LC2R single pivot suspension design are true. The Slayer felt very plush and did in fact have the claimed infinite travel feel; seeming to have more than 153mm of travel. At speed, the Slayer performs best. The longer wheel base and rising rate suspension really keep the rear wheel glued and the bike stable. LC2R linkage works the magic out of the Fox DHX air shock. The bike feels plush on the small bumps but resists bottoming out on the big stuff. It will handle a decent sized drop without a harsh bottom out. It also climbed well with little pedal bob and good bite. Rocky Mountain uses a unique thrust/tug link design and a low bottom bracket in order to accomplish these ride qualities.
I believe that Rocky Mountain nailed it on the "feel" of the Slayer, it's a flow machine, but the lay out of the suspension design has some drawbacks. For one, the pivot bearings and the shock's reducer bushings are lined up directly in the rear tire's line of fire. In loose conditions, mud and grit are conveyor-belted directly at the bearings and bushings (see pic). Due to the location of the shock within the frame, it is hard to access the piggy-back reservoir valve and seat height adjustability is limited by the interrupted seat tube. The linkage lengthens the wheelbase, making a bit more of a fast-n-flow bike than a tight-n-steep bike. Overall, I give the Slayer high marks on the feel of the ride but a "needs improvement" on the frame's design lay-out.
The Good:
A light weight bike considering the plush feel
Rocky Mountain quality
"infinite suspension" feel
The Bad:
The suspension's bearings and bushings are directly exposed to grit and grime
Interrupted seat tube