Santa Cruz Bicycles finally came to the market with a 29er mountain bike. From the looks of the Tallboy, it appears that Santa Cruz didn't want to jump into 29ers with a "me too" product just to have something to offer. Instead, they jumped in head first to produce a full carbon, full suspension, 29er frame featuring their VPP (Virtual Pivot Point) suspension design. With the ability to run a 100mm or 120mm front fork, this 100mm (4 inches) travel mountain bike frame promises to be a versatile sled for riders looking to race or just rip up the trail.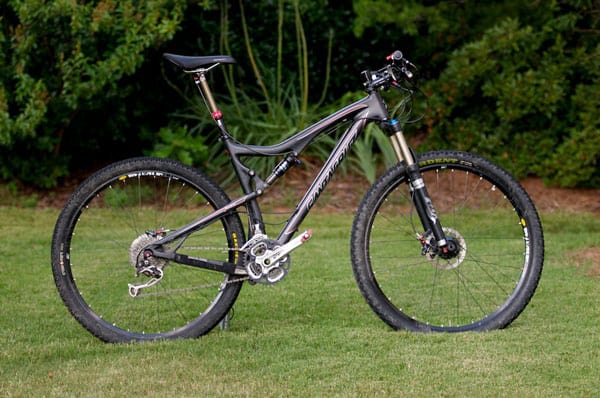 Santa Cruz Tallboy Carbon 29er Mountain Bike
The Santa Cruz Tallboy features an all carbon frame that is available in black and orange. There is a lot that goes into this carbon layout to make sure it is trail ready and stands up to the Santa Cruz reputation for durability.
From SantaCruzMTB.com:
We have some fancy carbon manufacturing going on, but we declined to give it any acronyms – it seems like that field is pretty well covered by others. In many cases, those acronyms are not indicative of anything special, but are simply a way to stuff some marketing down your throats. Anyway, here are three things that we do with our carbon fiber bikes that are unique, and that we can share with you without having to have your memory erased afterward:
One piece lay-up and curing. – By laying up and curing the front triangle all at the same time, and not assembling together pieces, we're able to decrease the amount of material used by eliminating overlapping joints that have to be bonded or wrapped with carbon. Less material means fewer grams. This method is extremely expensive to do, since each size has to have a lot of dedicated tooling, nothing is shared between each size.
Continuing fibers around tube junctions. – The one-piece lay-up of the front triangle allows continuous fibers to be used that wrap between tubes, allowing the structure to distribute loads better, and absorb impact energy. We also are able to truly integrate the shock mounts, pivot mounts, dropouts and disc brake tabs into the structure, using all uni-directional carbon plies. The shock mount isn't merely riveted or bonded on after curing, but an integrated part of the fiber lay-up. This makes our carbon frames incredibly strong and able to absorb impact better than any other frames we've tested.
Net shape lay-up and fiber compaction. – Our lay-up process allow us to control the outside shape, inside shape, and to compact the fiber layers during the lay-up. This eliminates gaps between layers, and keeps resin from migrating to the inside of the tubes, or allowing delamination during the molding process. You can't see this without getting inside the frame, but we're more proud of how the inside of these frames look than the outside. No gaps, no filler or mystery material. No resin pools, or glued together sections. It's a frame you wouldn't be embarrassed to bring home to mom. No skeletons in the closet, and no rider weight limits either.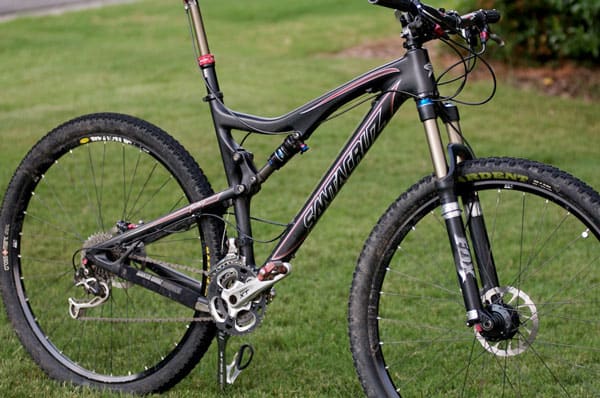 Component Highlights On This Tallboy Build
Shifting and Drivetrain: Shimano XT
Wheels: Mavic TN 719 disc rims laced to DT 350 15mm front hub and DT 350 rear hub w/ DT 14/15
Brakes: Avid Elixir CR w/ 160mm rotors
Fork: Fox F29 RLC 120mm w/15mm TA
Shock: Fox RP23
Only one thing left to do…get this thing out on the trail and see how it performs. Stay tuned for the final review…
Santa Cruz Tallboy Description:
Combining the acclaimed performance and durability of the latest VPP suspension with a sophisticated carbon fiber chassis and a set of big 29" wheels, we present the Tallboy. The curvaceous carbon fiber frame is more than just a pretty face: it offers amazing stiffness and strength while keeping weight feathery light. That, plus 100mm of rear wheel travel paired with fast rolling large diameter wheels spells out one thing: Long Haul Trucker.
For geometry numbers and more information, hit up SantaCruzMTB.com and a special thanks to Reality Bikes for helping out with the review.