The Turner 5.Spot has been the go to trail bike out of the Turner Bikes lineup for mountain bikers looking for a do it all rig. For 2009, Turner Bikes made a huge change to the DW-Link suspension design and the 5.Spot was one of the first out of the assembly line to get the new treatment. With a completely new design for 2009 away from the traditional 4 bar, does the new 5.Spot still have that unique Turner feel? Let's take a look…
Turner 5.Spot Mountain Bike Frame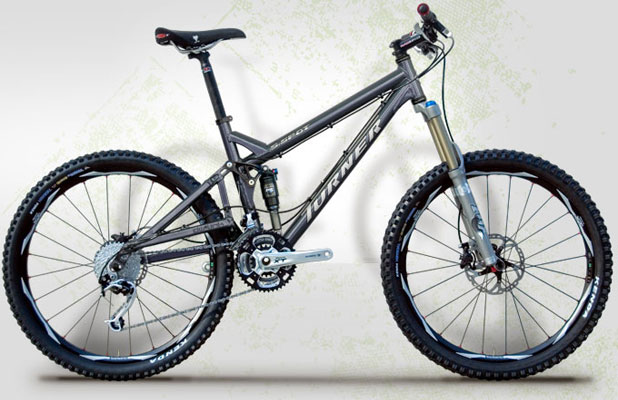 From TurnerBikes.com
Travel: 5.5 inches { 140 millimeters }
Class: enduro trail / adventure xc
Specifications: Shock: Fox RP23 { 7.5×2 }
Front Derailleur: 34.9mm { traditional top-pull only }
Note: Dual pull will work with modification. see tech page for details.
Stock Colors: charcoal metallic grey • sangria • raw
The all new 140mm travel trail bike harmonizes the intuitive handling and incredible versatility of the older 5 Spot to a higher level with the addition of the dw-link for 2009. Turner revolutionized the trail bike class in 2003 and now, five years later, Turner's newest trail bike continues to be the leader with world class Turner geometry and unparalleled quality.

Now riders can experience the incredible efficiency of dw-link rear suspension combined with Turners superior chassis integrity and award winning handling. Descending with the newest 5 Spot will give you the confidence to conquer almost any terrain with active braking and a perfectly engineered linkage ratio in the 140mm trail bike class.
Related Turner Links:
Interview with Dave Turner
History of Turner Bikes
During this review period, the Turner 5.Spot frame was used as a test mule for multiple products we were reviewing on Bike198.com…specifically forks, brakes and wheels.
Turner 5.Spot Frame and Setup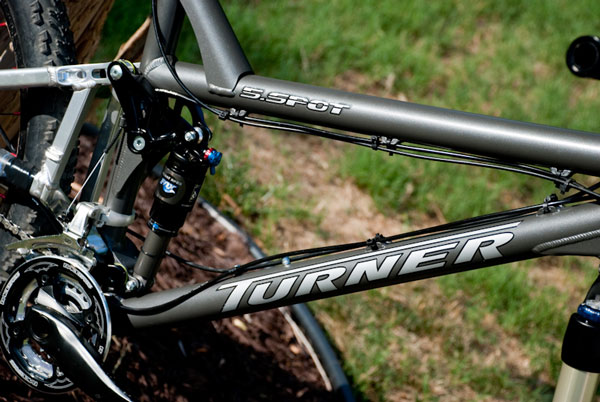 Setting up a Turner 5.Spot out of the box is what you would expect out of building up a mountain bike. One thing that many riders may not be used to is having to use full length cable housing. There are no cable mounts for ferrules down the frame like you find on most conventional mountain bike frames. I actually like the full length housing as it provides for better protection of the shifting cables and more consistent shifting over time.
I actually ended up running the rear derailleur cable/housing differently than the suggested way by Turner Bikes. By wrapping that cable with my cheap chainstay protector (an old tube and electrical tape), I was able to run the RD cable under the front derailleur and completely out of the way as you can see in the picture.
I already had a dual pull derailleur in stock, so I had to make the slight modification that Turner Bikes mentions in the specs. Basically, the rear triangle can hit cable retaining arm of these style front derailleurs, so you have to cut off that arm of the FD. Not that big of a deal really as I never used that arm in the past. It just requires a slight modification to make sure there is adequate clearance during suspension movement.
The rear brake setup is moved to a post mount design on the new 5.Spot. This is where the industry has already headed for the fork market, so it is nice to see the same on the rear end of the Turner. I expect to see more frame and bike manufacturers make this switch in the near future.
All of the pivots on Turner frames are bushings, so if you are used to bearings…the maintenance process is a little bit different. Each of the pivot locations have a grease fitting for easy lubing, but the pivots are also pretty easy to get apart and maintenance if you are a "do-it-yourself" wrench.
The rear tire clearance on the Turner 5.Spot is enough to fit a 2.4 Schwalbe Big Betty with room for mud and debris. On a 5.5″ mountain bike frame, I do not see anyone running a bigger tire than that…so there is adequate room to fit just about any tire you need to in the DW-Link styled rear triangle.
Overall weight on my builds were tipping the scales at the 30 lbs range. Keep in mind…I run heavier tires and a Gravity Dropper, so my weights are typically heavier than the average. I would expect that most weights on 5.Spot builds are closer to the 27-29 pound range with typical XC/AM styled components and rubber.
Turner 5.Spot On The Trail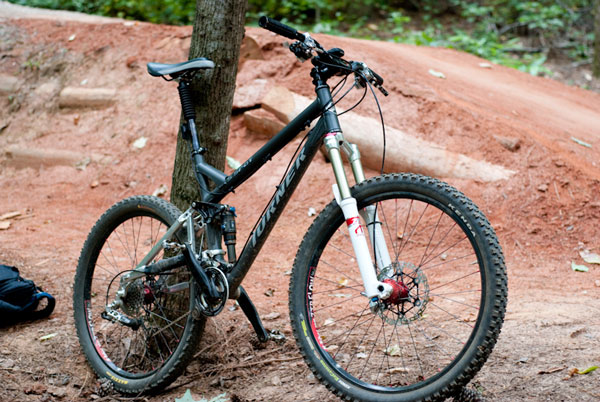 Having been the previous owner of a Turner with the TNT, 4 bar design and having ridden a dozen or so Turners in the past, I was really interested to get my leg over the new DW-Link 5.Spot to see if that genuine Turner feel was still there. For those that have never pedaled a Turner on the trail before, the Turner bike lineup has a unique feel to it that I do not get on other sleds.
Descending On The Turner 5.Spot
Descending on the Turner 5.Spot was two different animals. With a 160mm fork bolted up, the bike was an AM monster that was ready to soak up technical trail and steep descents with ease. The unified rear triangle and short links provided and extremely stiff rear end that tracked straight every time. The new DW-Link suspension design handled sharp, bigger hits much better than the previous TNT as I didn't notice any real bucking action of the rear suspension. These sudden, larger hits were just soaked up as you continued to traverse rough terrain.
The suspension is plush, but not so plush that you are blowing through travel. It seems its most comfortable about mid travel without an uncontrolled wallowing effect. You are able to using the mid travel of the suspension to press into the trail and use the bikes traction and stiffness.
With a 140mm fork bolted up, the Turner 5.Spot gets a racier feel with quick turning. This is to be expected when changing the geometry with different fork lengths. The turning on the Turner 5.Spot was not twitchy but controlled. Even with the 140mm fork, your body weight is more centered on the bike which makes it easy to get your weight back in descending situations.
Medium drops and jumps were handled easily with no harsh bottom outs. The stiff rear end on the Turner keeps landings straight and smooth…even when you get your rear wheel off track and land slightly sideways. With the 160mm fork, the 5.Spot is really capable of taking larger hits…so much so…that it was actually reminding me of some of the 6″ bikes I have owned in the past.
Under hard braking at speed, the suspension did not stiffen up like you find on single pivots and other suspension designs. You are able to control your traction ans speed accurately with the DW-Link suspension, and this makes descending more controlled and faster over the long haul.
Climbing On The Turner 5.Spot
With your weight more centered over the frame on the 5.Spot, it is easy to tackle technical climbing. Front end lifts and front weight shifting is accomplished effortlessly and technical climbing is really where this bike calls home. On faster, less rough conditions, I found the 5.Spot to be a little bit slower than some of the racier 5.5″ trail bikes on the market. The increased weight and more upright climbing position leans itself more towards an AM feel than a lightweight, racer with your weight biased towards the front of the bike.
Pedal induced suspension bob was virtually unnoticeable. The suspension was active during climbing providing adequate grip for changing trail conditions, but I never felt like the suspension was robbing me of any extra energy due to unneeded motion. The plush platform with efficient suspension control allowed me to just leave the ProPedal on the Fox RP23 off unless we were on long forest service roads. When you stand up to hammer, the suspension semi-squats to allow for traction without completely sucking down and robbing energy.
The Turner 5.Spot was an efficient climber in technical riding situations, but not a race to the top bike. It really is better an general riding and super tech than being a weight-weenie 5.5″ bike.
Overall Thoughts On The Turner 5.Spot Mountain Bike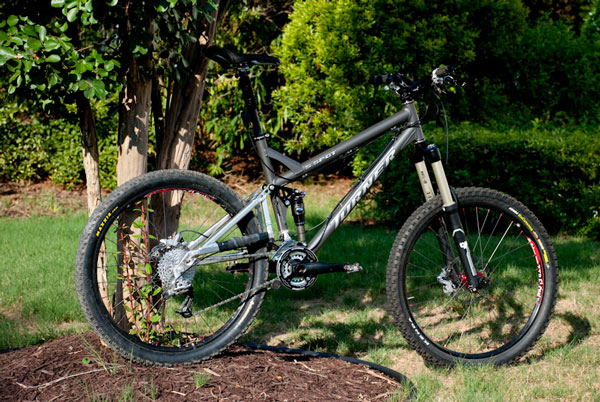 Turner Bikes stepped it up again with the new 5.Spot. The versatility of this frame is going to make it perfect for the rider that needs a 5.5″ frame but likes to take it to the technical end of riding…or wants to extend their riding ability to include that type of riding. As with all Turners, there is very little flash. You get basic stickers, a durable powder coating job and above and beyond customer service and build quality. The frame is a little bit heavier than the typical 5.5″ travel frame being released today, but…for that weight increase…you get an extremely durable and capable 5.5″ frame.
I actually enjoyed this bike so much…that I bought one. I need a 5.5″ frame that is capable in a wide range of riding conditions and I am not an XC racer. Even when I jump out and try to hang with the sprinters or endurance guys…I get on a short travel 29er like the Jet 9 from Niner. For my everyday riding, it does not get much better than the Turner 5.Spot.
What I Liked About The 5.Spot
Very Versatile Frame For Multiple Riding Conditions
Dependable, Durable Frame
Stiff Rear End That Tracks Straight
Plush Suspension That Does Not Rob Climbing Efficiency
Excellent Customer Service
American Made at Sapa
Still Has The Unique Turner Feel
What I Didn't Like About The 5.Spot
Expensive – $2,500 for the frame brings you to the top of the boutique market
Some Will Not Like Full Length Housing
In Comparison With Other DW-Links: It is natural to compare this bike to the other DW-Link 5.5″ suspensions on the market. Here are my thoughts. The Turner is not quite as plush as the Ibis Mojo, but it is much stiffer in technical riding. While it might not be as plush, the suspension does feel more controlled mid travel, so what you give up in the slight amount of plushness decrease you gain in suspension control and stiffness. The Pivot Mach 5 is just about (or the same) as stiff, but the suspension design has a racier feel with stiffer initial and mid stroke.