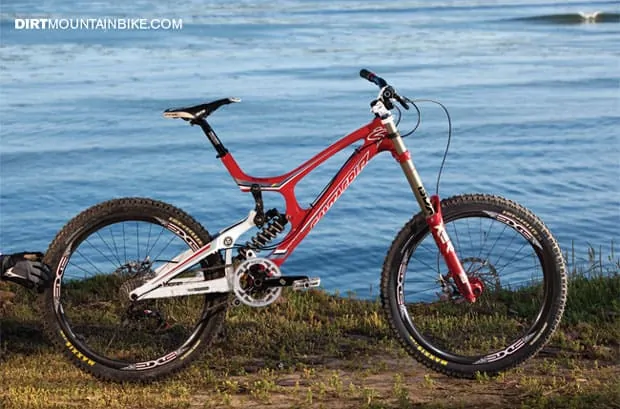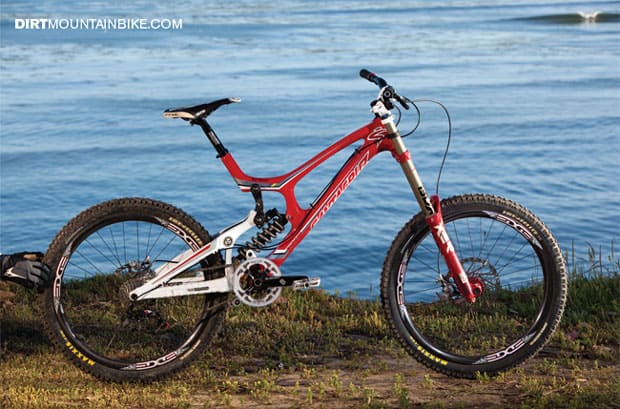 Yes…you are looking at a carbon Santa Cruz V10 with carbon Edge rims. For those of you that don't already know, the V10 is a 10″ travel sled from Santa Cruz that has carried Steve Pete and the rest of the Santa Cruz Syndicate to multiple victories and championships.
With the addition of the carbon Nomad released earlier this year, the carbon V10 is showing Santa Cruz's dedication to the carbon platform on longer travel mountain bikes. Who would have thought several years ago that we would be looking at a carbon 10 inch travel bike? And to think riders made a huge stink out of the 5.5″ travel Ibis Mojo when it was released not that long ago…
Santa Cruz V10 Carbon
The new Santa Cruz V10 is seeing some adjustments and new features over the previous model.
Adjustable travel from 8.5″ to 10″
1.5″ Headtube
Carbon front triangle with integrated ISCG05 tabs
12mm x 150mm rear Maxle
Adjustable geometry, through the head tube angle, with 1/2-degree adjustments. (Each degree of adjustment changes wheelbase and stack height by 10mm and bottom bracket height by 3mm. Changing travel also changes head tube angle by a degree, from 64- to 65-degrees in long versus short.)
Production weight TBA but the raced out kit for the Syndicate is reported to be 900g lighter than the previous generation.
It will be interesting to see how these new light DH rigs do on the circuit, but…my guess…they have already seen a lot of abuse from the pros. Now it is just time to see if a production version is 6 pack proof enough for those DH riders looking for the latest and greatest.
What do you think of the new carbon DH sled from Santa Cruz?
Photos: Gary Perkin/Santa Cruz Bicycles