During the beginning discussions with Ventana Mountain Bikes regarding which frame we wanted to set up for a review, I recommended that we go with the Ventana El Chucho so I could get some saddle time on a 69er mountain bike. The El Chucho is a 5.5″ rear travel, 69er mountain bike that is handmade by the crew over at Ventana, so let's get in and take a closer look.
This review on the El Chucho is really two fold. I am reviewing the mountain bike from Ventana, but I am also testing out the viability of the longer travel 69er platform and how it performs on the trail. Due to the unique nature of this bike and the review, the posted review on the Ventana El Chucho is split into two parts:
The review of the El Chucho and Ventana Mountain Bikes
A review of the 69er mountain bike platform
More about Ventana Mountain Bikes USA
Ventana Mountain Bikes, USA was formed in late 1988 as a joint venture between Gibson and Steve Blalock of Monterey, California. Gibson and Blalock remained partners until 1991 when Gibson became sole owner. The two shared a common interest in mountain bikes and their construction. Ventana is named for the rugged coastal wilderness in Big Sur, near Blalock's home…From their sexy CNC machined suspension pieces down to their smallest cable stop, every piece, of every Ventana frame, is painstakingly produced by Ventana. While other so called manufacturers market "Hand-Built, American" bikes actually built by large production houses in the U.S. and Taiwan, Ventanas are truly born and manufactured in the same region as the sport itself -Northern California. – More information found at ventanausa.com.
The Ventana El Chucho 69er Mountain Bike
The Mutt"

Can't decide between 29 inch and 26 inch wheels? No worries! Get both with Ventana's 69er, El Chucho, our all mountain attack dog.

The stable handling and big-bump rolling performance of a 29 inch front wheel coupled with the quick acceleration, gearing, and suspension travel afforded by a 26 inch rear wheel, make our 69er the perfect combination for the ultimate trail bike. El Chucho gets a generous dose of Ventana lateral stiffness and features our super low-compression ratio rockers, with 5.5 inches of progressive rear suspension travel to yield a confidence inspiring and versatile package.

Where quick accelerations and cornering are at a premium, a 100mm fork unleashes El Chucho's fast single-track lineage with aplomb, and a 120mm fork transforms Chucho into a rock hound with a rabid nose for the rough stuff.

Standard Features

Handcrafted in-house by Ventana
Legendary Ventana "Electric Sex" TIG welds
5.5" rear travel with Fox RP23 Pro Pedal air shock
Oversized precision sealed cartridge bearing pivots
120mm fork compatibility
International standard disc brake mount
1-1/8" internally butted head tube with wrap-around gusset
73mm width internally butted BB shell
Fits 34.9mm top pull front derailleur
27.2mm seat post diameter
Colors: Cosmic Gray or Grinch Green

Options/ Upgrades

Additional colors, custom & semi-custom geometry
Ventana El Chucho – Frame and Suspension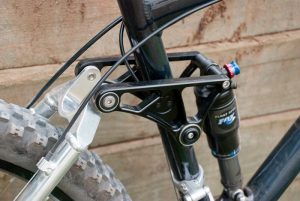 When you buy a frame that is hand built in a small shop out in California, there is a certain level of quality that you come to expect. At first glance, the Ventana El Chucho is beautiful. From Ventana's signature Super Dust powder coat (not a stock color for this frame but available) to the perfectly laid out welds at every tube joint, this frame is really something special as you continue to find the sharp attention to detail.
The Ventana Mountain Bikes are based around the tried and true, traditional 4 bar rocker design with CNC machined rockers, yoke and bottom bracket assembly. At each pivot, there are high quality cartridge bearings that take the rotating load of your suspension action. Long story short, when you unpack your Ventana frame, it is painfully obvious that this bike is not a mass manufactured, plant frame…it is a hand built work of mountain bike art…
Only available as frame only, you are going to have your choice of components to build this rig to fit your needs. If you are a looking for an even wilder option, the crew over at Ventana Mountain Bikes will set up an El Chucho (or any of their frames) with custom geometry to specifically fit your needs.
Ventana El Chucho – How does it ride?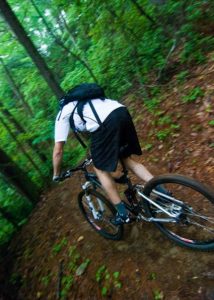 Having owned two Ventana's in the past (El Ciclon and El Terremoto), I knew what to expect straight out of the gate. The Ventana El Chucho is a plush suspension platform that rides like a high quality 4 bar (technically a single pivot/rocker design). You can expect the suspension to be plush on the downhills, soaking up big hits easily and efficiently while still having small bump compliance for your slow tech sections and hard climbs. You are going to find yourself wanting to use the ProPedal feature on the RP23 to get rid of pedal induced feedback that is inherent in this design. It is not overwhelming, but hitting that switch will help greatly with your climbing efficiency as the suspension design is known to have some bobbing characteristics.
The construction and attention to detail on the rear end of this bike makes for an extremely stiff rear end that has no noticeable flex through hard g outs and rock gardens. Ventana's are some of the stiffest bikes I have ever ridden when you add together the CNC parts and quad bearing pivots. All of this stiffness comes at a little bit of a weight penalty as most El Chucho builds are going to fall into the high 20's. This is not a heavy bike by any means, but it might surprise some riders who are used to building up sub 25 lbs. 5.5″ travel bikes.
Final Thoughts on the Ventana El Chucho
Before we jump into the 69er platform and how it rides on the trail, I wanted to get some final points across on the Ventana El Chucho. When you go and grab your Ventana to hit the trail, you know you are going to have a bike that performs with minimal fuss. Yes, there are more efficient pedaling platforms on the market today, but you will be hard to find a bike that takes a beating…day in and day out…like a Ventana. It just works…and works every time. When you pay for high quality, in-house, American made construction…that is exactly what you get with a Ventana frame.
Good Ventana El Chucho
High quality that Ventana has built its brand around
Quad bearing pivots
Custom geometry options
Extremely stiff rear end makes it a capable technical mountain bike
Reliability unlike anyone else in the industry
Bad Ventana El Chucho
Dated suspension design
Some pedal induced feedback while climbing
For more pictures of the Ventana El Chucho…click here.
---
The 69er Full Suspension Platform
As you can tell by the review above, I left a lot out on the ride characteristics due to the unique design of this frame. I really wanted to keep the 69er information separate from the bike review to give you guys an idea of what I think about the 69er full suspension platform after riding this bike.
The idea behind a 69er mountain bike is that you get your faster acceleration and longer travel out of the 26″ rear tire with the rollover and momentum of the 29″ front tire. A 69er mountain bike is trying to combine the best of both worlds by using the 29″ front wheel matched with the 26″ rear. With the introduction of the 29″ wheel to the mainstream mountain biking world, we knew several manufacturers were going to step up and try this out (Trek included).
The 69er On The Trail
I am not a fan of the 69er full suspension mountain bike and I am going to do my best to explain why through the following list of points.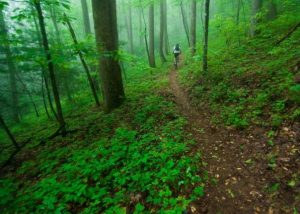 The front wheel feels HUGE – When you mate the 29″ front wheel with the 26″ rear, it feels like you have a 36/20 combo as you head down the trail. When you get into tight, twisty tree sections, the bike has a difficult time with quick, nimble turning. The agility of the rear end wants to swing the bike around quickly, but the slower front end lags behind. This creates an awkward turning mountain bike has you try to navigate in between tree branches on narrow singletrack.
The rear end is more capable than the front – Modern 5.5″ rear suspension bikes can handle some serious abuse. I found myself wanting to ride the bike like it was a full 26 inch, 5.5 inch travel frame, but when you go to launch off of jumps and drops, you are still wrangling the larger front cross country styled front end. Typically, the larger wheel handles obstacles and drops better than their similar travel 26″ wheel counterparts (29er 100mm vs. 26″ 100mm), but it still can't keep up with the capabilities of a well build 5.5″ frame. Where the stiff rear end would absolutely shine, the flexier 29er fork and wheel really fell short.
Who is the 69er mtb platform good for?
If you are a rider that likes to keep both wheels planted to the ground and just want better roll-over for roots and rocks, the 69er platform may be for you. If you are a technical rider that likes to blast through tight singletrack and get airtime, you are going to feel like something is missing from the front end as you continually push the rear to its limits.
For me, I see purpose built 29ers and 26″ mountain bikes as the way it should stay. I have had a lot of great rides on shorter travel 29er rigs and I still greatly enjoy blasting over my favorite technical trails on a 26″ sled. For this rider, I want to keep 29ers and 26ers separate and bring a mountain bike to the trail that is the horse for the course.
Riding images by regularjoe.